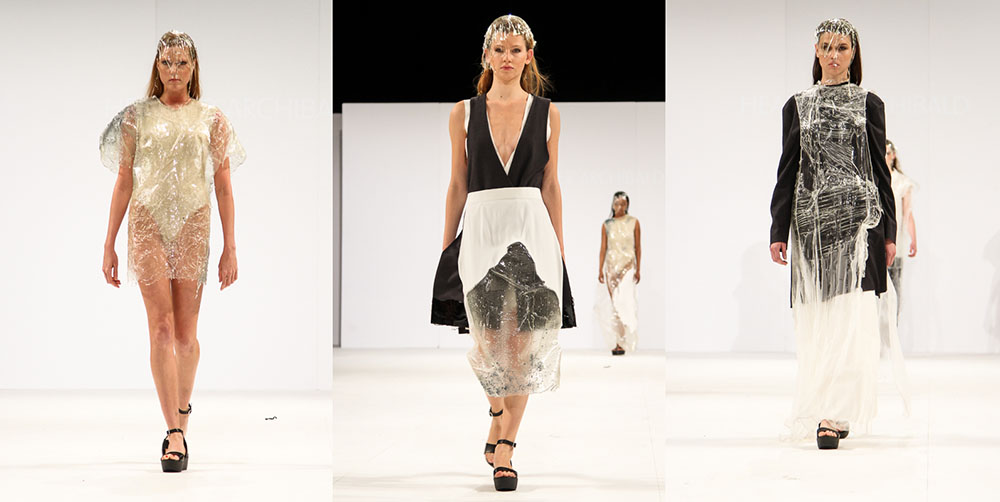 Edinburgh College of Art (ECA) showed in the smaller of the two catwalk tents within Earls Court; an intimate space with an only slightly raised runway. The proximity this setting afforded show-goers was ideal, as it was often the subtle details of fabrication or embellishment that made the ECA students' designs stand out. Perhaps the most experimental and conceptual collection was by Heather Archibald, who has developed a method of pouring resin onto chiffon, shaping and moulding it around the body before it dries into a hard, clear shell. The resulting surfaces resembled panes of shattered glass or sheets of ice punctuated with air bubbles. The tailoring worn underneath was oversized but clean-cut in shades of charcoal, off-white
and beige, and the models were crowned with resin headpieces which dripped down over their faces.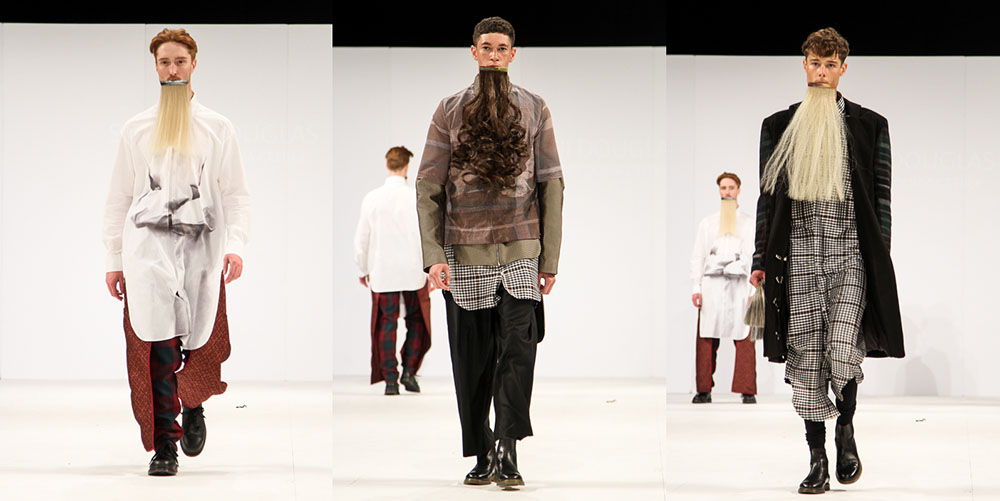 Shauni Douglas created the stand-out menswear collection. Longline shirts with curved, bib hems reached down to the knees or shins and were layered under T-shirts printed with a cloudy, single-check mourning tartan and charcoal dress coats. A burgundy tartan was used for trousers and cut-out shorts-chaps that were worn over black leggings. The collection had a modern, urban-Rajput feel that was complemented by Olivia Creber's hair-whips and mouthpiece accessories, which gave the models long, crimped or curly 'beards'.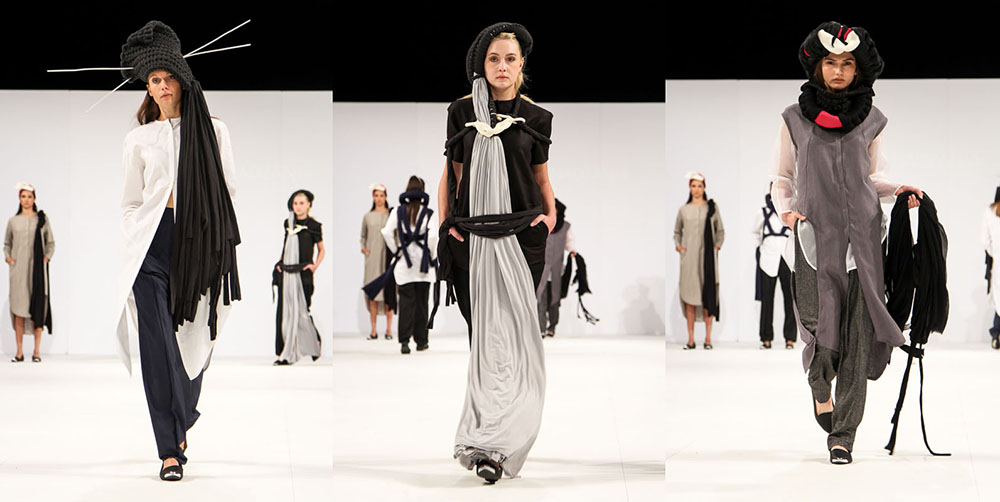 Longline shirts and tailored trousers also featured in Caroline Nadzanja's collection of layered, draped and knotted womenswear. Nadzanja started with the headpieces, weaving strips of fabric into sculptural forms that draped their loose ends toward the floor or were tied Shibaru-style around the body, fixed with 3D-printed clasps.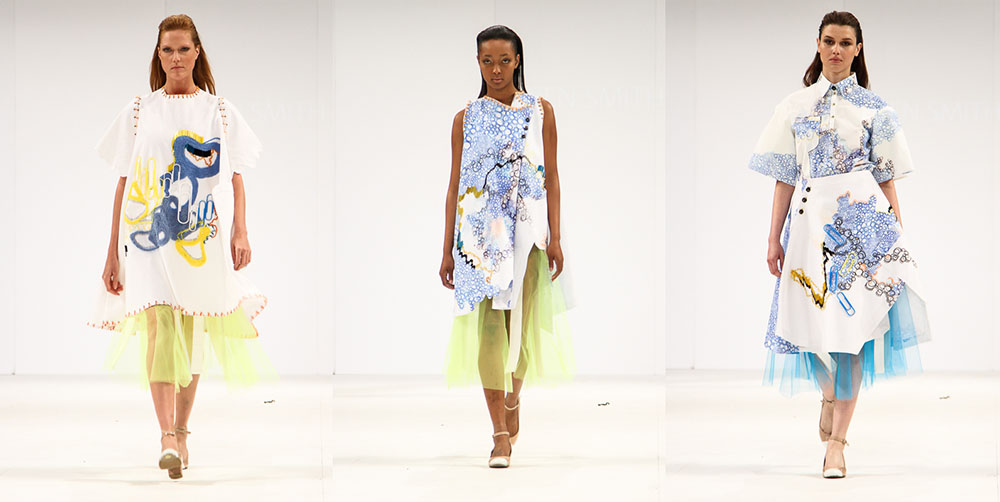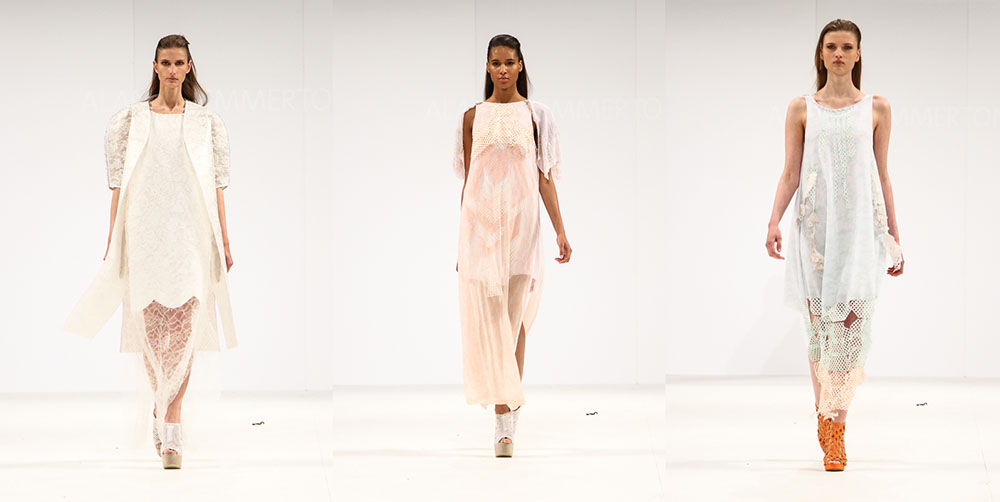 Laura Smith showed a summery collection of oversized cotton separates with asymmetric blue-grey leather jackets. A predominantly white base created the background for a hand-drawn bubble print, clusters of beading and giant paper clips, all in cornflower blues and yellows. Button-up shirts with half-length, fluted sleeves were tucked into exaggerated-pleat trousers and asymmetric skirts with tulle under-layers. Another light and breezy collection was created by Alanna Emmerton, who layered pastel fishnetting under floaty peach and seafoam green chiffon dresses, topped with sporty jackets cut from plasticised lace.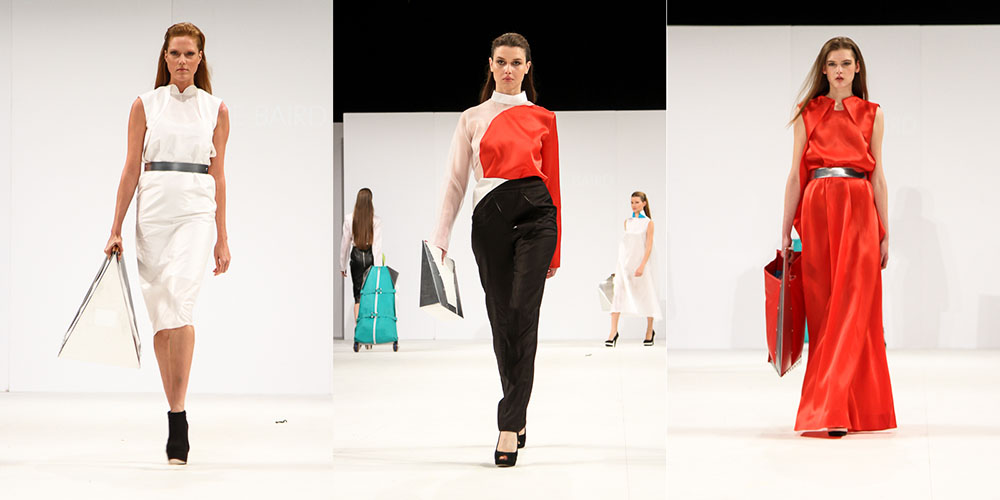 'Futuristic' designs often miss the mark, but Clare Baird's origami-folded silk dresses, collared tops and tailored trousers were chic and witty. A monochrome base palette was accented by panels of coral, chartreuse and azure blue, a colour scheme that continued onto sculptural leather bags with frames of metal and wood.
– Charlotte Gush
– Catwalk Photography: Steve Turvey
CLASS OF 2013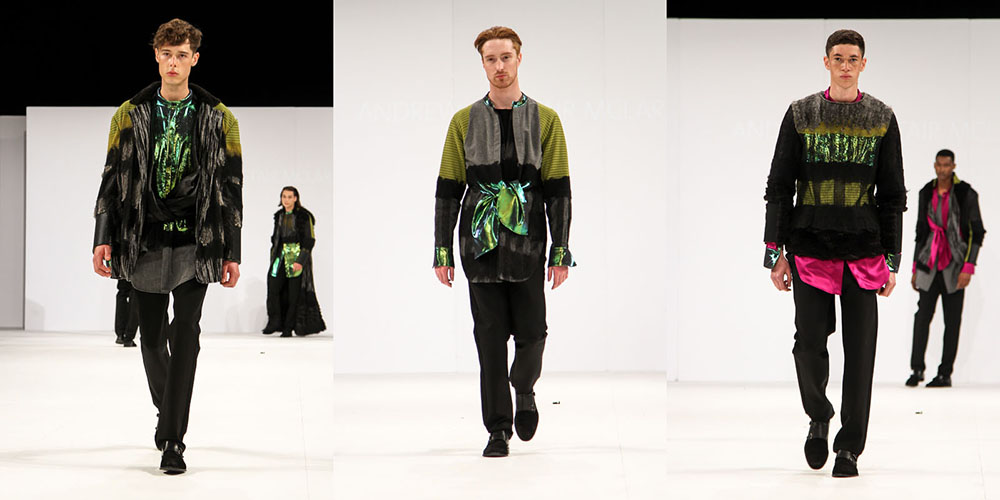 Andrew Alastair McLaren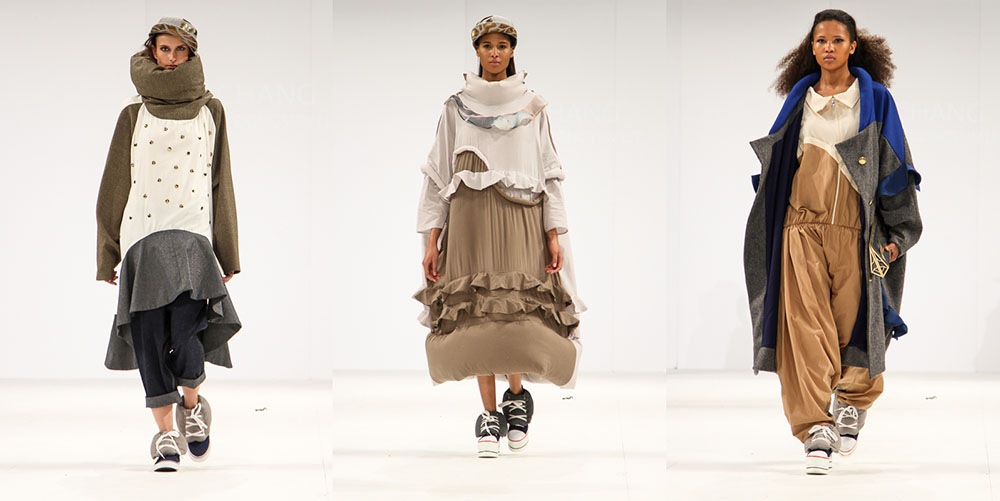 Eunji Chang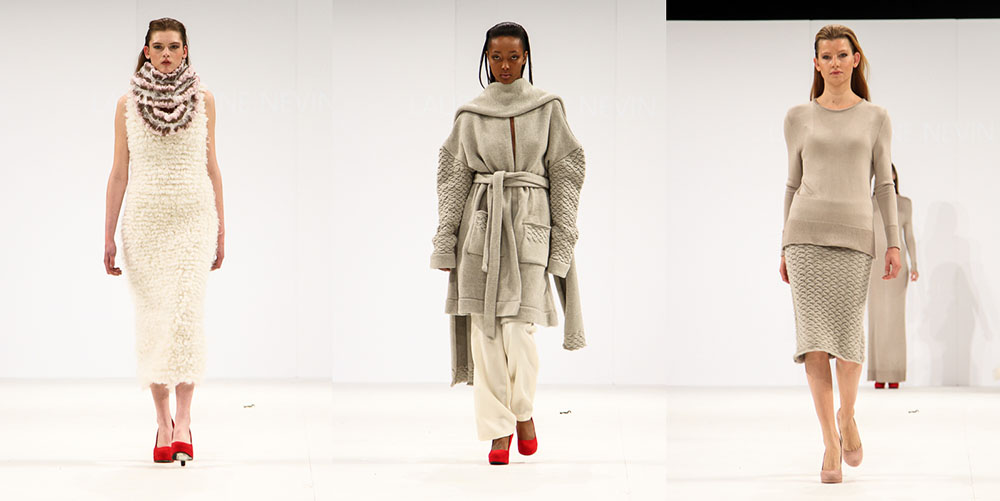 Laura- Jayne Nevin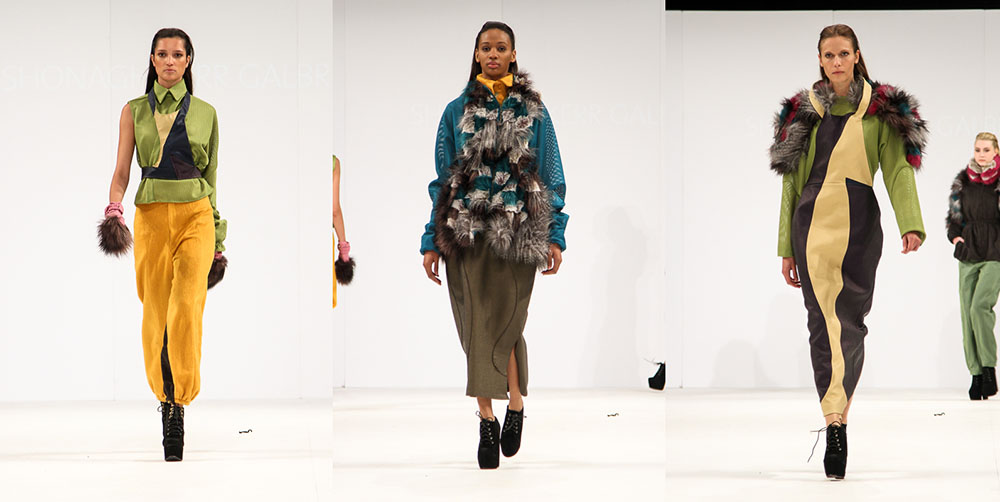 Shonagh Kerr Galbraith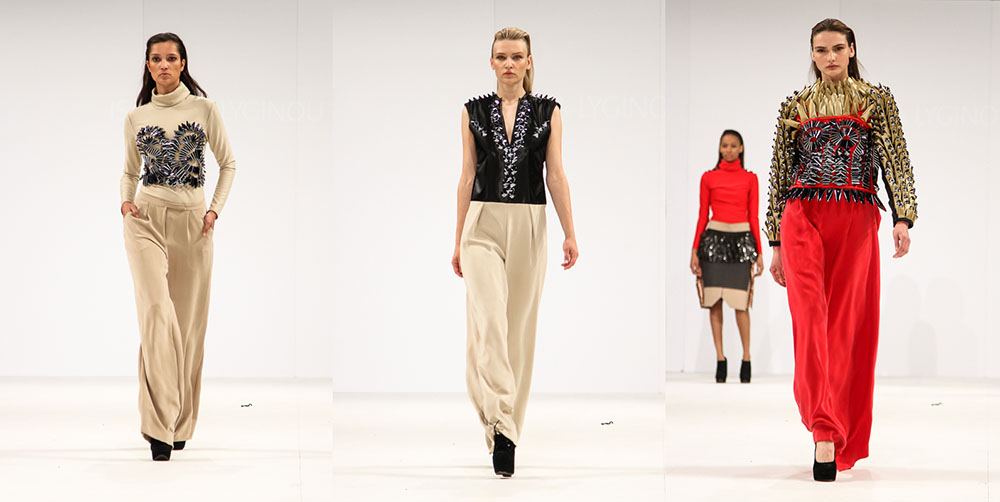 Isabella Lyginou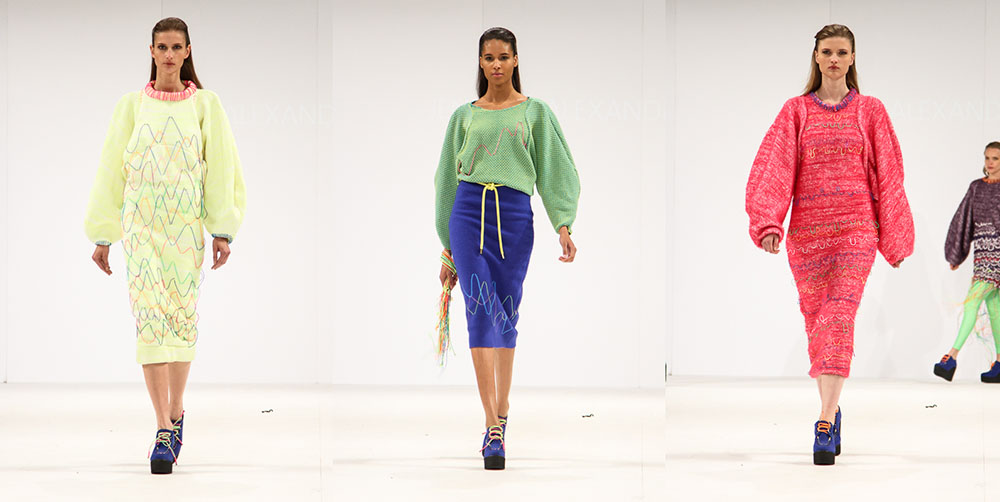 Jennifer Alexander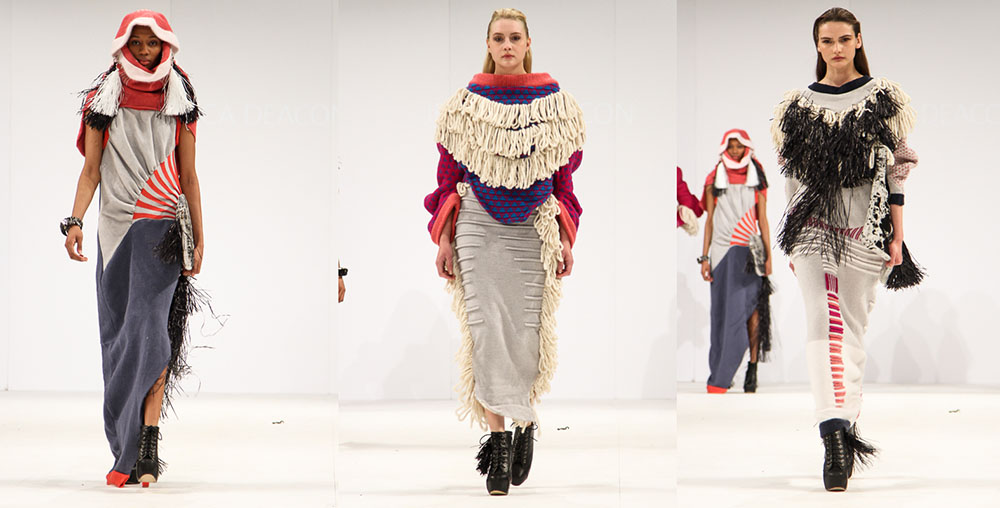 Jessica Deacon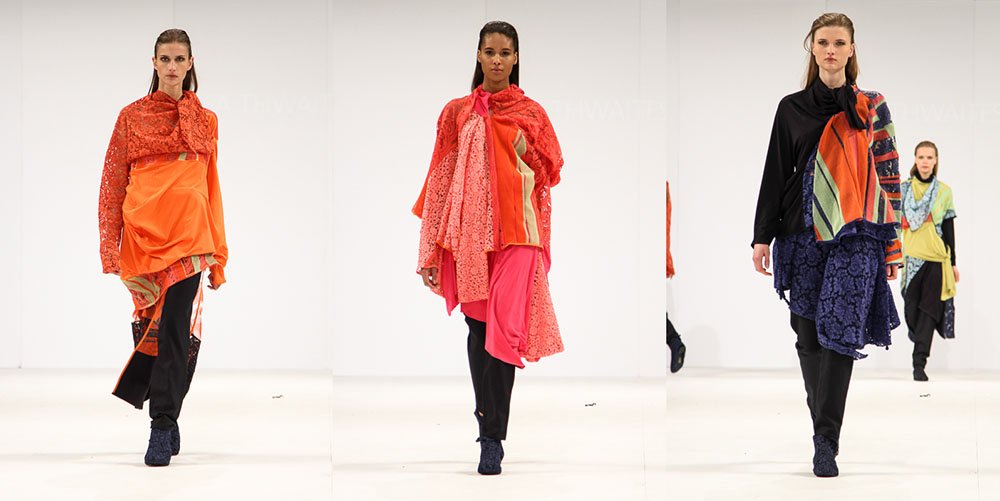 Melissa Thwaites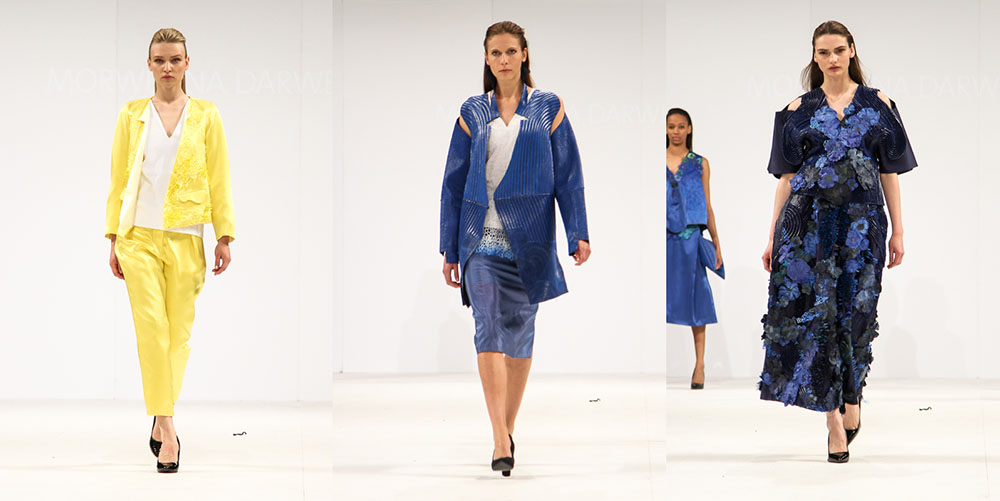 Morwenna Darwell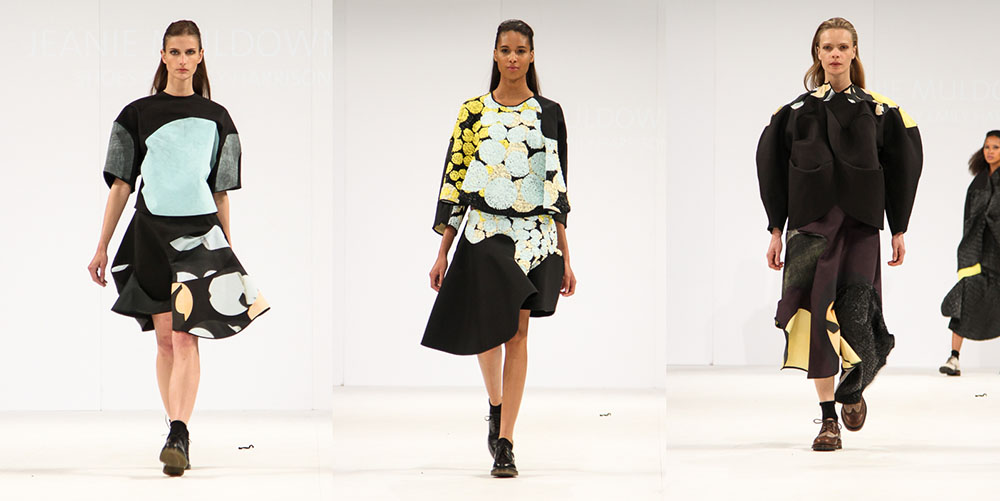 Jeanie Muldownie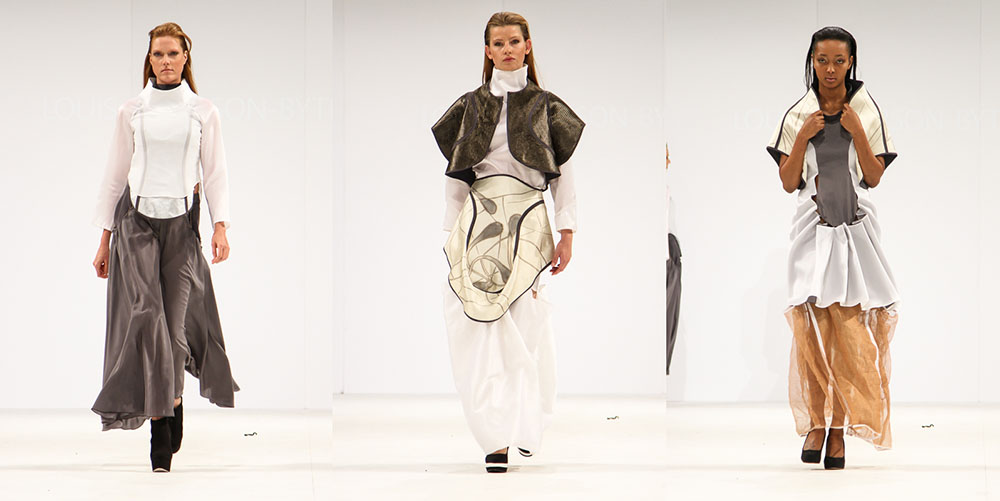 Louis Alderson-Bythell