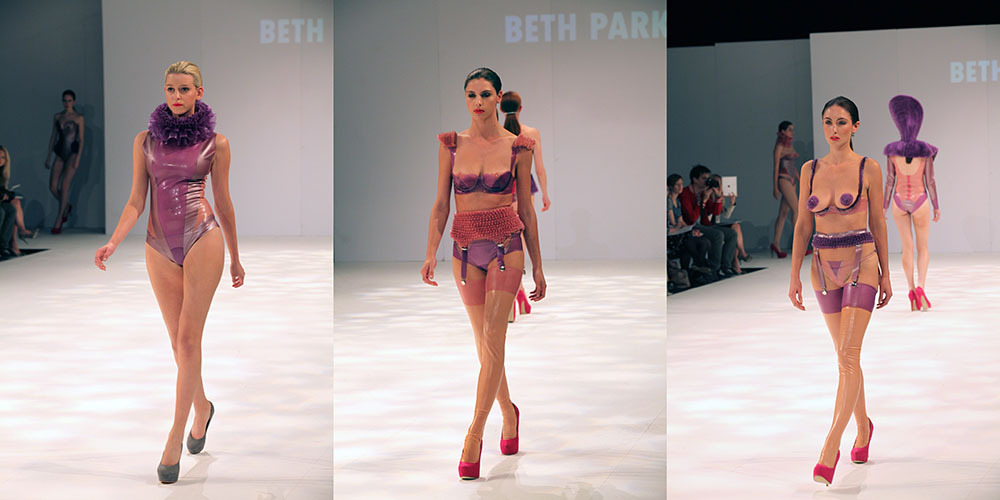 The only lingerie show at Graduate Fashion Week from one of only two 'Contour' courses running in the UK, De Montfort showed collections ranging from bridal to swimwear, sporty styles and fetish. Opening the show was Beth Parkin, whose pink and purple rubber confections were fetish-lite in the style of Pam Hogg. Super-hero (-villain?) style panelled bodies were topped with tudor ruffs or Elizabethan partlet-bonnets of Byzantium purple frills. A cup-less bra was worn with neat ruffled nipple paties, a matching suspender belt and stockings trimmed with a purple band, all in rubber. A corset and corseted waspie in pearlescent mauve had miniature ruffle decoration to the hips. Parkin's collection spoke of high-fashion where others, if beautiful, were more-high street.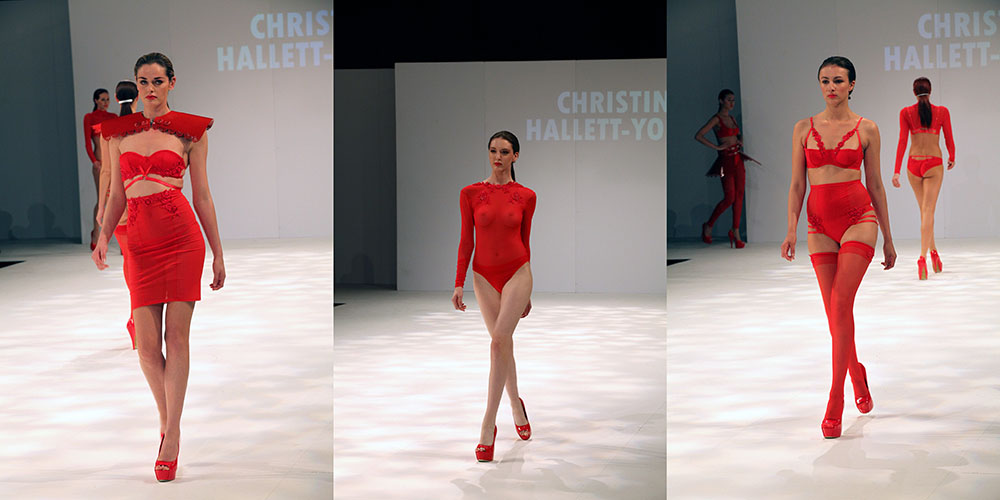 Christina Hallett-Young upped the sex factor; models walked to Roxanne by The Police in a collection of beautifully appliquéd saffron red. The opening look, a long sleeved, sheer body had cut-out lace appliqué on the neckline and chest; a strapless bra, dainty suspender belt and heart shaped briefs with double side straps were also decorated with appliqué lace flowers and topped with matching red metal shoulder plates, cut-out at the edges to resemble lace fronds. In an immaculately made, monotone collection, the interesting shapes and details really stood out: pyramid bra straps; high-waisted briefs with straps to the hip; high-necked, long sleeve under-tops, cut high above the bust. Halllett-Young's collection was accomplished and market-ready.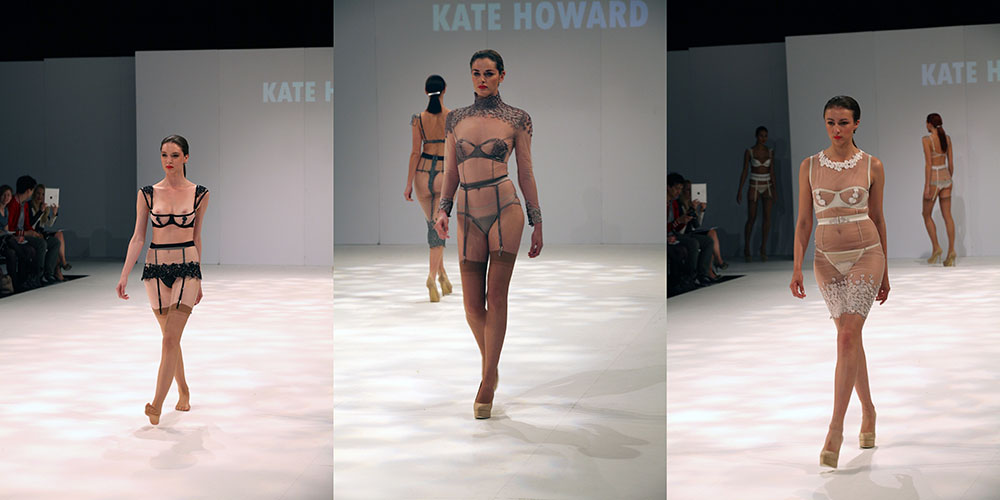 Kate Howard's collection shared some of Hallett-Young's stylings, featuring high-necked, long-sleeved, sheer under-tops decorated with appliqué at the neck and cuffs, not with flowers, but spirals of wound ribbon. Howard used a muted palette of black, white and both pale and charcoal metallic greys. Bra straps were cut wide over shoulders, or had capelet extensions of draped, curled ribbon. A high waisted petticoat, with a charcoal satin waistband and ribbon spiral appliqué from the knee to the mid-calf was a highlight, as was sleeveless, sheer white minidress with spirals to the neck and lower skirt.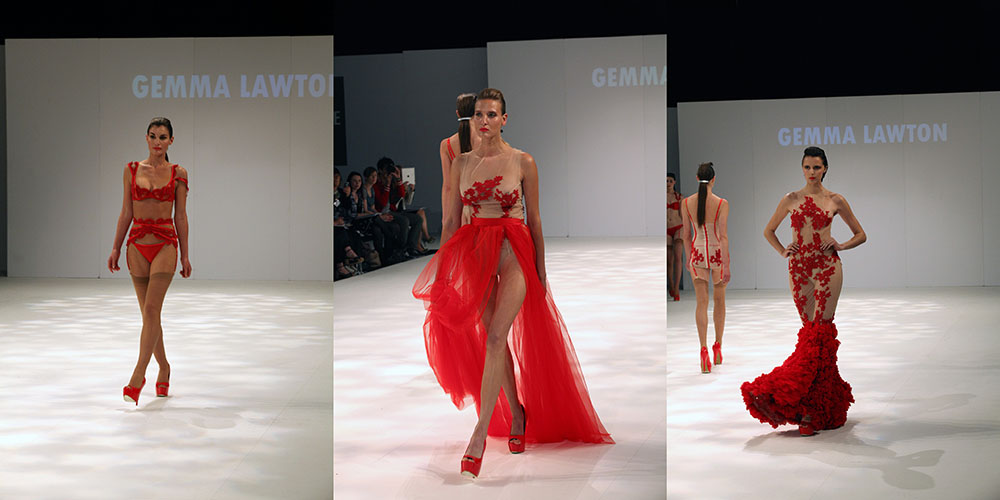 Gemma Lawton showed a nude and hot-red collection, with perhaps the most striking look of the whole showcase, a floor-length, racer-neck gown of sheer nude chiffon with cut-out red lace appliqué clustered to cover the bust, hips and then running down the quads to the knee, where thick ruffles of red chiffon covered the skirt to the floor.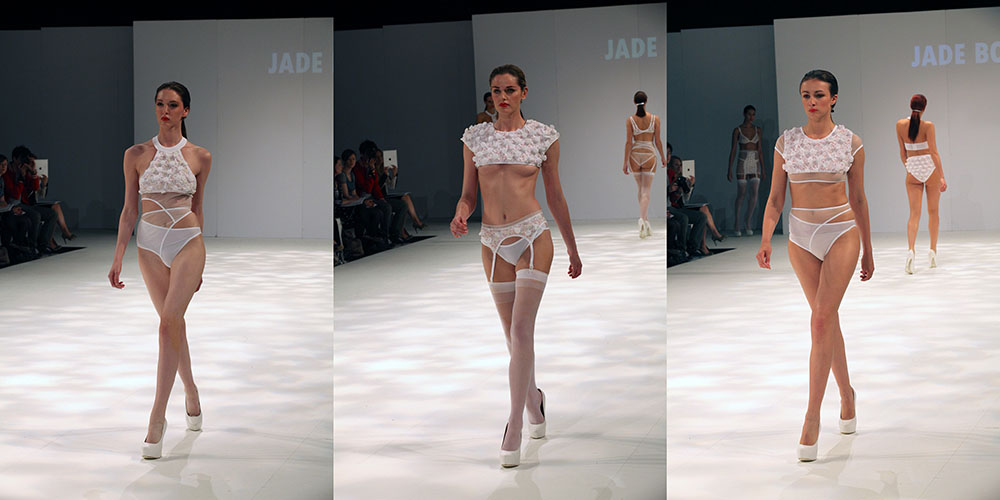 Other collections of note were Jade Boggis' sporty bridal wear and Sophie Sutcliff's duck egg blue pieces with patent black body harnesses.
– Charlotte Gush
– Photography: Justin van Vliet
CLASS OF 2013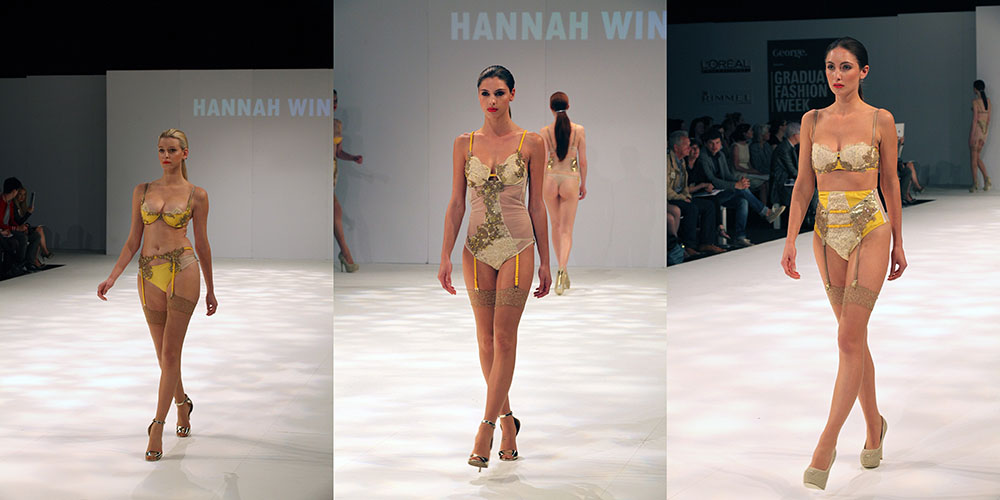 Hannah Winfield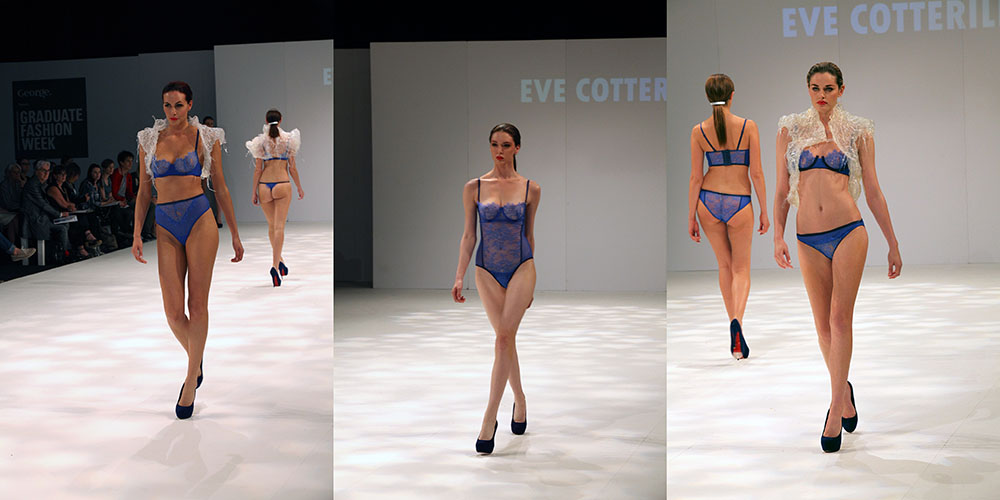 Eve Cotterill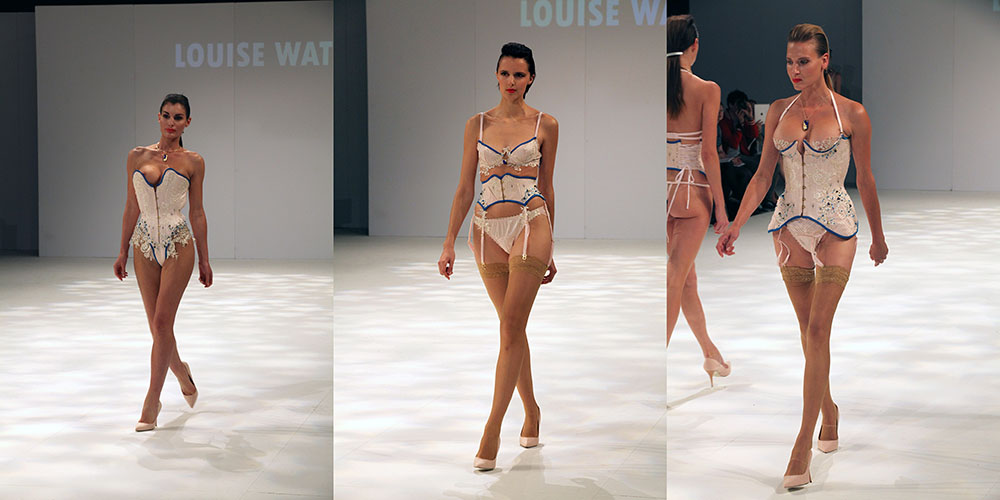 Louise Watson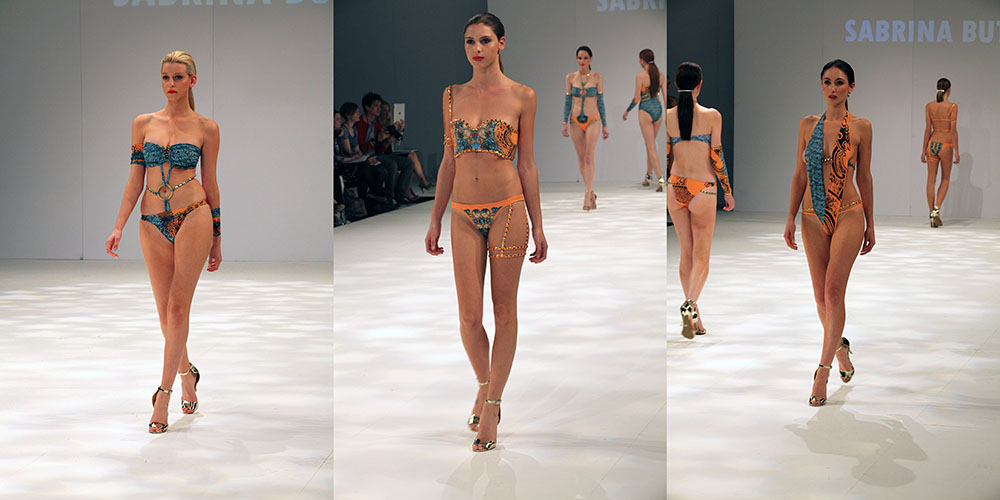 Sabrina Butcher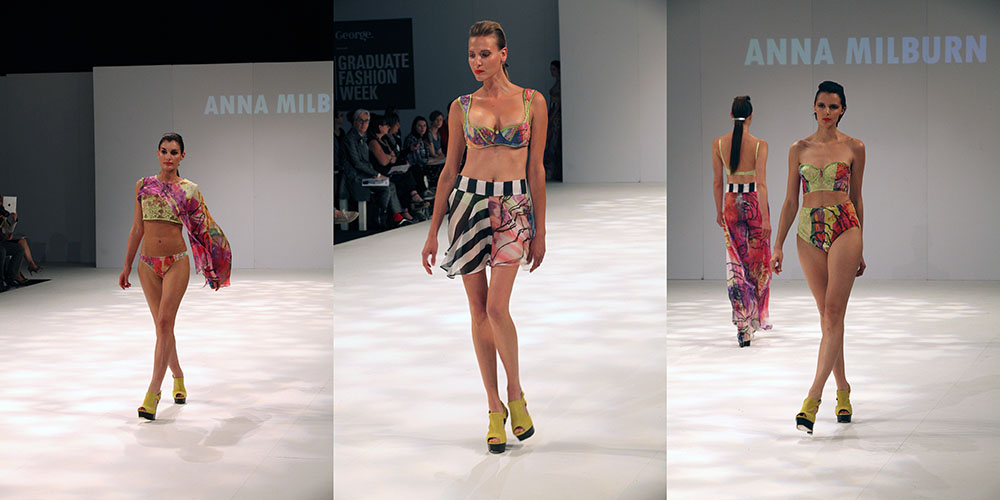 Anna Milburn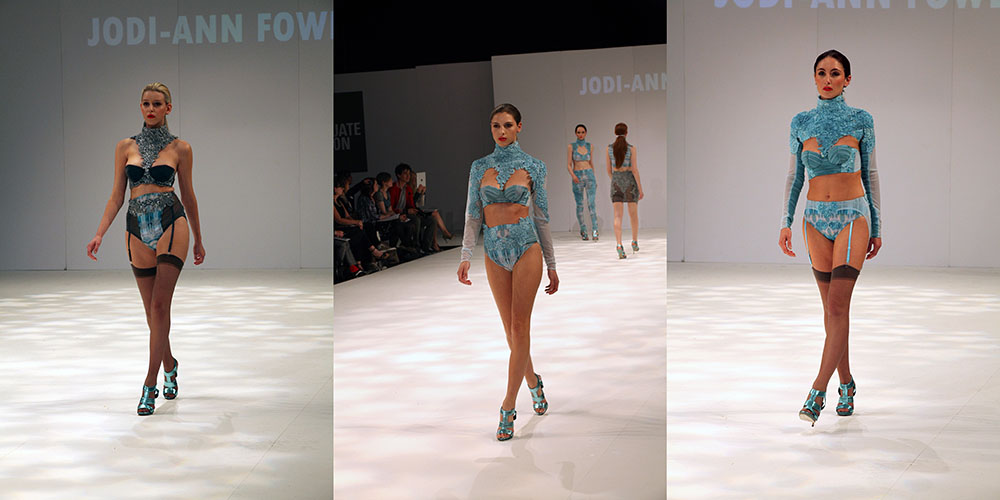 Jodi-Ann Fowler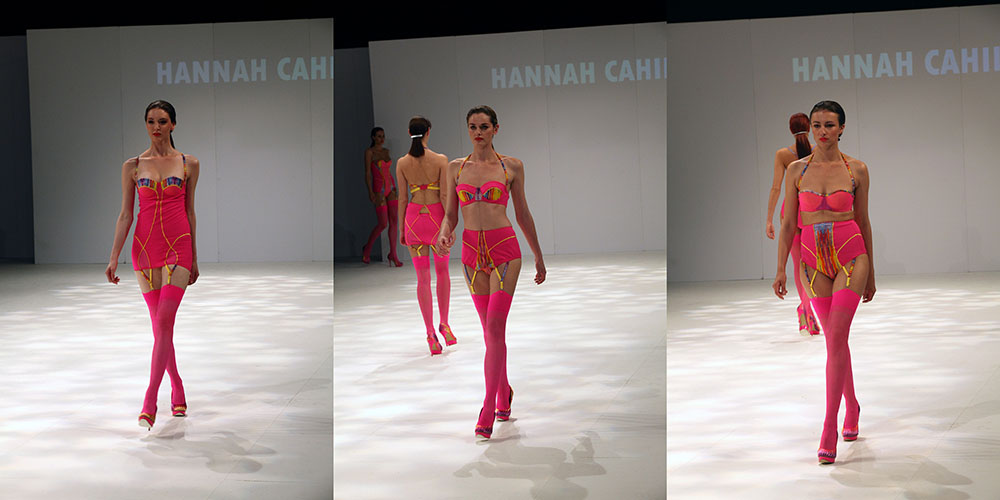 Hannah Cahill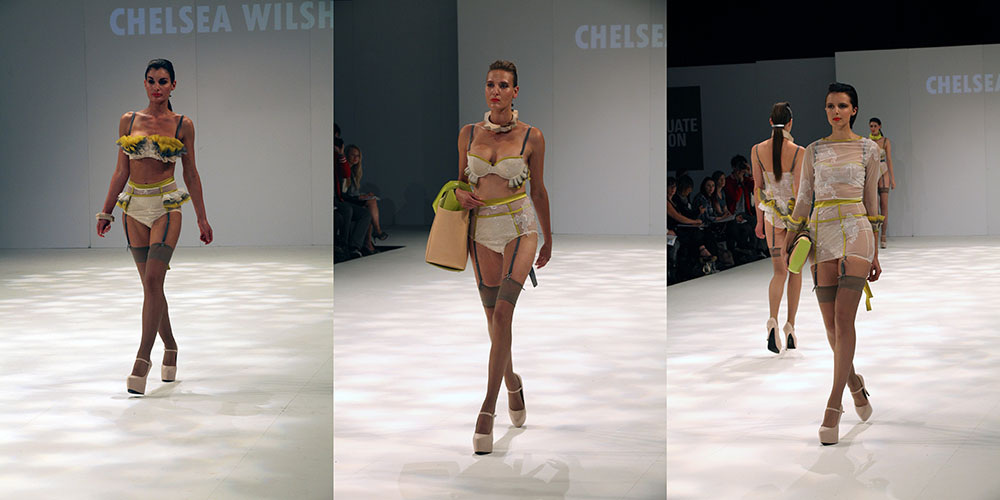 Chelsea Wilshaw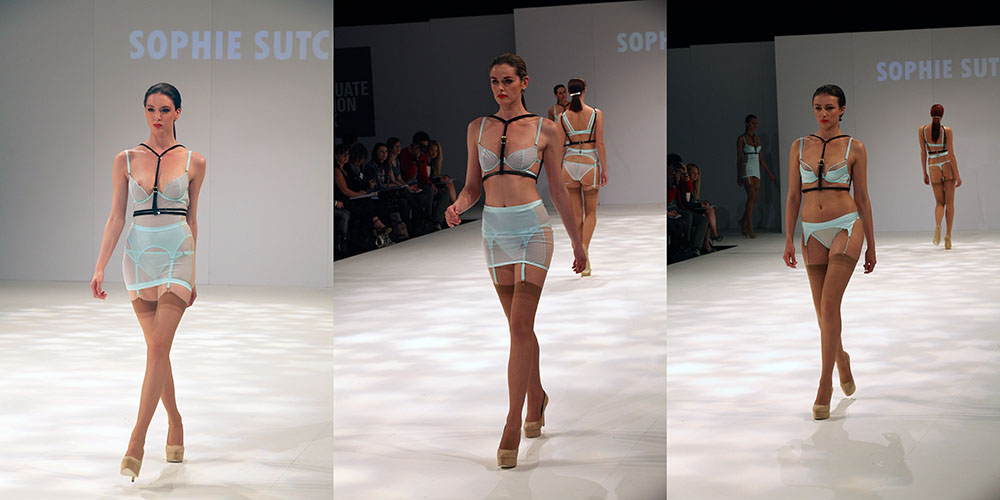 Sophie Sutcliffe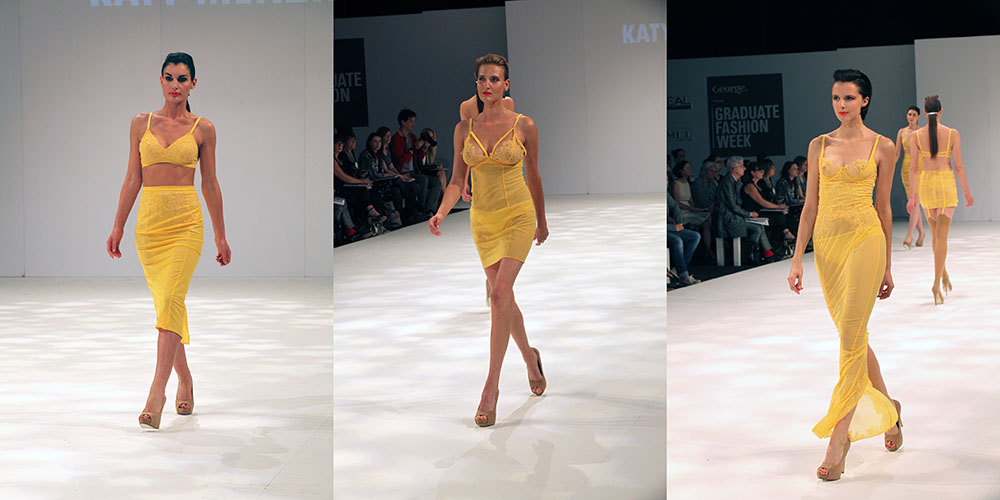 Katy Menzies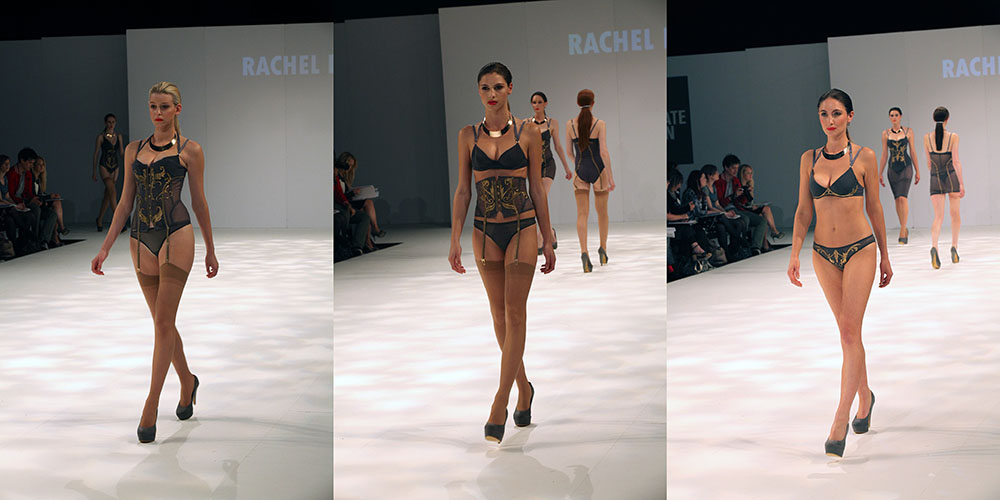 Rachel Davies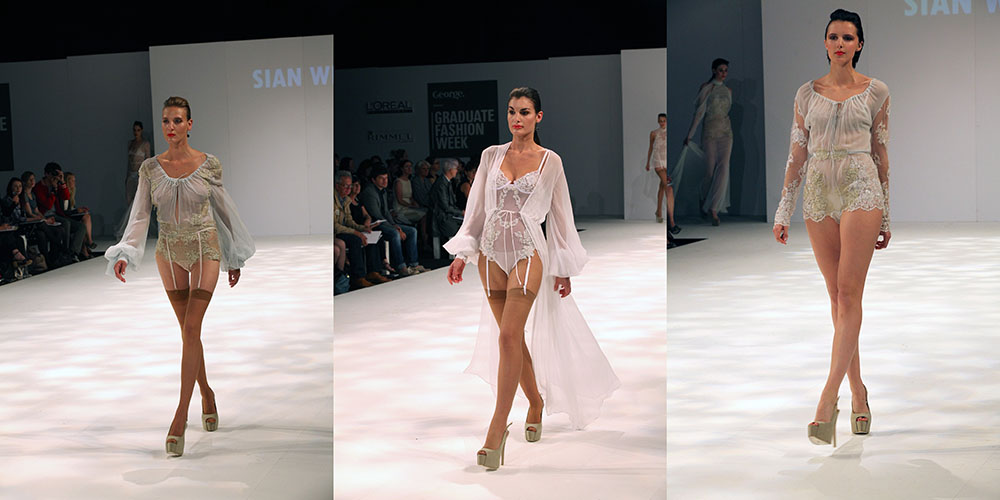 Sian Whitefoot