Like strong, elegant women with attitude – and the clothes to match? You'll love Ping He
PINGHE catwalk show SS14
When I ask Ping He if she designed her SS14 collection with a sophisticated customer in mind, she replies 'yes, but it's still got attitude'. And attitude her work has. Her brilliant blend of romance and elegance, with strong yet simple shapes, outplays most of the monochrome minimalism so ubiquitous on recent catwalks. In fact, you could say it's not really 'minimalism' at all.
Ping He came to London over ten years ago, inspired by London's free aesthetic. After gaining a first class degree in Shanghai from leading art and design university, Suzhou, and winning the Shanghai Fashion Week Award for Womenswear Design, she completed a Master's at Nottingham Trent. Next followed a range of design work for well-known brands – a stint working for Alexander McQueen is perhaps the most enviable job on her CV so far. Later she became Head of Design for Aftershock and won the 'Best Rising Star Brand' award from the British Fashion Council.
Then Ping He left it all in favour of making her own name. In 2011, she founded eponymous high-end womenswear label PINGHE, showing her debut collection at China Fashion Week that year and her next at Vancouver Fashion Week in Canada. When she finally got to debut her work to a London crowd this September, it was to distinct critical acclaim, and her front row included such influential fashion forces as Poppy Delevingne. Her delicate yet strong aesthetic has been making waves ever since.
On a quiet morning in her Kensington studio – a beautiful town house she's borrowing from her friend until they move into their new studio space – Ping sat down with me to talk about her brand, what she learned from McQueen, and the ever-rising influence of the Chinese fashion market.
You used quite a lot of monochrome in your SS14 collection – would you say you're a minimalist designer, or would you say there's more to minimalism than just white and black?
I think there's probably a bit more to minimalism. I kind of do my collections with a feeling – last collection we did white and black because at the time we were just establishing our offices [in London] and our unit in the Far East and I was actually in Hong Kong. So because the outside was so busy, inside my mind I tried to keep it calm, so I wanted to do it in a white and black way. Shape-wise I like to keep it quite minimal, a soft minimum, not hard, but in terms of detail we're always giving that extra, a lot of appliqué and embroidery to enhance that minimum outlook.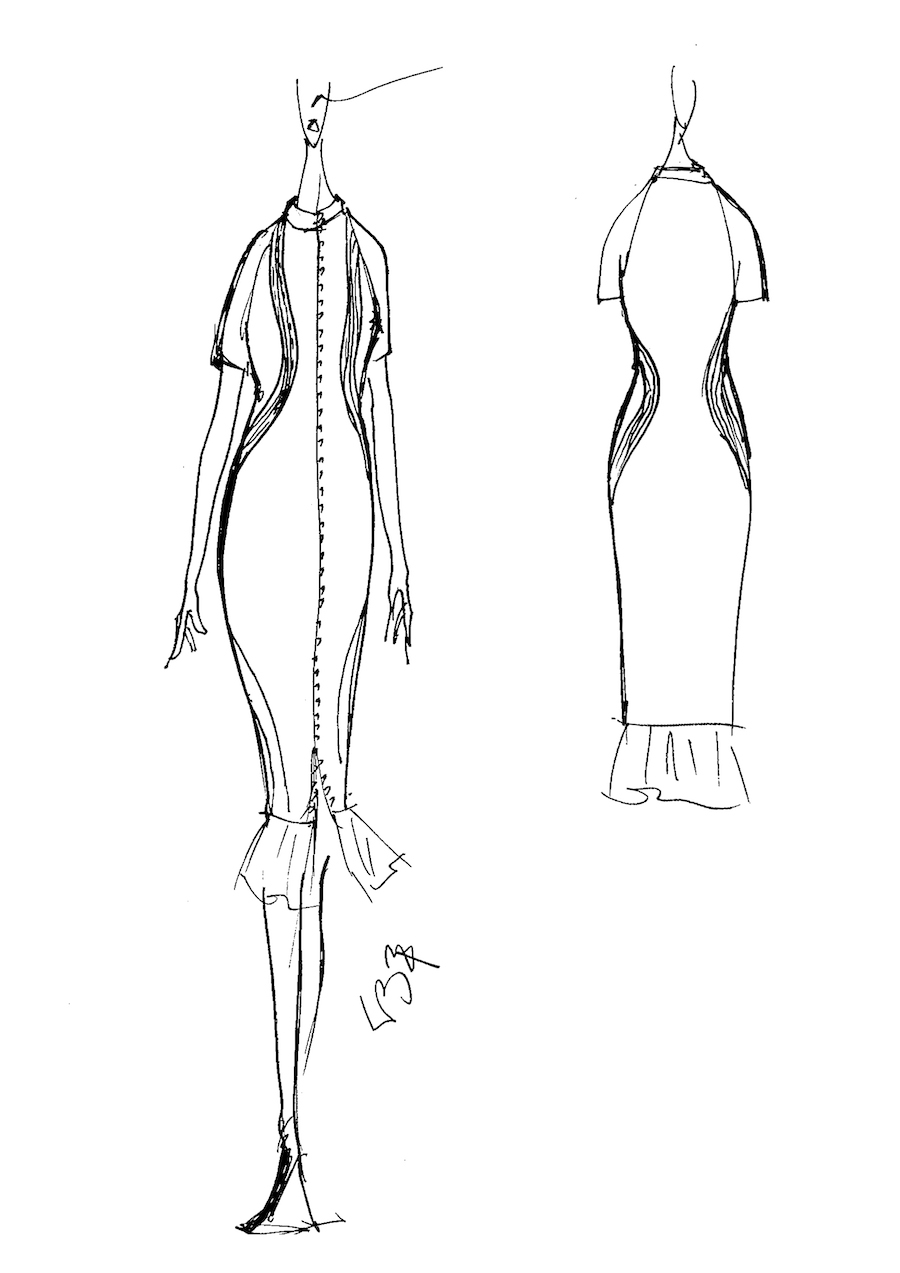 A sketch from the SS14 collection
The make-up in your SS14 collection featured painted white faces and black lips. It was a cool experimental contrast between the sophisticated clothes. Was there a meaning behind that or was it just for fun?
There was definitely a meaning. The brand itself is about 'elegant resistance', so everything is quite contradictory; if I'm doing a minimal shape there needs to be something there to maximise it. The garment itself is very elegant, dark elegance. I wanted to make sure there was something else to enhance that, so we tried to make the make-up and hair more towards that 'dark elegance' feeling. There's this dark side on the face, elegance on the body.
And you used to work for Alexander McQueen?
Yeah, it was a very long time ago, 2003, 2004, when I finished my Master's.

What was that like? What did you do?
We actually did his Paris Fashion Week autumn/winter show. It helped me a lot, to understand not basic but more extreme fashion, how extreme you can make clothes be but still go back to the drawing board and make it wearable. I really treasure that experience. It was hard work though!

The catwalk is often pretty theatrical; obviously we especially saw that with a designer like McQueen. How, as a designer, do you bridge the gap between a theatrical fashion show and designing for someone who's going to wear your clothes every day? 
Sometimes as a designer I feel like you're kind of doing a show yourself, like a director. The models are your actors or actresses, and backstage is like the background of a scene. But you have to make sure the garment itself creates that atmosphere. Like In a 60s [TV] show, you want to make sure you have a very 60s look, with the hair and the furniture and everything; so when you see the clothes you want to know exactly who they stand for. The women we design for, they might have these dreams or imaginings in their own world, and we want to make that become true with our clothes. So that romance, this 'elegant resistance', is something they enjoy. With the show I want to tell them 'actually, you can look like this, or in everyday life, you can take off the makeup and be as elegant as you wish'.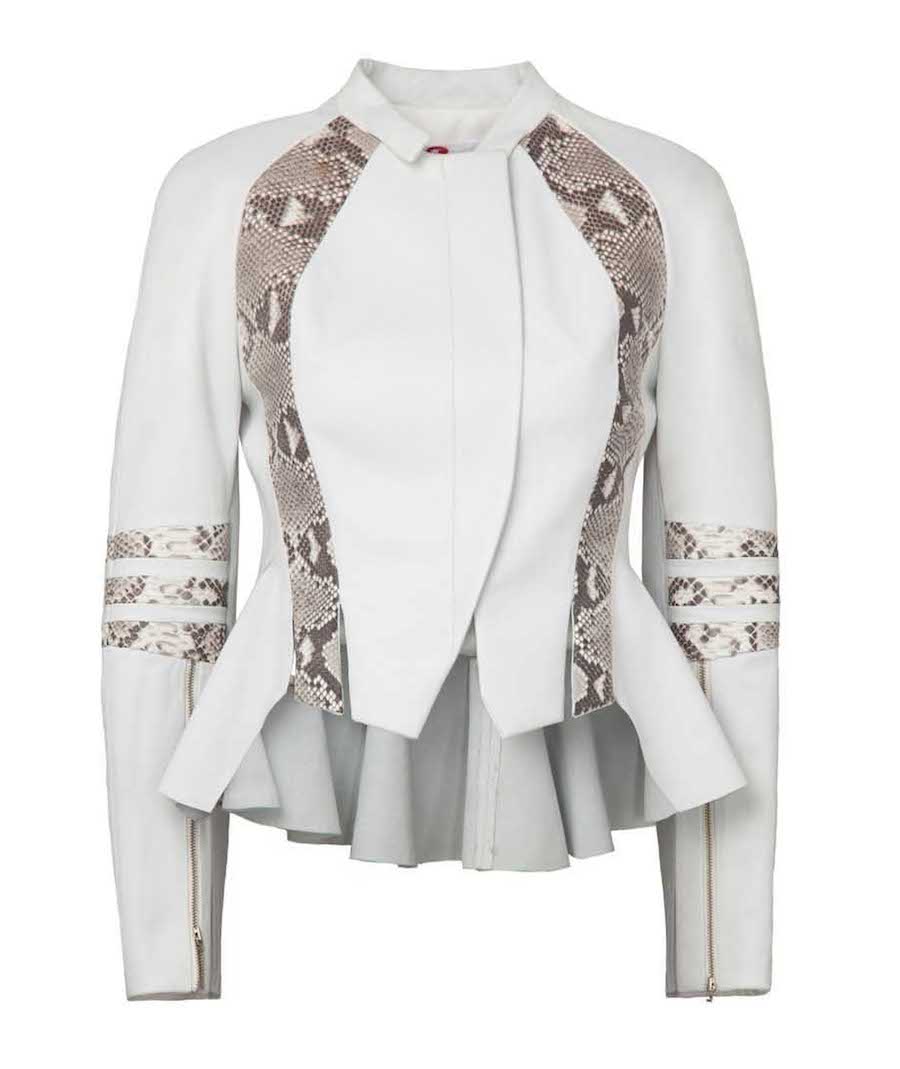 Alexandra jacket
You're originally from China. When did you come to London and what made you decide to come here?
Well, I did my BA in Shanghai and when I finished it, it was 2002. Then I worked for a year in a Japanese business company between Shanghai and Tokyo, but I just didn't think it was enough, you know? At the time in particular we heard a lot about McQueen, Westwood, Galliano, and how well they were doing on the fashion stage. I just I felt I wanted to come here because it's quite free. That freedom is something that breaks through. That's probably why I said 'Goodbye Shanghai, I need to come to London!' because I needed more. There wasn't enough for me there.
Over the last few seasons definitely there's been an increased interest in fashion that is coming out of China and the East. Chanel Resort 2014 for example this year showed in Shanghai and it's interesting that such a big brand chose to show outside of Paris.
Why do you think there's such an interest lately in fashion outside of the typical big four of Paris, New York, London and Milan?
Absolutely. I've noticed that. I guess from a business point of view it'll be consumer driven. There are more customers from the Far East, especially in oriental countries like Japan and China, Taiwan, Hong Kong. They have that spending power and they're really caring about that sophisticated look. Interestingly, we have an office in Hong Kong and every single woman there, they're carrying a designer bag if they can afford it. It's different to here because we like to have [designer bags], but it's not really an essential. We enhance ourselves more with the way we dress as a look. But there people can dress really casual, but they can still carry a Celine bag. It's almost like a mast for them. The way they think about luxury there is a bit different. People feel pride to have [designer goods] themselves, whereas here, I think, you buy it more because you really like that style.
So do you take inspiration from where you come from when you design?
Yeah, all the time. Like I said, our brand is about 'elegant resistance' so my inspiration is coming from the philosophy behind it. It's almost as though we're talking about how we feel about society, about social changes, people's minds changing. In 'elegant resistance', that 'resistant' part is from the oriental. Most oriental women have quite a soft outlook; they're quite gentle, but inside they're very powerful. It's a bit different compared to the West. So I think that's something I take from, and that's a great quality of an oriental woman. I want to use my collection to enhance that more.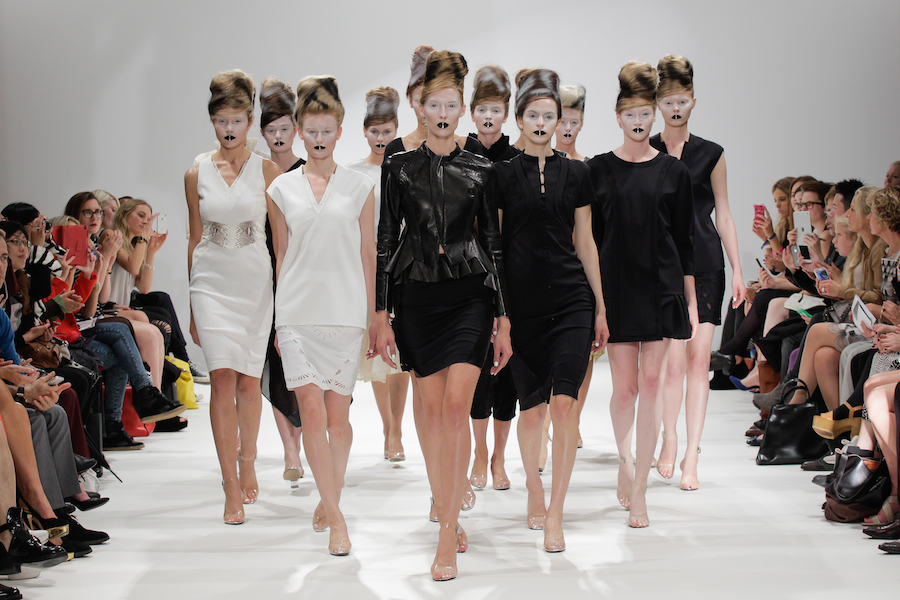 PINGHE's elegant resistance SS14
You have a quite a celebrity following of your brand PINGHE. Poppy Delevingne was at your SS14 show for example. How do you feel a celebrity following contributes to your work and your image?
When it's the right celebrity, it's definitely a great thing. Poppy's lovely, she's got a beautiful, gentle attitude and she's pretty much who we're designing for, so having her on the front row, I really enjoyed that. We also got Mary [Charteris] and Laura [Whitmore] [on the front row] as well – they all really appreciate the design. And I think…personally, I feel the right celebrity image is a very, very important for us, because when they're wearing us they look great.
You're planning to show your next collection in London next season. Have you got any ideas about AW14 yet?
No! It's quite mad here! You think it's quite calm now [in the studio], but during the day it's quite mad! We kind of have some ideas, but nothing is definite yet.
Words: Rachel Michaella Finn