Helen Lawrence caught our eye this Spring/Summer 2014 at London Fashion Week when she opened Fashion Scout's 'Ones to Watch' catwalk show. From the first look – a summery lemon knit worn against black PVC hotpants and a transparent plastic skirt – we knew we were in for an interesting, if unconventional, treat.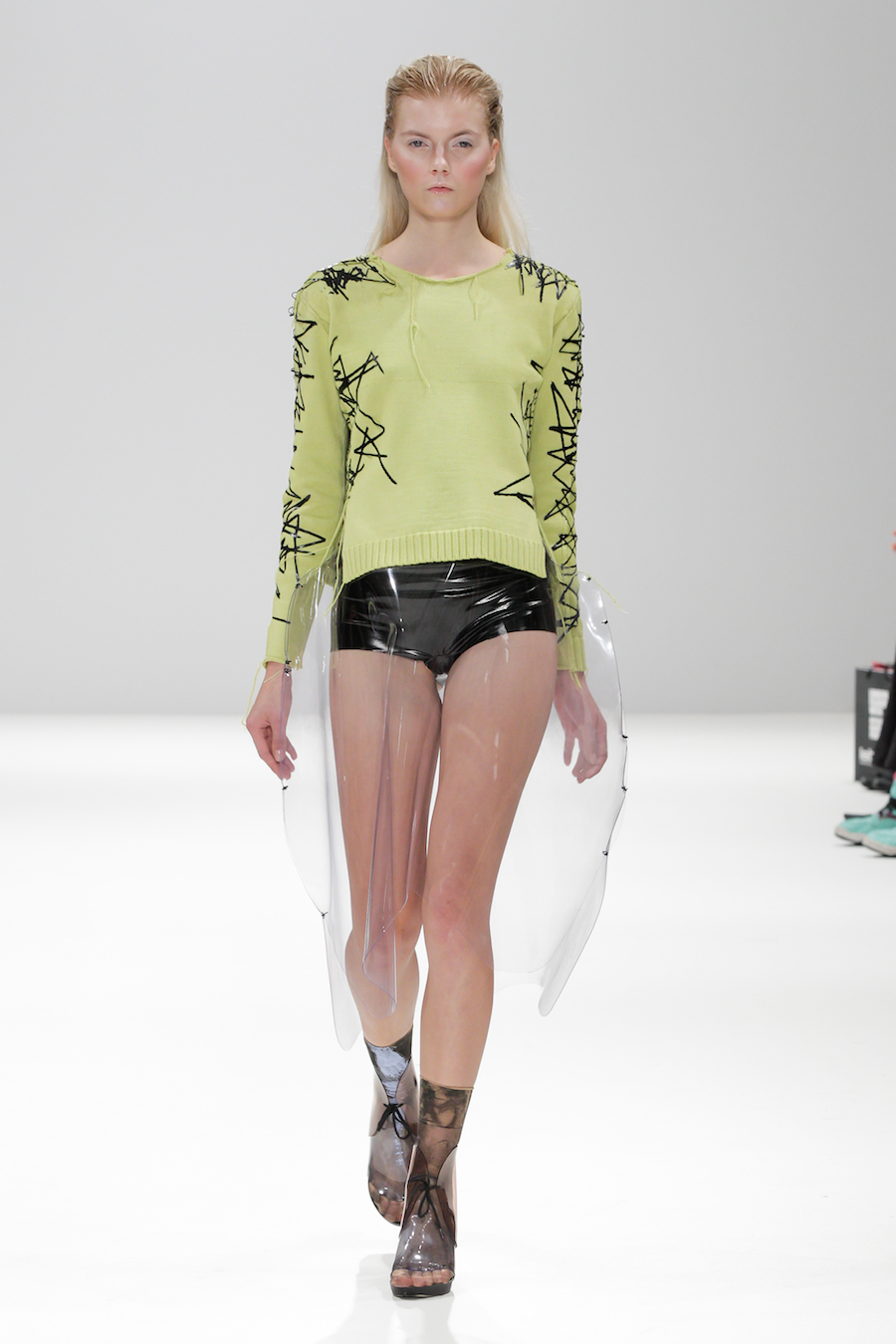 Arguably London's leading indicator of fringe fashion talent, 'Ones to Watch' has proven to be a remarkably reliable predictor of future success – previous winning alumni include Eudon Choi, David Longshaw and Phoebe English. So is Lawrence's unconventional mixing of fabrics, and innovative attention to detail, set to push her work into mainstream spotlight success? Let's just say we wouldn't be flabbergasted.
PHOENIX talked to Helen about her inspiration behind her first post-graduation collection, her love of clashing textiles, and her plans for the future.
How did you come to work in fashion? 
I knew from a young age I wanted to work in fashion. I was always obsessed with making things, especially clothes and accessories.
I studied BA Textiles at Chelsea College of Art and Design, specialising in Knit. From there I went onto study MA Fashion, Knitwear, at Central Saint Martins. I showed my MA collection at London Fashion Week, and I also collaborate with menswear designer Craig Green, on a line of menswear knits.
What was the inspiration for the award-winning SS14 collection?
I wanted to develop my work from the MA, simplifying the aesthetic so it had more of a commercial angle.
I used a similar technique, but wanted to focus more on layering colours. I love the work of Pierre et Gilles, and looked at their images for the colour inspiration.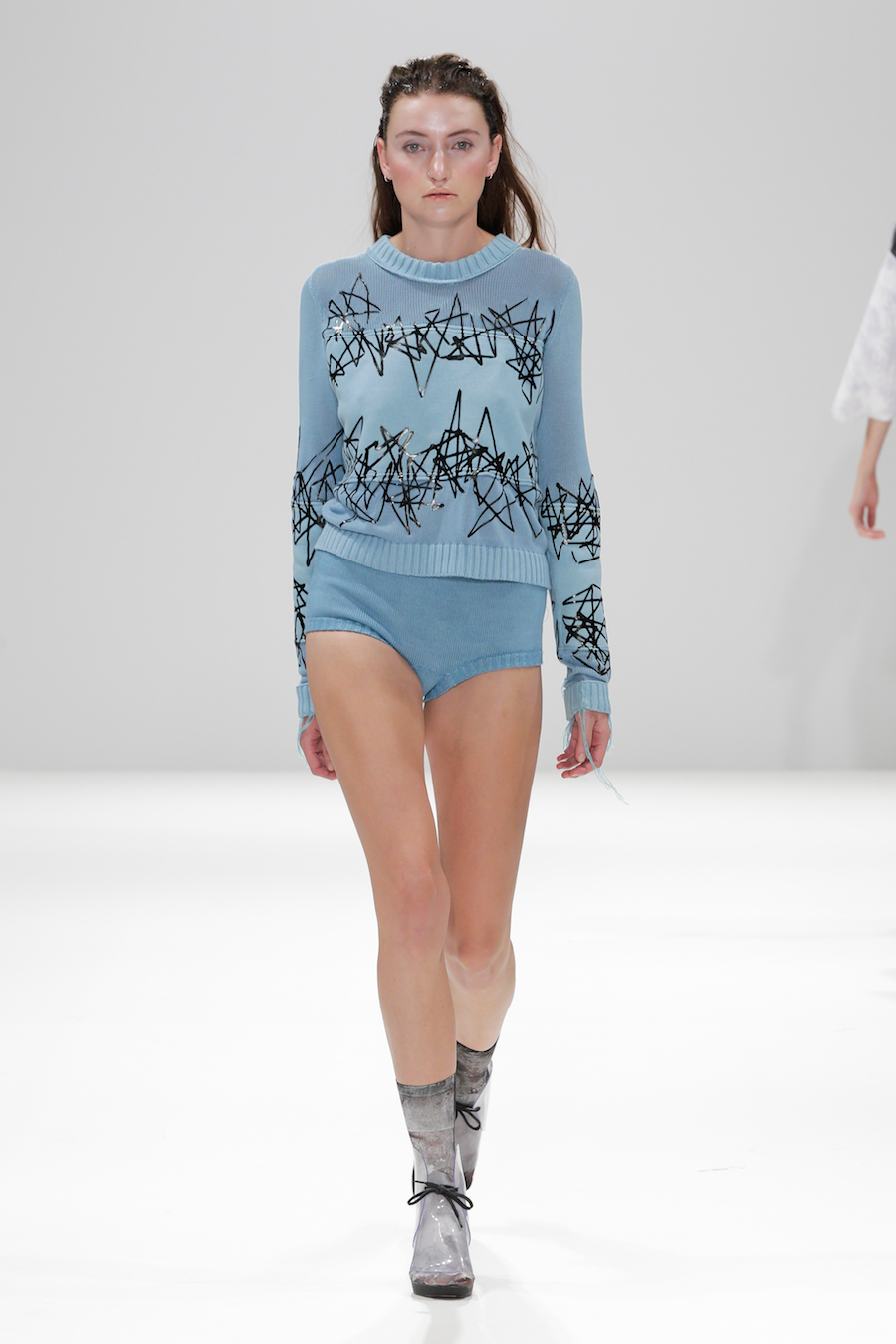 Do you have a specific person or customer in mind when you design? What kind of woman do you envision wearing your clothes?
I'd like to think lots of different types of women would wear my clothes, but I suppose the bolder pieces work well on someone who isn't afraid to stand out or try something new.
You're known for experimenting with fabrics – your SS14 collection for example used knitwear alongside plastic. What inspires your approach?
I love the mix of soft and harsh materials. Natural against unnatural fabrics. I like the way things that shouldn't work well together actually do.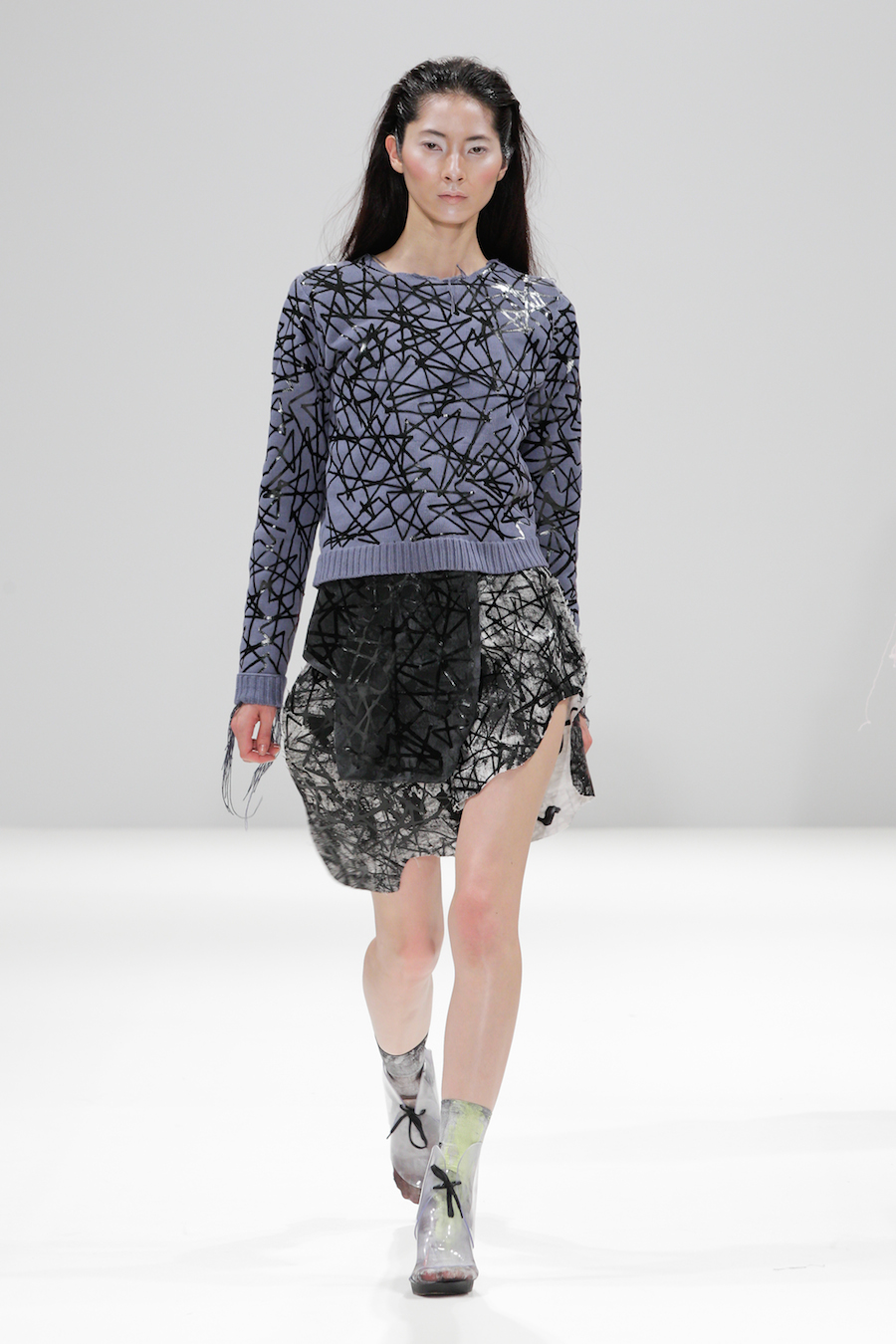 What I love about your work is that it can seem relatively simple from a distance, but when you look closer you see all sorts of small details you never noticed before. 
Yes. The aim of the collection was to create something that's beautiful from afar, but when you approach it closely you see a whole other aspect, and the true depths of the fabrications. I come from textiles background, so it's important for me to be able to make garments from really interesting hand manipulated fabrics. The processes are complicated and time consuming.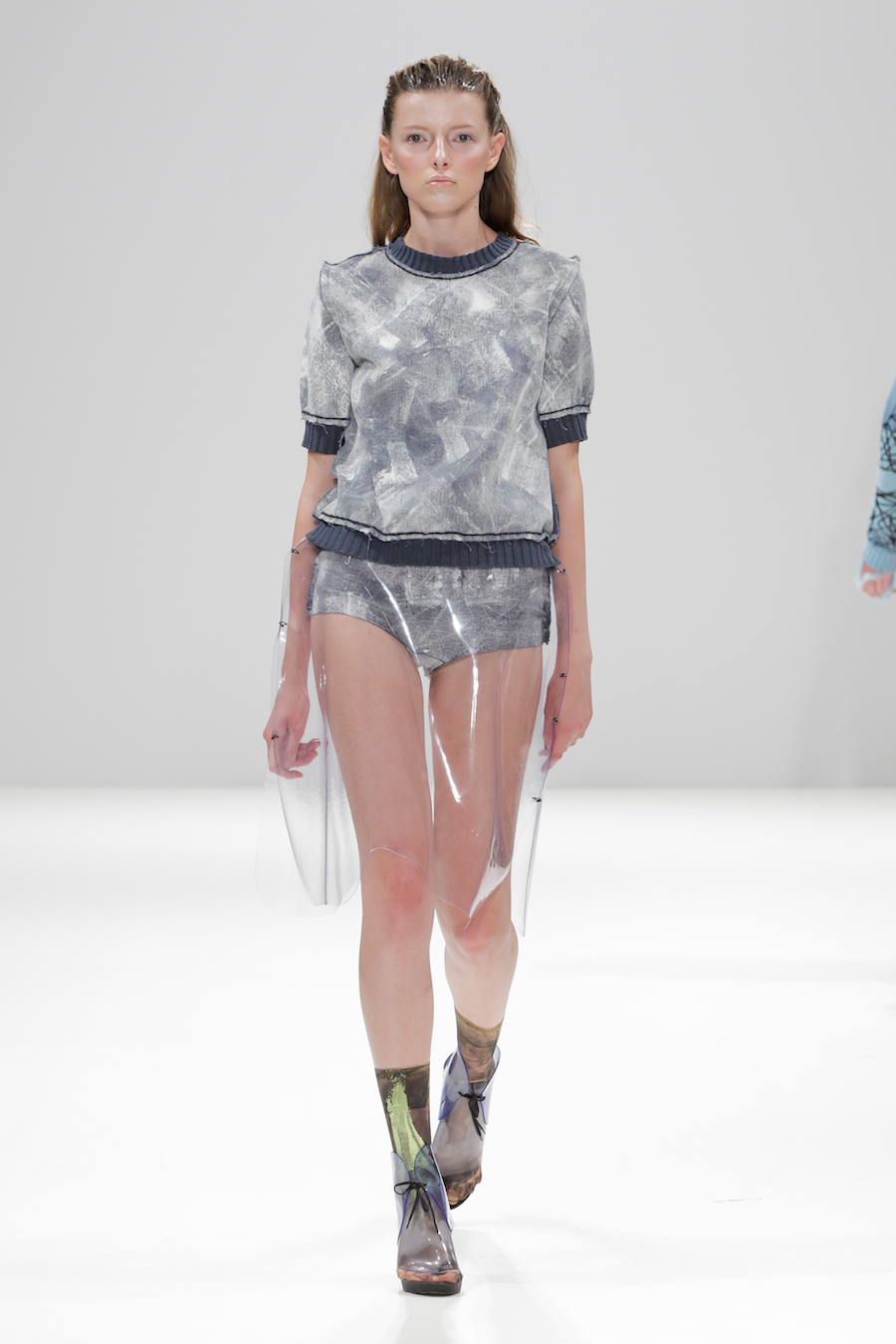 What do you hope you can bring to the fashion landscape?
A fresh take on textiles in fashion.  
What's the future for your brand?
I'd really like to be able to continue to collaborate, and work on different projects with other designers, as well as develop the pieces I've created since graduating from the MA.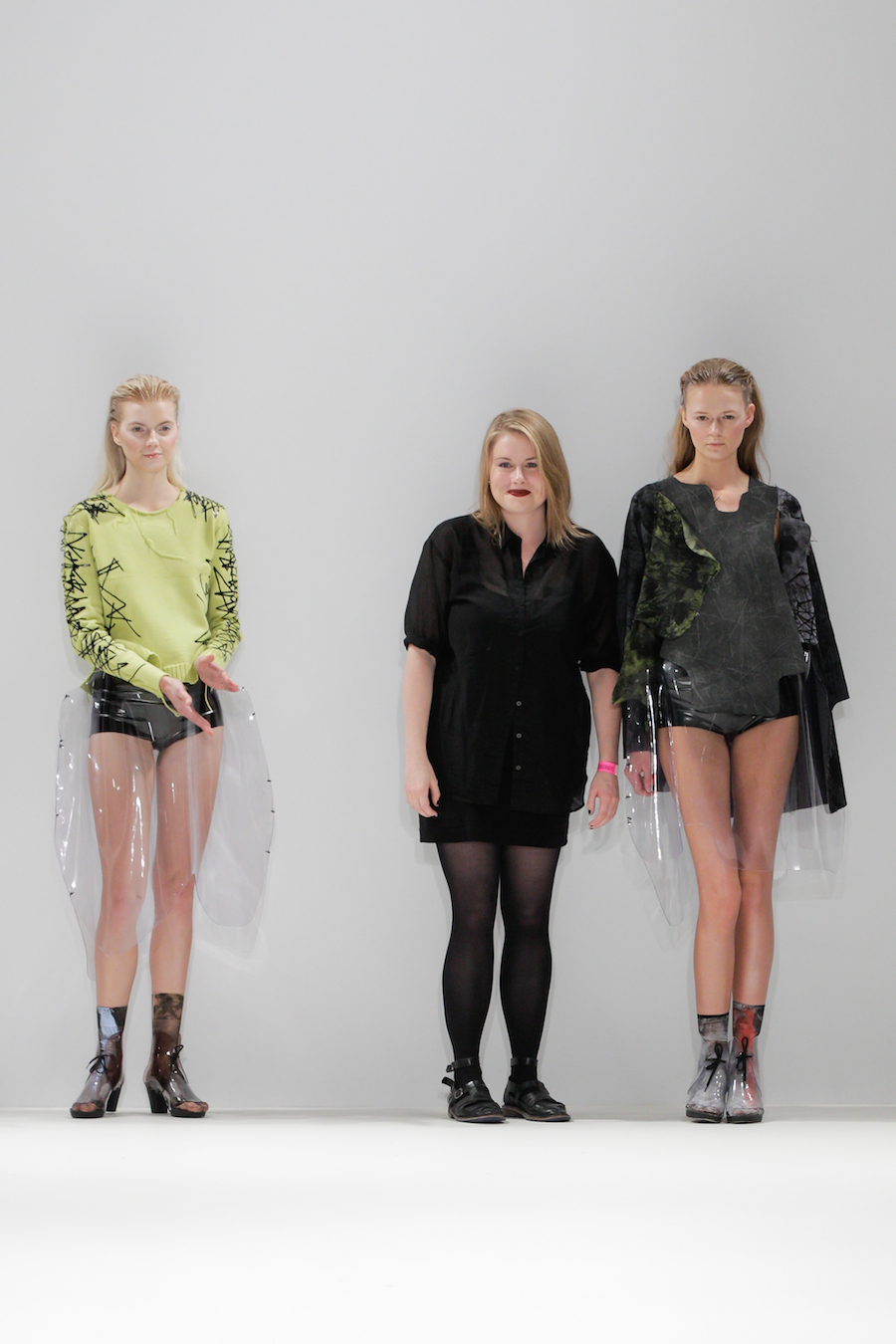 Words: Rachel Michaella Finn
Images: Christopher Dadey