5 Shirt Dresses For Smart Spring-to-Summer Chic.
We have a little confession to make: until recently, we weren't sold on shirt dresses. Sure, we've dabbled, but they always made us feel like Victorian school-girls or primary school teachers. And yet, with the likes of Burberry and Holly Fulton sending beautiful re-interpretations of this classic staple down the SS14 runway, the shirt dress has won sartorial reappraisal, and passes with flying colours.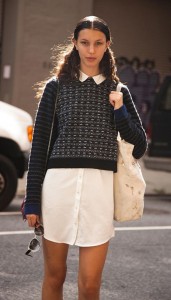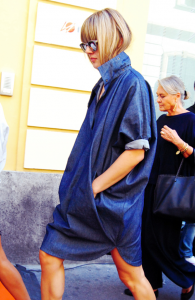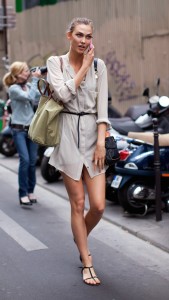 Say goodbye to bland mumsy numbers, because shirt dresses have acquired a certain youthful nonchalance for 2014. White shirt dresses have been the fashion bloggers' favourite, exuding an off-beat geek-chic when crisply buttoned-up and worn under a crew neck jumper. When the weather gets warmer pair a white, grandad-collared shirt dress with a statement necklace, brown leather bag and bare legs, for borrowed-from-the-boys cool.
Tall, lean figures can pull off this season's bold A-line, knee-length shirt dresses, which are a metamorphosis from last year's minimalist shift dress. Make a statement with bold stripes and colourful prints, accessorised with 90s ankle-strap heeled sandals and oversized sunnies. Avoid the pitfalls of fabric overkill and keep sleeve lengths short for this unfitted style.
Finally, fashion classicists can be comforted by the fact that the original belted shirt dress is sticking around for summer. This style suits all body-types, but curvier girls may prefer the  cinched waist models to the looser, shapeless looks mentioned earlier. This year denim is a popular fabric for the classic belted shirt dress – perfect for the city when worn with pastel brogues and a leather jacket, or with rolled-up sleeves and wide-strapped sandals on holiday. But this style can also be found on the high street in fun, flamboyant fabrics, so take the opportunity to purchase according to your personality, and keep an eye out for vintage-print fabrics in charity shops and vintage stores.
Words and styling: Joy Starkey