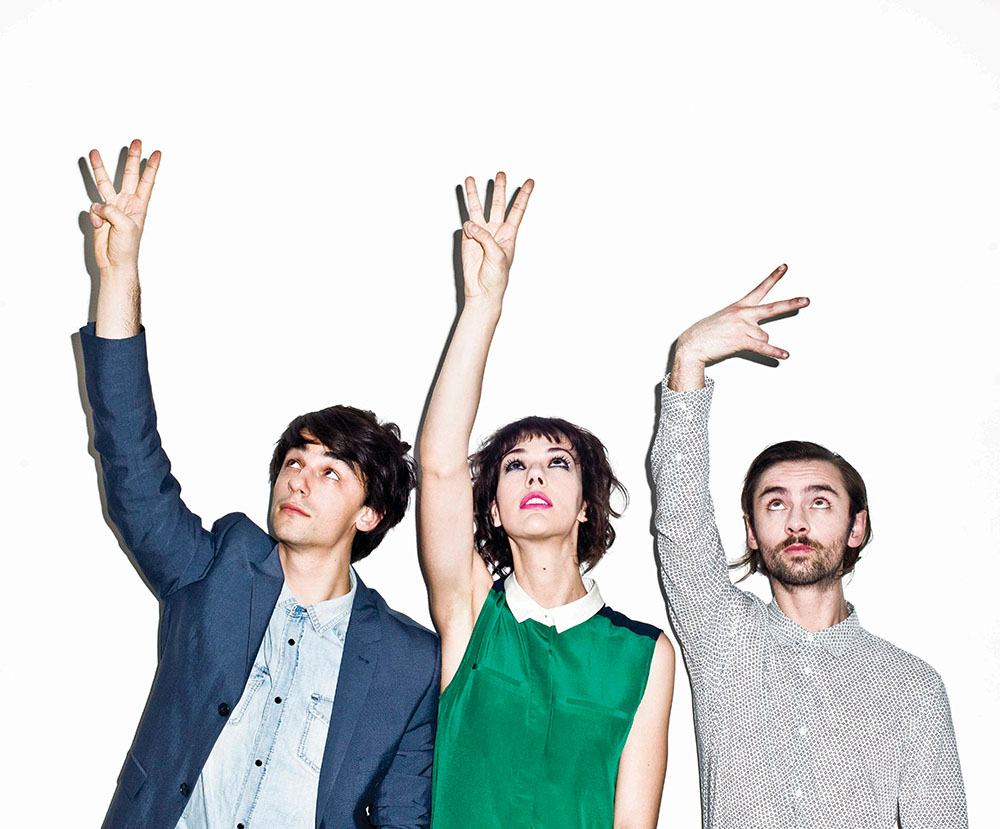 (L-R) Shirt by Diesel and Jacket by Topman, on Fabienne Top by Sea NY, Shirt by Sandro.
With their nostalgic, feelgood electro beats, Parisian trio We Were Evergreen have summer tunes wrapped up, writes Al Horner
Michael Liot, Fabienne Débarre and William Serfass live in London these days, but haven't left behind the famous French capital they grew up in entirely, at least not where their music is concerned. We Were Evergreen make Parisian pop sweeter than a Belleville patisserie, as sophisticated as a sunny summer's afternoon crisping on the bank of the Seine reading Ginsberg and more fun than a wine-soaked evening stumbling from bar to bar in Place de la Bastille. It's been a whirlwind five years since meeting in a theatre class and deciding to form a band, a time that have seen them release a string of acclaimed EPs, tour with Michael Kiwanuka, King Charles and Ed Sheeran and play a set on – actually on – the London Eye. "We barely knew each other when we started, remembers Débarre. "It's quite sane," nods multi-instrumentalist Liot. "Wait, sane or insane?" Débarre shoots back. Here's one thing here's one thing the pair should be able to agree on: with an eagerly-awaited debut album on the cusp of release, 2013 is going to be a huge year for these charming Gallic raconteurs.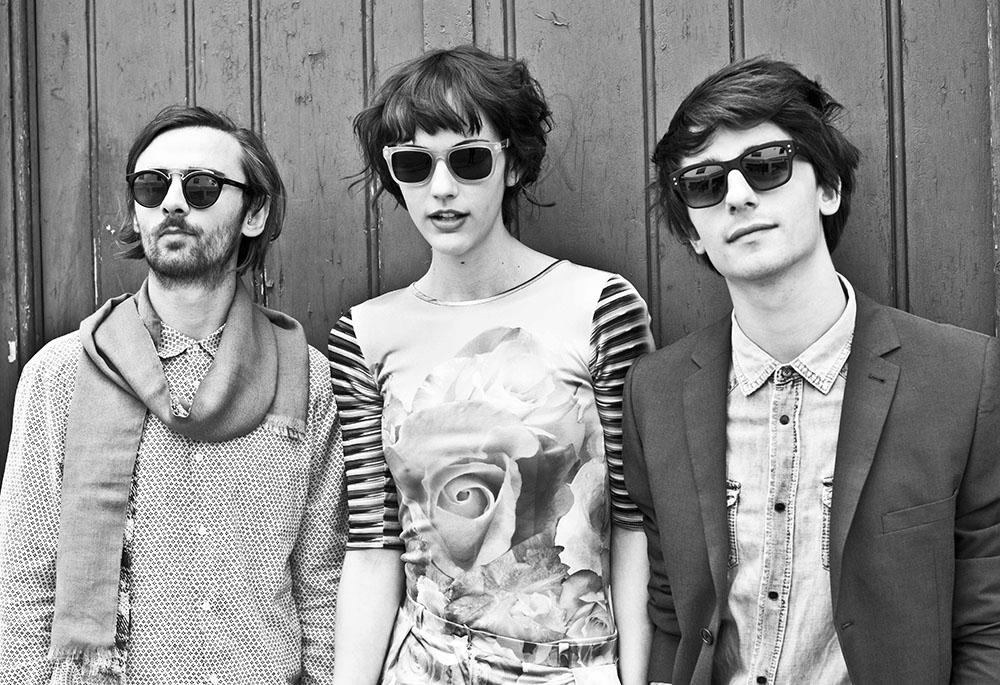 (L_R) Shirt by Sandro, Trousers by Matthew Miller, Belt by Penfield, Scarf by Basso & Brooke Studio, Shoes by Supremebeing, Sunglasses by Super. On Fabienne Top and Shorts by Aminaka Wilmont, Sunglasses by Diesel and Shoes by Allsaints. Shirt by Diesel, Jacket and Trousers by Topman, Shoes by Pointer, Sunglasses by Claire Goldsmith.
"You can call it pop because you can put everything in pop," says Liot, trying to pin down a decent description for his trio. He's right, but then again only scratching the surface of the sound that has won them an impassioned cult following across Europe: with fuchsia shades of Metronomy and Belle and Sebastian, not to mention the romantic vocal tussles of Serge Gainsbourg and Jane Birkin, they combine instruments like ukulele, banjo, toy piano, kazoo and glockenspiel with melodies so infectious it's a wonder no department of health and safety is smashing their doors down to get them into quarantine. Yes, We Were Evergreen make summertime music with a sugar-coated spin – just don't call them twee, says Liot. "Most of the songs on YouTube of ours are quite old. There's a lot of acoustic sessions we were asked to do that are really quite laid back. It's something we like to do, and it's a nice exercise, but really there's some really dark electro moments to our music, some real electric moments with rhythms, real rhythms." It's this almost hidden pulsating dance edge, set to come a little more into plain view on their upcoming album, that makes them festival favourites. "Last summer at Secret Garden Party and Wilderness, people were going crazy partying," recalls Débarre. "I think it was a good confirmation for us of wanting to go further in that direction."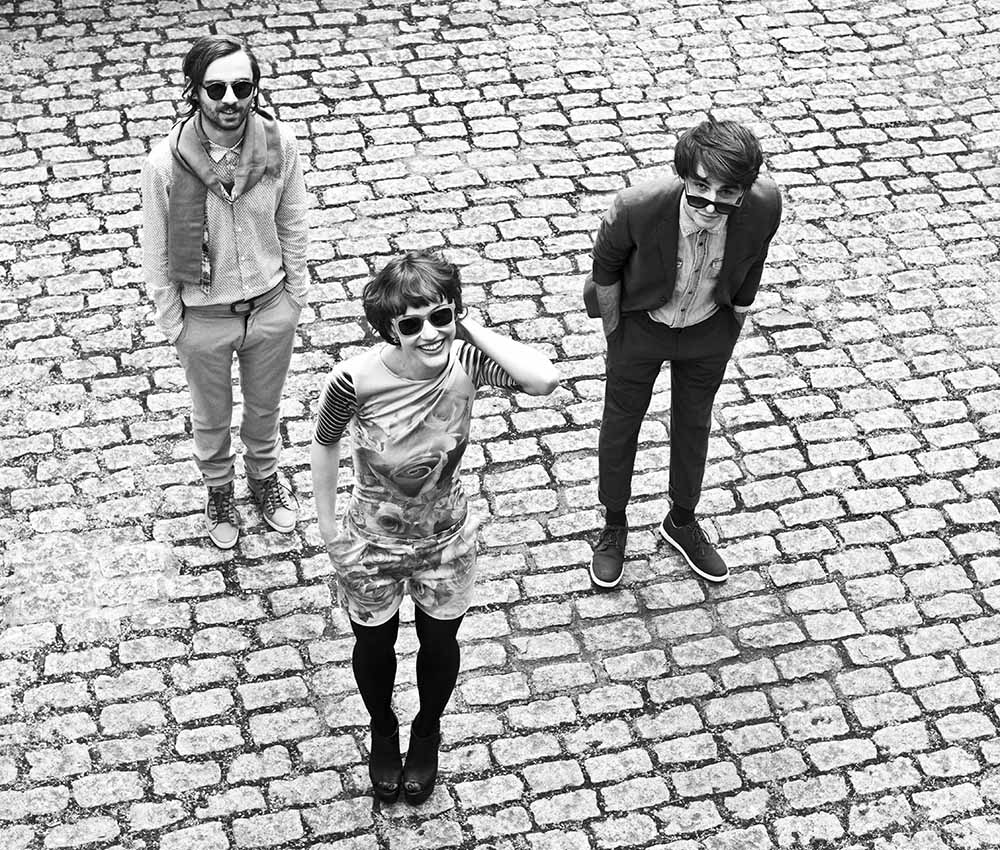 If there's an unhinged, eccentric vibe to songs like Penguins and Moonboots and Little Robot Child, it might be because of their DIY edge. We Were Evergreen have done everything to date without a label. "It's a hard time for the music industry, a tricky time," says  Débarre, who had the idea last year of financing their debut album using crowd-funding platform Kickstarter. "People were very kind. We set our target low and ended up doubling it. We have an amazing following."
"A lot of people ask why we sing in English, but it was kind of natural because as a result of listening to a lot of stuff in English," says Liot, who credits the Beatles and '70s rockers Cream as having a big part in his musical adolescence. The album, the pair promise, mixes influences from both France and their adopted home town, with its release scheduled for the end of the year. "It's a very exciting time," Débarre smiles. She can say that again.
– Photography: Tom Betts