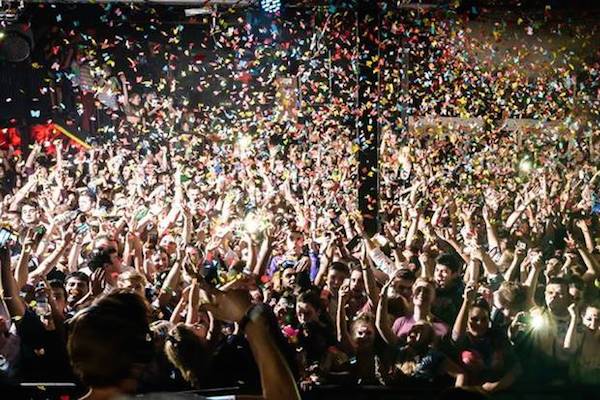 A raucous cavalcade of calypso, reggae and samba beats across London, the amazing music and gritty party atmosphere of Carnival is by no means confined to the west, or to the weekend for that matter. If you're on the hunt for pre-festival events and are hell-bent on kicking things off early, look no further. A few of London's finest basement bars and time-honoured establishments are offering up sweet all-nighters to get you going.
1. Formula Records Warm-Up
When: Friday 22nd August. Where: Birthdays
Expect: One dutty line-up, according to the venue. We couldn't have said it better ourselves. Legendary acts from Swamp81, Formula Records and NTS Radio will be busting out bass-heavy jungle and grime until 4am. Colourful concrete rave rooms, a massive soundsystem and drinks that shouldn't work, but just do.
PHOENIX's Tip: This place is a Dalstonite haven so remember your beanie and jelly sandals. Just kidding. Whoever originally said it was a bad call to mix your drinks was lying. Head straight to the bar and try the largeritas and cocavinos, trust us on this one.
2. Rio Calling vs Notting Hill Carnival
When: Saturday 23rd August. Where: Notting Hill Arts Club
Expect: An infectious fusion of time-honoured Carnival sounds and Brazilian beats peppered with a few classic jams from DJ Gladdywax and Gringo Da Parada. Cocktails that go by 'Jerk and Stormy' and 'DJ Derek Rum Punch', and a great crowd who don't care whether or not you're judging their dancing from the sidelines; they came to have a good time, you may as well join them.
PHOENIX's Tip: We probably don't need to give you advice on how to weather a night out at the arts club but, if you happen to detest queuing on a Saturday night, book one of their free booths, turn up early and get a few smooth mojitos in.
3. Pineapple Jam
When: Saturday 23rd August. Where: Canavan's Peckham Pool Club
Expect: No delicious tropical preserves but a healthy helping of funk, soul and disco beats and hot exotic vibes at one of London's great lesser-known late-night venues. It may have been described as Peckham's fanciest squat, but when the music selection leaves no room for improvement, why be prudish about hanging out in this joint? Just do it.
PHOENIX's Tip: This one's bound to get a bit hot and sweaty so you might as well take your Carnival look for a test run. We're talking a fresh pair of day-glo trainers, bralettes, booty shorts and body glitter. Guys, if you really don't fancy the latter, at least go for something bold and bright. Don't let the side down.
4. Hot Wuk Truck 
When: Saturday 23rd August. Where: KOKO, Camden
Expect: A huge dancehall session at one of Camden's best live music venues, which you'll see bedecked with Caribbean float splendour aka, there'll be a truck on the stage and dancers everywhere. This is a venerable warm-up event so pull the stops out and ready yourself for a feather plumed, rum-punch fuelled taste of what's to come. The illustrious Heatwave is preparing a bashment party like no other.
PHOENIX's Tip: By now you don't need us to advise you on how to enjoy the lead-up to your best bank holiday to date. If you're committing to a full weekend of warm-up parties and late nights you already know what you're in for. All we can offer is the best of luck for the forthcoming spate of bleary eyes and detox juice-chugging and wish you fresh-faced and enduring Carnival success. We'll be in the same boat but wouldn't have it any other way.