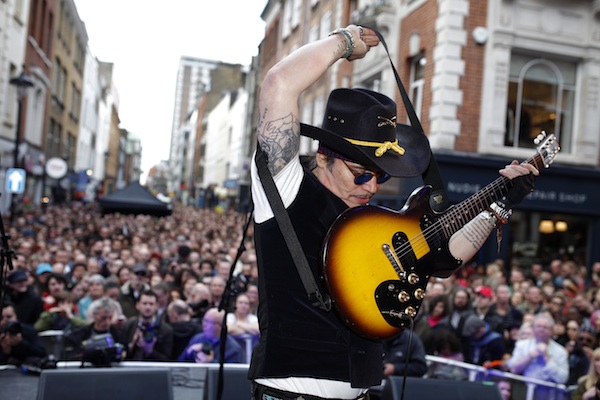 Live music, dancing in the streets, cameras snapping and the politest queues you've ever had the pleasure of being part of: Record Store Day 2014 on London's famed Berwick Street was a jubilant affair. With shiny happy people lining the pavement outside the illustrious Sister Ray Records and the keenest vinyl collectors vying to get their hands on some of this year's must-have limited edition releases from the likes of The Pixies, David Bowie, White Denim, Chvrches and Haim.
This young but grand tradition kicked off in 2007 after a collective of store owners and employees teamed up to share and laud the extraordinary culture of independent record emporiums all over the world. A fresh list of exclusive singles, albums, EP s and compilations by a wide variety of artists is generated annually by Record Store Day organisers and stocked by independents from London to New York. For some, adding these to a precious existing collection means camping out overnight to be the first to walk through a local shop's doors on April's third Saturday, every year.
In London, vinyl-lovers gathered to celebrate their collections, hail the richer sounds of analogue and support the livelihood of the independent stores that have purveyed unadulterated sonic happiness for generations. Berwick Street shares a long and impressive connection with British music. As the location for Oasis and Ian Brown's album shoots and videos and the teenage haunt of T-Rex's Bolan, as well as being the home of a host of record stores such as Reckless Records and The Music and Video Exchange, it's a site of pilgrimage for stars and savvy fans alike.
From 8am, Berwick Street lived up to its name as the hub of London's love for vinyl and things only got better as the day wore on. Live music from Edwyn Collins, Augustines and Adam Ant had a huge crowd moving and shaking in the sunshine as those keen to explore the interior of the many record shops spilled out of doorways with newly purchased sleeves under their arms. September Girls, who exacted a high-energy fuzz-pop extravaganza and looked the epitome of sharp, rocking black garb and vintage sunnies, had people cheering as the queue for Sister Ray Records snaked down the street and those in it stomped about to their moody riffs and soaked up the atmosphere.
Though learning about attendees' most treasured records and hearing heartwarming stories and tall tales yielded some wonderful insights into the history of Sister Ray and its most loyal visitors, Record Store day wasn't just about records; it was about style, art, food, friends and the spirit of London. For one glorious day fans flocked to the dimly lit, alphabetised Mecca that Berwick Street has become for a double-denim clad street carnival of culture, beer and beats. Any excuse to fill tote bags with 45's is a good excuse and this sunny April weekend was a damn sight better for it.
Words: Emily Beeson | @younggoldteeth