We've taken creative image-making technology to new plains and now, proud of our achievements, we've printed the outcome on paper and created a good old fashioned book…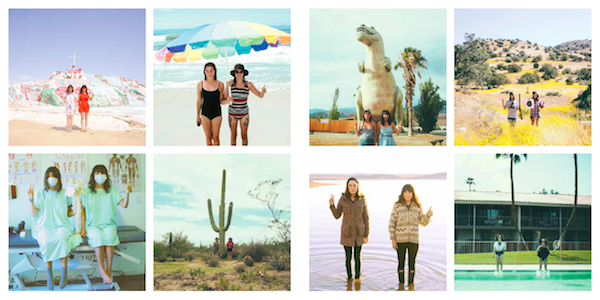 Exploring and exploiting the boundaries between professional and run-of-the-mill photography, this colourful compendium edited by Steve Crist and Megan Shoemaker, delves into the bright, saturated world of Instagram. Studying both the rapid expansion of social media and our personal obsession with dethroning cultural gatekeepers in order to become influencers, The Instagram Book is a fascinatingly relevant read.
Far from being able to showcase every selfie, breakfast shot and breathtaking image snapped by a professional camera rather than a phone, the book's editors sought to showcase a rich and colourful segment of Instagram's established and emerging talent within its pages. The publication's profiles and images are a vivid mix of subjects, styles and personalities hailing from all over the world. Iceland, Brazil and Italy leap out from the pages in a familiar wash of filters and tones.
A gorgeous coffee table book, a guide to the evolution of technology and photographic standards and a clever fusion of digital and print in celebration of visual culture, The Instagram Book leads us on a journey through our own lives, questioning the app's success whilst waving outstanding images before our eyes. We've come a long way since the plastic toy cameras that inspired the Instagram aesthetic, though now, creative technology and social media appear to have reached a pivotal point.
The Instagram users in this book are presented as artists, regardless of their qualifications or association with other creatives. Their images have been carefully selected from the mass of photographs uploaded to the app every second of every day. Some describe themselves, not as photographers, but as iPhoneographers, and subsequently, the online community and the ability to share their images with immediacy means everything to them.
Whether a fan of Instagram or not, there's no denying its effect on the way we have come to perceive photography as an art form. Permeated by digital, photography now seemingly exists within a world of personally defined categories, rich with influence and accessible to all. Images are available for us to admire almost instantaneously and each of us holds the tools and ability to become an iPhoneographer if we choose. Though for now, we may just stick to the standard chain of selfies and admire the impressive work in this book instead.
Words: Emily Beeson | @younggoldteeth