The 2014 Turner Prize exhibition opened this week at the Tate Britain. Showcasing the shortlist of nominees: Duncan Campbell, Ciara Phillips, James Richards, and Tris Vonna-Michell…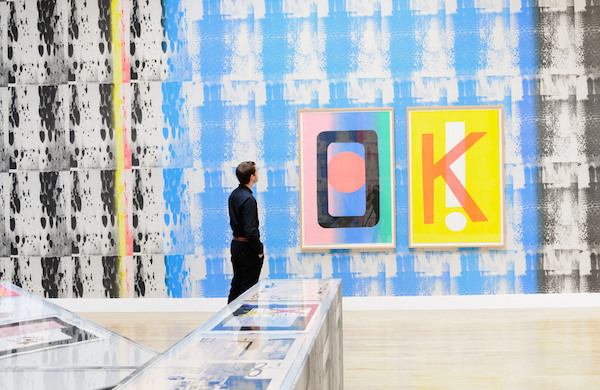 This year's collection of work is heavily weighted towards film and video, and navigates the viewer through myriad constructed historical narratives – both fictional and real.
One enters the exhibition with Rosebud, a video work by James Richards of rotating stills mingling censored photographic monographs found in a Tokyo public library (Japanese law forbids the library from providing imagery which might arouse its viewer), and abstracted images of flowers and shrubbery tangled in seemingly illicit encounters by the roadside. The violent, yet methodically bureaucratic act of scratching out sexy bits in monographs of Robert Mapplethorpe, Wolfgang Tillmans, amongst others, manages to arouse the viewer all the same; the sexual imagery and its obliteration are both base, animalistic inclinations conveyed through the distressed texture of the page.
Richards furthers this abstracted materiality in The Screens, a 2013 work comprised of four slide projectors flashing instructional images of theatrical make up effects and application.  The whirring motors and click-drop of the projectors is a lulling soundtrack for the continuous images of peeling skin and bloodied brows.  The viewer is aware that the injuries are simulated, yet that visceral queasy reaction results all the same.
Of Duncan Campbell's two films on view, the shorter work Sigmar (a discreet 10 minutes in length, while Campbell's second film, It for Others, has a running time of 54 minutes for those taking the art-appreciation endurance-training route), is a slow-moving journey through disembodied textures and shapes.  Campbell is fascinated by Sigmar Polke, one of Europe's great post-war artists (who's retrospective happens to be opening next week at Tate Modern), yet professes to know little about the artist or his work. The resulting film is an abstracted formal analysis of Polke's oeuvre, syncopated by a narrator shouting negations in German – seemingly emphasizing the disconnect between form and meaning in Campbell's interpretation of Polke's work.
Ciara Phillips has created an immersive environment of walls papered with her hand-printed images. Often conceived as cohesive installation rather than individual prints, Phillips works on both canvas and paper as she explores the sculptural quality of ink resting on a material's surface, and the graphic qualities of the written word. Phillips furthers this sculptural tendency as she makes physical the abstraction of language – installing a giant letter K as both sculpture and display vitrine, she continually plays with the mechanics of written communication
Tris Vonna-Michell further explores cinematic potential through his extensive archive of images. Searching for French sound poet Henri Chopin (1922-2008) in Finding Chopin: Dans l'Essex, Vonna-Michell explores the historical significance of one's birthplace and how it contributes to the construction of identity.
The 2014 Turner Prize will be awarded to an artist under the age of 50, born, living, or working in Britain, for an outstanding exhibition or other presentation of their work in the 12 months before 17 April 2014. The exhibition will be on view at Tate Britain until 4 January 2015.
Words: Danielle Draudt