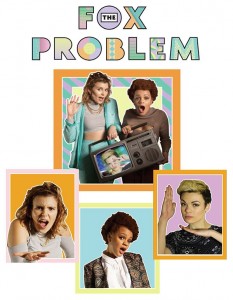 Remember when 90s TV show classics like The Word and TFI Friday made you feel like part of a gang? Well, taking the live show 'anything can happen' premise into the two-teens is The Fox Problem powered by HP (the clever tech company, not the condiment).
Presented by Gemma Cairney (Radio 1), Georgia LA (VEVO) and Georgie Okell (ex T4, now Fuse TV in the US), the "Three Gees" – as we're calling them – will be bringing fresh new music to your laptop, tablet or phone every fortnight from an old railway arch in the centre of East London's 'Ditch. The ever-sauve Celeb Big Brother / Made in Chelsea chap Ollie Locke will also be doing a spot of celeb wrangling at the bar. Last series saw the likes of Caroline Flack, Rizzle Kicks, and Chris O'Dowd pop in for a natter. It also featured a wealth of new talent like Mikill Pane, Marika Hackman and Roses Gabor.
The first episode of the new series airs tonight at 7.30pm and we'll be live streaming it through our site. Tonight's theme is 'break throughs' and there'll be a live performance from Nina Nesbitt as well as a live performance from Angel Haze in New York via Skype.  Dawn O'Porter will also be on the show to talk about her break through career as a writer and Anna Lomax who designed the set for The Fox Problem will be talking about breakthroughs in fashion.
The best thing about the show is you can get involved and influence the format of the show as the girls interact with viewers via Skype, Twitter, Instagram, Vine, Facebook, Tumblr and G+, or subscribe to the Youtube channel.
We had a little chat with the Foxes:
YOU'RE BACK! HOW DOES IT FEEL?
Gemma Cairney (GC): So exhilarating! It feels a bit unreal.
Georgia-LA (GLA): Absolutely amazing!! It's a massive passion project and I just can't believe we're coming back in such a huge way.
Georgie Okell (GO): Really great. We are back and bigger, better and going global
WHY DO YOU THINK THE FOX PROBLEM WAS SO SUCCESSFUL?
GC: Because it's joyous and inclusive. Everyone is invited to our big fat party. You can dance, you can laugh hard and loud and you may end up in a corner with someone having a deep conversation.
GO: I think we all believed in it wholeheartedly and wanted to make something that didn't conform to any format that had existed before. It worked because it was real and unpredictable and different and came from a group of friends making something they genuinely loved and were excited to share.
AND WHAT CAN WE EXPECT FROM SERIES 2?
CG: It's different. It's evolved. It's ambitious. It has continuous content and events and whether you label it as a channel, a magazine, a whatever you can come and see us, get involved. Watch a Q&A in our fox space. It's a hub for people like us.
GLA: Well we hope it's Fox Problem 2.0! We learnt a lot the first time round and have definitely taken that into consideration. This time we're broadcasting live every fortnight with lots of separate video content in between, and we have an amazing space that's ours 24/7 to host some awesome talks and big parties.
GO: We're doing more with it this time and giving people more of a chance to become part of the problem. We are focusing on groundbreaking technology, innovators and game changers but with our unique Fox Problem take on everything. This is going to be unlike anything you have ever seen or been part of before.
HOW DID THE NAME 'THE FOX PROBLEM' COME ABOUT?
GC: Mostly the answer is because we are a sexy problem.
Cheeky little foxes.
 Hannah Kane