Has the National Theatre's fine family tragedy missed an opportunity?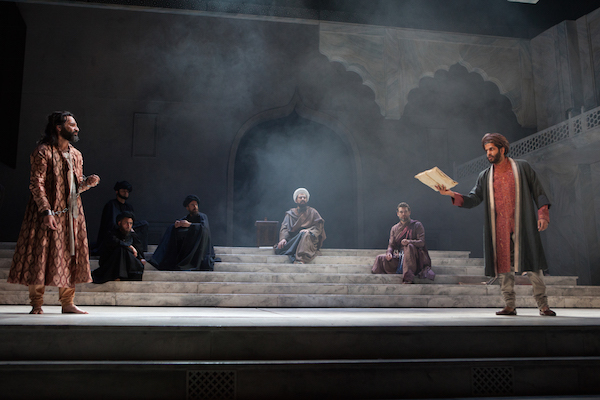 Vincent Ebrahim as Dara, Prasanna Puwanarajah as Prosecutor Talib and the company of Dara. Credit: Ellie Kurttz 
Rarely do domestic squabbles and sibling rivalry decide the fate of a nation. But when your father is the emperor of Mughal India in 1659 and it was your mother whose death inspired the creation of the Taj Mahal, the experiences of your life are, shall we say, somewhat elevated.
Dara, adapted by Tanya Ronder from Shahid Nadeem's play and directed by Nadia Fall, tells the story of the struggle between two brothers, heirs to the Mughal Empire, who each have a different interpretation of Islam – loving tolerance and Sufism from Dara, narrow-mindedness and strict Sharia law from Aurangzeb. As they fight for the throne and for the future of Islam, the ramifications are felt far beyond their immediate time and place.
The cast is incredibly strong, playing off each other very well to bring this complex story to life. There are too many to list in full here, but stand out characters include Zubin Varla's Dara, impassioned and articulate, full of poetry and movement; Sargon Yelda's Aurangzeb, taut and stern, but with heart and depth; Nathalie Armin's Jahanara, poised and dignified; and Anneika Rose's Roshanara, full of petty impulses and childhood grudges. In supporting roles, Chook Sibtain as Itbar and Scott Karim as Faquir are superb.
Time shifts between the past and the present as effortlessly as the latticed screens which are rolled on and off stage, creating a fluid atmosphere full of light and shadows, hidden corners and multiple layers. This is excellent work from both Katrina Lindsay, Designer, and Neil Austin, Lighting Director.
Dara deals with ambitious themes such as love and hate, tolerance and extremism, poetry and warfare. It is a play about beliefs held deeply enough to kill for. In light of current headlines about Islam, there was a danger that these themes would come across as heavy-handed, and this did feel the case both at the trial of Dara and in the death-bed scene of Aurangzeb. I wanted the play to challenge me, to shake my assumptions and bring me to a new level of understanding about the complicated entity that is Islam. Instead I felt I was presented with a sanitised play that carried me along its storyline without a hitch.
At its heart, Dara is a moving family drama whose legacy continues to impact us all. It's meaningful and relevant and, while I hoped it would do more to disrupt my western mind, it's a very good night at the theatre.
Dara is playing at the National Theatre through 4 April. Learn more and purchase tickets here.
Words: Julie Reid