Blue Ruin
Director: Jeremy Saulnier
Cast: Macon Blair, Devin Ratray, Amy Hargreaves
Thriller – Drama – Comedy

★★★★☆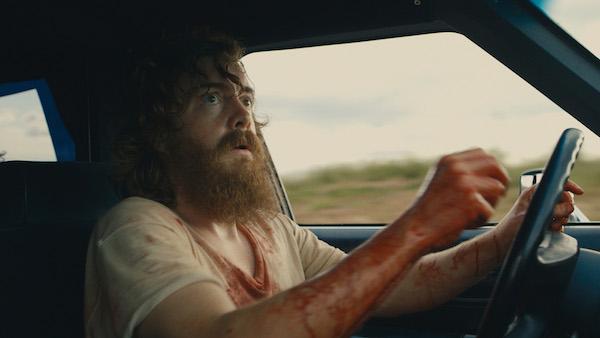 Watching Blue Ruin, the indie revenge flick that won the FIPRESCI International Critics Prize at Cannes last year, it seems incredible that this is the Kickstarter-funded baby of a director who has been making a living shooting commercials and an actor so unknown that his IMDB bio consists of one line. Jeremy Saulnier's bold, pared-down storytelling is so much more sophisticated than the emotionally incontinent, effects-laden messes coming from our supposedly leading directorial lights (Ridley Scott, Christopher Nolan, we're squinting at you). Coming from a father of three with all his family's cobbled-together money riding on his back, this feels like the work of a man determined not to compromise, even if his magnificent last stand ended up being a misguided failure.
Thankfully for Saulnier, magnificent wins out. The rapturous reception Blue Ruin is receiving from critics is already helping to ensure that the Brooklyn-based filmmaker's days of semi-obscurity are behind him. And as the film hits iTunes and online streaming sites – not to mention UK arthouse cinemas this Friday – it's hard to imagine that audiences won't propel the next phase of his career forward on a wave of positive word of mouth.
Blue Ruin opens with scenes of an epically bearded and obviously homeless Dwight (Macon Blair, Saulnier's childhood friend and long-time collaborator) sleeping in his car, nosing in bins, taking baths in stranger's houses and cooking fish on the beach. These silent, mysterious, elegiac shots are some of the best in the film, and make for a refreshing and instantly compelling hook. Then a local cop brings Dwight into the station to explain that the man who murdered Dwight's parents is about to be granted early release from a Virginia jail. Cue an unlikely vigilante on a darkly comic revenge road trip.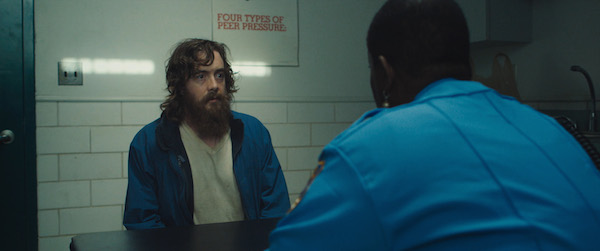 It's a long time before we learn the motivations behind the murder, and we never really get much of a handle on Dwight's history, his early character or his desolate recent life. In terms of plot, viewers are kept on a strictly need-to-know basis. This has the dual benefit of keeping us continually alert, primed to jump on any informative crumb, and of keeping the flow of action unhindered by clunky exposition. It really is good to be reminded how little backstory an audience needs; hook us with the character, drop them into an instantly high-stakes situation, and we'll follow you without demur, our questions a lovely prickle at the back of our brains.
To pull this off, the acting is key, and Macon Blair as Dwight is a wonder. Droopy-eyed and doughy-fleshed, his very face seems to beg for release from his self-imposed quest. Yet early on we can tell that Dwight's everyman common sense and practised acceptance of pain – one scene, where he tries to extract an arrow from his own thigh with supplies from a 7/11, had the audience at our screening screeching with horrified laughter – makes him a bone fide if unromantic hero.
Devin Ratray, as the tough but tender, gun-happy old school friend Dwight turns to for help, is equally accomplished; their relationship is a mesmerising cocktail of unspoken tensions and dodgy shared memories. Probably the most recognisable of the cast is Amy Hargreaves (Maggie Mathison in Homeland) as Dwight's put-upon single-mother sister. Her reunion with her newly criminal brother at a soulless hamburger joint is a joy to watch: two real talents spiking their deep emotional realism with near-farcical high comedy.
For all its great qualities, this film isn't a game-changer. The script and scenarios draw influence from the Coens, but although it has many moments of black humour, it never becomes quite as funny as it should. The cinematography is reminiscent of Derek Cianfrance (Place Beyond The Pines, Blue Valentine), although the bleak poetry of the early scenes dilutes as the film goes on. And the sound design needs work; a few well-chosen songs from up-and-coming folk-rock acts could have upped the emotional ante, but total silence would have been preferable to the generic tension-ratcheting white noise that occasionally kicks in. I'd love to see what Johnnie Burn, sound designer for that other recent indie hit Under The Skin, would have added to the mix. And Saulnier only just pulls off the 90 minute length; a few more nips and tucks, especially as we move towards the predictable final bloodbath, would have kept the pace consistently taut.
Nevertheless. Its imperfections are part of its charm. Blue Ruin is a wonderful film and a welcome antidote to both patronising, over-plotted blockbusters and slow, self-satisfied pieces of Oscar bait. As the gap between mainstream mulch and crowd-funded indies widens, this really is the time for audiences to spend less time in the multiplex and more time looking for indie recommendations on social media, sprinkling some microfunding here and there.
As Blue Ruin so amply proves, taking risks pays off.
Words: Molly Flatt