Imogen Heap wows us with her month-long cultural festival, Reverb, at the Roundhouse.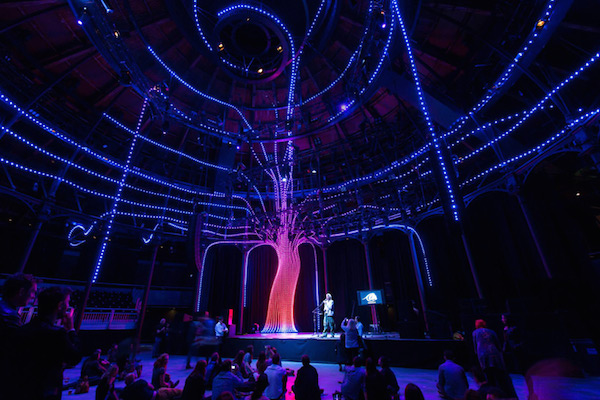 Pop-music as we know it tends to remain the sum of a set number of standard parts: a standard studio, a standard set of instruments, and standard recording software. But what would happen if we were to compose in reverse, to start with a final product in mind, to create it without any rules? This concept formed one of the central pillars of Imogen Heap's 'Reverb' – a four-day festival showcasing an innovative collision of music, visual art and digital technology at the Roundhouse.
A mix of performance, collaboration and interactive displays and workshops, 'Reverb' showcased the many ways in which art and science combine to produce and examine truly intriguing ideas. In a Q&A on the first day of the festival, Imogen, the multiple Grammy nominated musician of 'Hide and Seek' fame, told the audience she sought to "break the fourth wall between the audience and the performance" to create an immersive experience with Reverb.
Perhaps one of the most dynamic representations of this was a performance and interaction session with Bruno Zamborlin's 'Mogees'. A device that can be attached to any object (a chair, table, possibly even to your dog, provided it doesn't mind) in order to turn it into a musical instrument; once attached, you simply 'play' the object with a series of taps. A Mogee will sense vibrations turning them into sound. Bruno played us an array of everyday objects to a mesmerising trance backbeat amid trippy videos. It was weird, kind of ridiculous, and completely ingenious.
Other installations included Imogen's 'Arboreal Lightning Tree' – a huge LED tree in the Roundhouse's main performance area that glowed in a sequence of transformative colours and patterns in response the sounds issuing from the stage. There were machines that emitted noises based on the proximity of the listener; a device that allowed users to compose their own song out of hundreds of mutually compatible sound bites, and most ingenious of all: Imogen's own famous Musical Gloves.
Fitted with sensors to measure movements of the wearer's hands, the Musical Gloves allow you to play almost any instrument virtually with a set of programmed hand movements. Incredibly, wearable tech now means that you can play the air drums and call yourself a legitimate musician.
Although much of what's on display at Reverb is not yet available to the general public, the festival has offered a glimpse into the future of technology, its influence on pop music and performance and the possibilities of music production when experimental thinking is applied. Not only did Reverb succeed in breaking the wall between audience and performance, as Imogen Heap had hoped, it allowed the audience to become a direct part of the performance themselves. It was a festival of musical democracy, although for those crazy about the Mogees, there's no accounting for taste.
Words: Rachel Michaella Finn