Vampires, ear-licking, drag queen best friends and 70's marching band uniforms: Emily Beeson joins Canadian dance rock'n'rollers The Wet Secrets for coffee at the Tate Modern…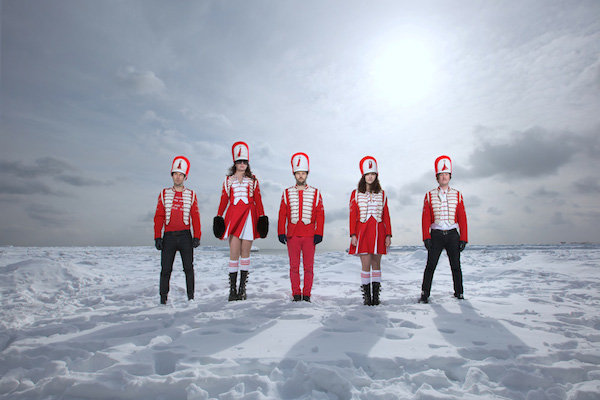 The Wet Secrets aren't your typical rock'n'roll dance outfit. Hailing from Edmondton, a remote town 16 miles drive from anywhere that's lovingly referred to as 'the gulag of Canada', The Wet Secrets formed in a bar, booked a show, forgot about it and went on to write and record an album in a single week. After the impromptu gig's success, they decided to continue what promised to be an impulsive foray into the art-led scene of theatrical garage-rock and keep things going alongside their many other projects.
What are The Wet Secret's big influences?
Lyle: I was raised on 80's pop music. My parents weren't musical so we heard five tapes of AM gold over and over. Then I discovered punk rock and English metal and fell in love with bands that fractured pop music. It was a natural progression to our sound, I take an idea and Trevor turns it on its ear.
Trevor: Also 80s pop, straight up top 40 hits. The resurgence of DIY punk around 2000 was a great inspiration to me. Artists like the Moldy Peaches and Meg White made me feel like I could do what I loved. My background and interests are in theatre, visual arts and film and I wanted form a band around that; it's all more of a concept than a calling.
Whats the story behind vamped-up track, Nightlife and its tongue-in-cheek video?
Lyle: It sounds like an upbeat song but it's actually about a strip in our home town which used to be fun but has now become a shit-show disaster. We brought another band down to the place and there was a burrito fight and the other band were like, 'this is horrible'. The turning point there was a riot over the hockey team getting into the Stanley Cup. The video is about old-time vampire, Bela Lugosi, who is disillusioned by new vampires. We were lucky, Trevor had worked with the veteran Canadian actor who played Count Floyd on TV so he stepped up to play Bela, and we had star cinematographer, Peter Wunstorf, who worked on Brokeback Mountain and The Killing too.
Trevor: The whole thing is about feeling disillusioned with kids these days.
What about the band's aesthetic? Where did those fancy uniforms come from?
Trevor: We'd been playing together for about a year when I got a mysterious message that said, 'Trev, it's your mother, I think we can do it. Call me back.' I called her and we then agreed to do something with these 70's Red Deer Royals marching band uniforms. The moment we put them on it was a unifying force. It was fun and it fit the band. Our music was sort of campy garage rock.
Lyle: It was a way to distinguish ourselves from the cool guy uniforms of leather jackets and swoopy hair in other bands. It's an invitation to have a good time.
Where did the name 'The Wet Secrets' come from? It sounds ever so sordid.
Lyle: The night we started a band, a photo was taken of us whispering in each others ears. I saw the picture and said, 'It looks like you're telling me a wet secret.' It had a better etymology than flipping through a dictionary.
Trevor: Theres also a famous Canadian playwright, Daniel MacIvor. His play, 'In on It' has a cover where a man is licking an ear and it looked like a recreation of that. It was an unwitting but a perfect homage.
What's your visit to the UK been like?
Lyle: The Great Escape in Brighton was great, we played three shows. There's something joyous about being able to explore and then being able to come home and get back to work.
Trevor: We earned the bar tab on the pole and everyone there was a successful gay man. It was like, welcome to Brighton! Our band outfits were instantly welcome and we had drag queen best friends. Our show's carnival ethos was well met by a universal crowd.
What's next for The Wet Secrets?
Trevor: A Canadian tour and a new album. We're still independent so we'll play for a few people and see what happens. The inspiration for what we do comes all over, the Bacchus, the experiences of touring, chatting in the Tate Modern. You don't get it from playing in different clubs you get it from wandering round art galleries and exploring cities, the time in between our shows is so rewarding.
New single Floating In The Sky is out now thewetsecrets.com
Words: Emily Beeson | @younggoldteeth