Ahead of the release of her Riviera-inspired single 'Backpack', Petite Meller, the Lolita of Parisian pop, models sorbet shades, translucent layers and promenade stripes exclusively for PHOENIX 
We've been crushing on our chérie, Petite Meller, the Parisian princess of pop, for some time now. Born and raised in France but now penning fresh material in New York, the singer first flagged up on our radar with the release of NYC Time, directed by A.T.Mann and Napoleon Habeica, the man behind American Apparel's campaign imagery. It was a winning formula – surrealist pop with addictive jazzy undertones, issuing from a vision of flushed cheeks, porcelain skin and coquettish knee high socks.
Meller's latest offering is Backpack, released April 28th on Night Beach Records. The whimsical track, with its saxophone intro and skilfully crafted melody, has fuelled a languid, sun-dappled video, crafted by the same directorial duo as NYC Time. Styled by Nao Koyabu, designed by Vin & Omi, Bella Gonshorovitz and Michael Polkanov, and shot by Clemens Krueger, the video is an ode to the sights and sounds of the French Riviera where Meller holidayed as a child – a pastel-tinted tapestry of retro swimwear, poolside lounging and cookie-cutter hotel rooms.
During the singer's whirlwind trip to the capital earlier this month, PHOENIX caught up with Meller, a collaboration that spelled a nostalgic palette of powdery hues and sumptuous feminine shapes. Think 1950s St Tropez femme fatale visiting her London townhouse, pent-up on spring fever.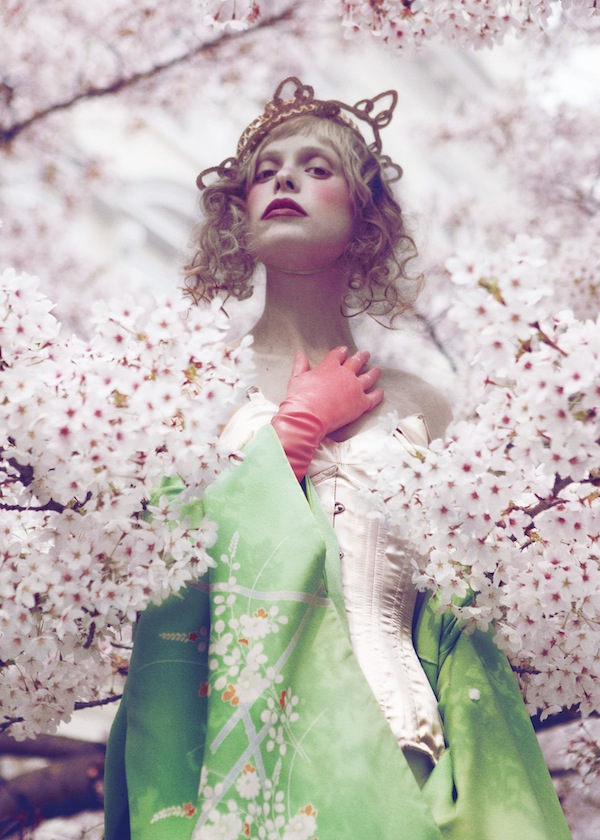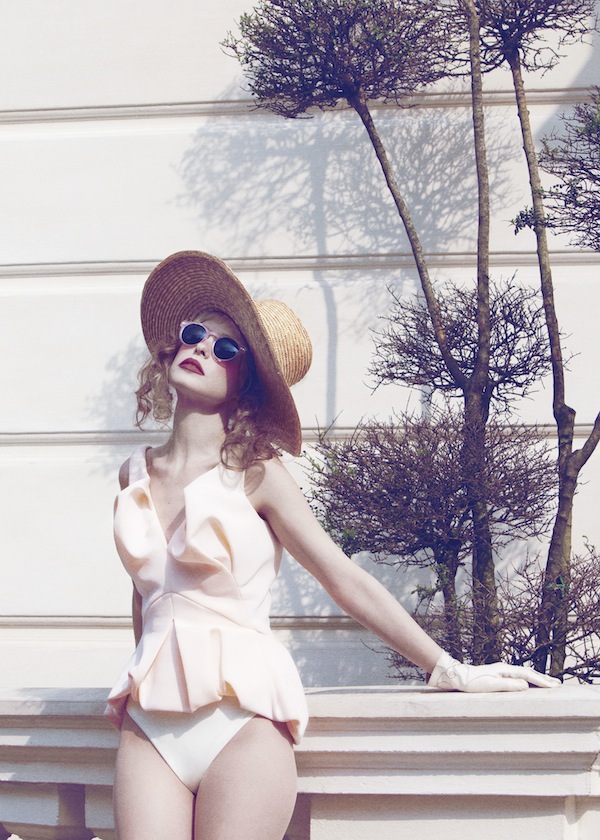 Who inspires your musical style and taste?
It was my dad who got me into Euro Club-Med pop music, like Leif Garrett, Ricchi e Poveri and Kool and the Gang. I grew up listening to the vinyls of Dizzy Gillespie, Duke Ellington and Van McCoy, but the French chansons like Chantal Goya and Charles Aznavour were always playing in the background. My mum used to sing their songs like they were a life or death situation.
Tell us about your song writing process?
Melodies just pop into my mind with words connected to them, and I record myself on my iPhone. For me, it's an ever-present inspiration, you just have to listen hard for it. I always write my songs during something: in a lecture, a taxi ride, whilst waiting in a doctor's line.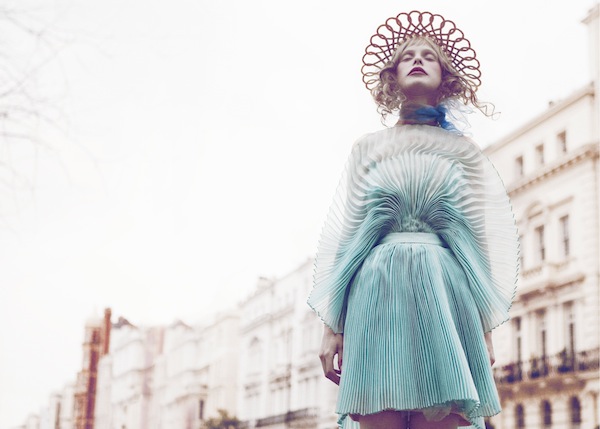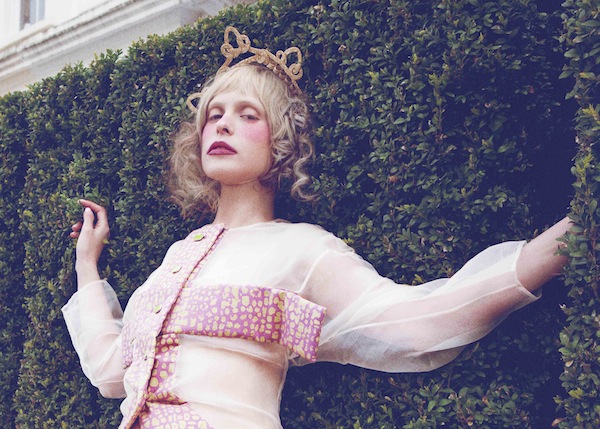 Jacket by Shao Yen
Hat by Moody & Farrell
What influenced the aesthetic for the 'Backpack' video?
Throughout my childhood, my parents would take me on holiday to the St. Tropez and Cannes areas. There were always funny old madames and gentlemen in their tacky bathing suits, doing ski-nautique before having charming conversations about the meaning of life whilst sitting on those postcard-perfect restaurant balconies with the red chairs. In the Backpack video we were trying to capture these aesthetic recollections of my childhood, but through the lens of the 60s French New Wave cinema of Truffaut and Godard. We even shot at the same location as the movie L'Enfer, directed by George Henri Clouzot.  It's where Eiffel built this amazing, huge pink bridge that glows every night. There is something very Lynchian about that bridge, it seems to remind you of the danger hidden within the pure, natural environment you're surrounded by.
There's a light-heartedness about both your style and music – is that an approach you take to life in general?
For me, life is a series of absurd situations. Laughing and fantasising is really the only thing I can do about it. In my videos I invite people to my own little world of innocence, freeness and femininity. Backpack takes me to the point of discovering sexuality for the first time, of praying and of playing risky games. It's inspired by David Hamilton's aesthetics, but this time from a femme 'Joan of Arc' point of view. It's kind of an invitation to read a secret diary, an end-of-summer memoire.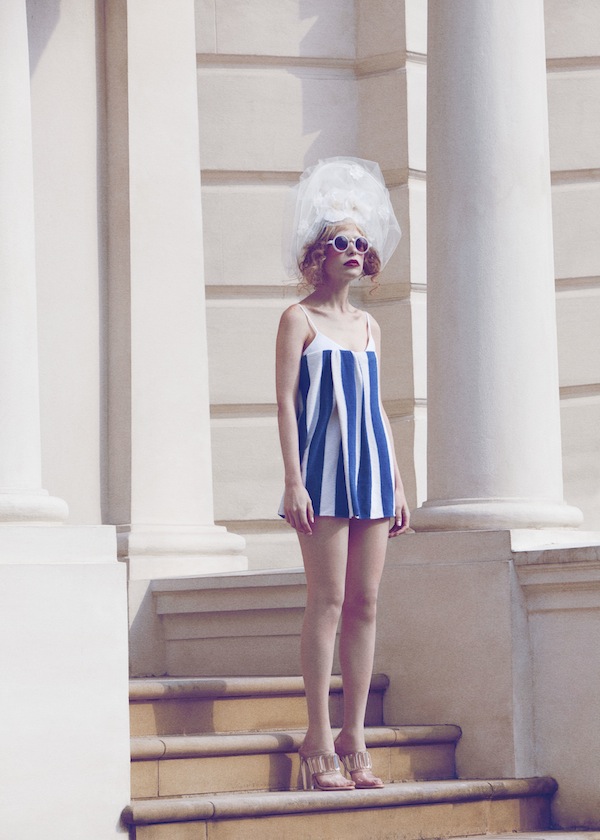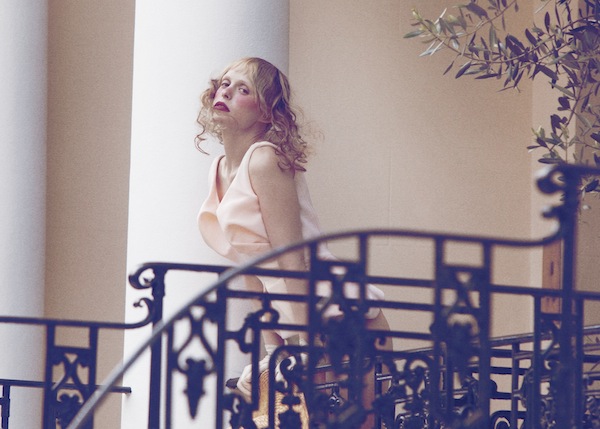 Top and bikini bottom by Chalayan
Gloves by Riina O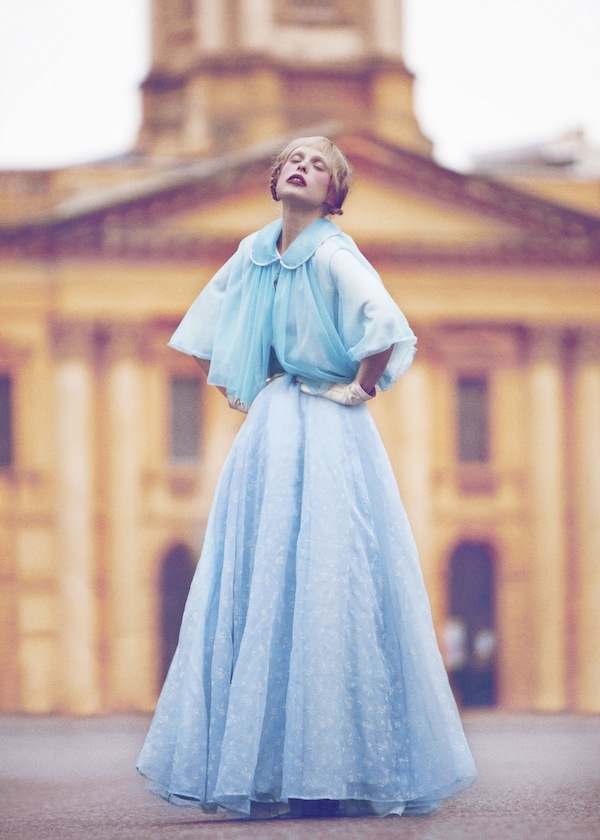 [youtube]6eItwIc3obQ[/youtube]
[youtube]KOfaDTHK60g[/youtube]
Follow Petite Meller via Facebook and Twitter.
Words: Mary-Jane Wiltsher
Photography: PACKARDSTEVENS
Artist: Petite Meller
Styling: Marina de Magalhaes
Hair: Dave Noble using Bumble & Bumble
Make up: Nicola Moores Brittin using MAC Cosmetics
Assistant styling: Ana Rita Bracker