Carine Buncsi interviews the Australian sisters making thunderous waves on the electronic music scene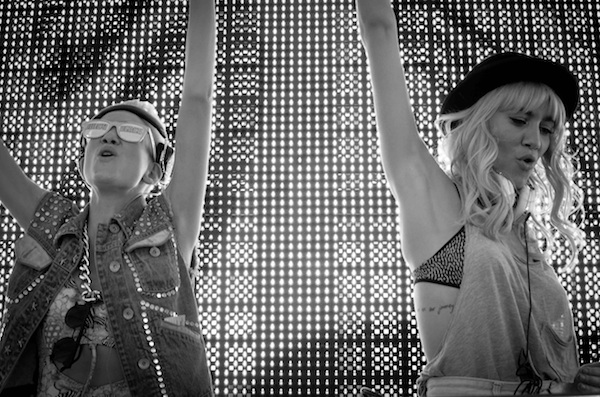 Sisters Olivia and Miriam NERVO live by a timeless motto: EAT, SLEEP, RAVE, REPEAT … yes, always repeat. A liberal splash of drop beats, combined with a contagious stage presence and inimitable fashion sense, makes these electronic dance music (EDM) "it-girls" rise head and shoulders above the musical mire of Europe's club circuit.
Like many of their rhythmically blessed compatriots, the NERVO twins once shied well away from the stage, beginning their musical journey as an exclusively behind-the-scenes songwriting team. However, it wasn't long before the twins began experimenting in the edgier ends of production and live DJing; and now – sitting pretty in lofty heights of dance stardom – they've not a moment to look back. Yes, the rocky ascent to success has paid its sweetest dividends. The duo are now modelling as EDM's first CoverGirls, topping the US Billboard Dance & Club Play charts with the hit, "Hold On", and starting a Beatport chart-topping ʻRevolution' with R3hab and Ummet Ozcan, donning unicorn headdresses, fishnets and tassels in their latest desert warrior music video.
PHOENIX got cosy for a powwow with the twins, dissecting the finer points of life on the festival circuit, their name-dropping collaborations with industry heavyweights, and some (un)forgettable party escapades.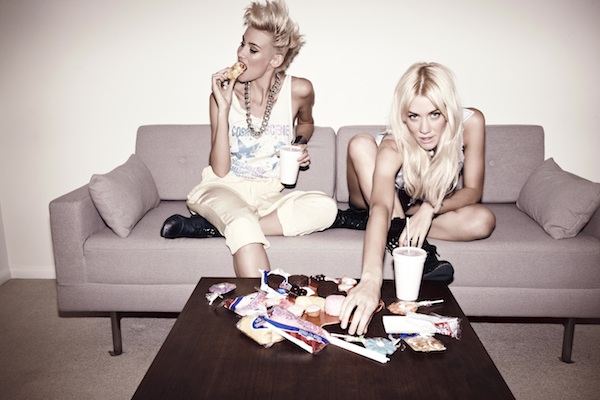 You've strayed a few thousand miles from Down Under. What keeps you motivated on the festival circuit?
Liv: There's so many great things about touring – seeing the world, meeting a rainbow of different cultures, trying all the different foods, spreading the music, meeting the fans. There are definitely a lot of pluses.
Mim: The only down side is the lack of sleep and the lack of seeing your loved ones. But these days we have Skype [laughs]. So, yes, Skype saves a lot of relationships.
Any favourite tour stories you'd like to divulge?
Liv: Yeah, absolutely we've had a few fans run up on stage and hug us.
Mim: Remember that girl in Brazil – that was kind of weird.
Liv: I've been concussed, stage dived, even knocked out once.
Mim: Liv face-planted the concrete in the end, so that wasn't fun.
Liv: The craziest thing really is sometimes getting the CO2 going off. It barely misses you. It's all part of it and good fun.
When you first started songwriting and producing several years ago, did you anticipate success as a DJ duo?
Mim: For us it felt like a whole lot of baby steps. We still pinch ourselves seeing the fans at gigs – I don't think I'll ever get used to seeing how many beautiful signs there are out there.
Liv: And people that make their own "NERVO T-shirts", or buy our T-shirts and ask for signatures – it's such an incredible feeling! But on the other had, it has felt like one record at a time, a first for many artists, and now for ourselves. I do feel like it's a natural evolution, in a way.
Mim: Originally the goal was to write only for other people and be in the studio the whole time. But the second we released a record under our own name and got to really experience a different high from playing the records and feeling the reaction…
Liv: That energy is kinda addictive!
Mim: It is addictive. We're living the dream, we are so happy with how things are going right now.
With EDM recognised as a truly global phenomenon, how do you see the genre progressing in the next few years (both in Australia and abroad)?
Mim: I think it's great that it's become more popular so kids are going to raves now instead of arena tours for pop-stars. ʻCause that energy of a rave… you can't beat it, it's amazing!
Liv: It's all about love and everyone being together and celebrating, so I think that's a very positive point. I think Australia is incredible with their festivals. We grew up on Big Day Out, Summadayze and [every one] of those festivals, so for us it feels like they have a pretty firm understanding of [how festivals should be done].
Mim: I think the underground ʻEuropean' element will still always be there, if you go to Ibiza and check out Space or DC-10 – that's the best thing about electronic music. You've got the ʻbig room' electronic, you've got electro house, you've got techno, you've got deep house, there's so many different layers and facets and textures to it. There will always be room for everyone who loves all realms of EDM.
Liv: That's what I love about festivals – it's a smorgasbord of music for the masses!
Walk us through your first WTF moment…
Liv: OK, I know, I know… [laughs]. A fan by the name of Allen Quach in America got our logo tattooed on himself. That happened a few years ago and he even tweeted it!
Mim: He was the first NERVO fan to do it! For me, that was a mega "wow" moment! We're friends with him now and we get him on all our guest lists to our gigs.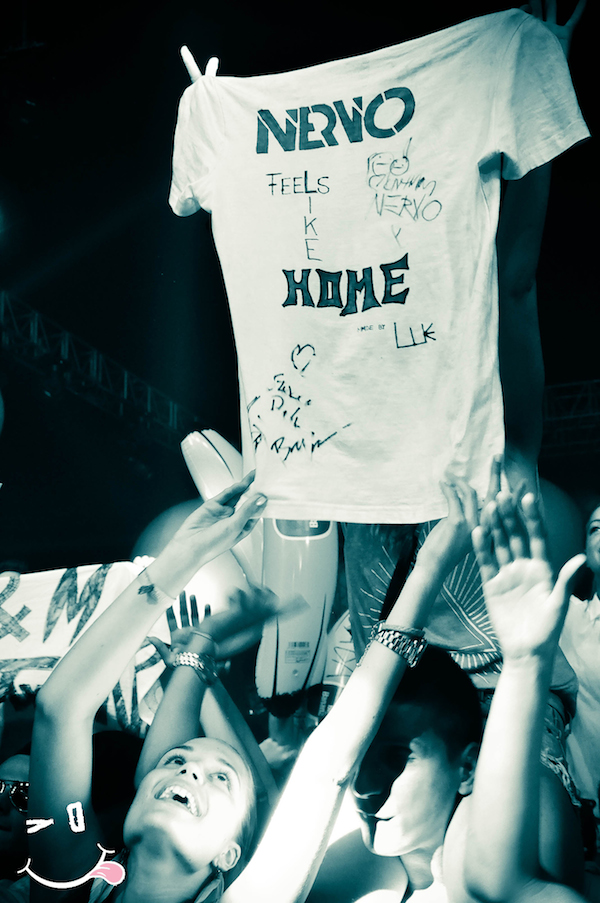 You co-wrote the mega hit "When Love Takes Over", composed licks with Afrojack, and have worked with Kylie Minogue, Avicii, Afrojack, Steve Aoki… If you had a chance to collaborate with anyone, dead or alive, who would it be?
Liv: Well alive, I would love to work with an artist called Imogen Heap from the UK. I love her vocals, she's such an incredible writer [and] producer herself. Dead: that's brought a whole new… Jeez! I would have loved to work with Kurt Cobain.
Mim: Great call, Liv! Can you bring him back to life? I was going to say Michael Jackson, but I actually think …
Mim / Liv: …[In unison] KURT COBAIN!!
How and where do you draw your inspiration for your outfits?
Liv: You know, our fashion choices revolve around comfort, and practicality. We wear a lot of lycra because its light and fits in a suitcase; ʻcause we travel the whole year round and it's versatile.
Mim: We wear these outfits to gigs, but we also wear it to the airport – particularly these leather jackets on the go. We've been on the road for five days now and we've only bought carry-on [luggage].
Liv: Our life is pretty much spent on the road, so we have to be able to wash and dry things really quickly. They have to be light in weight and, most of all, look fun, ʻcause we liked to get dressed up!
And in your music?
Liv: Music-wise, our inspiration changes all the time. We've been working on our album right now so it's been really open like a blank canvas. Basically if we're working on a single then it needs to work on the dance-floor.
Mim: We're aiming for more of a 128 bpm or 130 bpm – [a] hard-crunching drop!
Liv: So we might start with a riff, or with a lyric. Like the track "Hold On" was from a lyric idea that we started and then the rest came around that [idea] later.
Mim: Actually that's not really true. It was a riff and then a lyric, and then we changed the riff. The riff was totally gone, so the old idea is not there anymore, but it just changes all the time. But it's always good when we have sleep and then we go into the studio, ʻcause then you feel more in it, rejuvenated and more inspired.
If you weren't working in the music industry, what would you be doing?
Mim: Trying to work in the music industry [laughs].
Liv: Music is the only thing that's really come naturally or felt comfortable.
Who is or are the most famous people you've had the pleasure or displeasure of partying with?
Mim: David Guetta, probably. He's very famous and fun. Then there's Ke$ha.
Liv: We've partied hard with Ke$ha, more so than with David – he's a family man now! But Ke$ha was young, wild and crazy when we first all started.
Please, if you will, finish these sentences. Every time before I go on stage I…
Mim: Go through the beginning and ending of my set
Liv: I check I have my USB's…
Right now, my favourite, "guilty pleasure", song is…
Mim / Liv: [Starts singing] "This is What it Feels Like"…the Armin van Buuren, Trevor Guthrie (W&W Remix).
Who do you love right now … "musically" speaking?
Mim: Showtek can do no wrong.
In a matter of hours you'll be facing the crowd. Do you have a pre-gig ritual?
Liv: Indeed we do! We work out who's playing before (and after) us at the festival so we make sure [not to] play any of their records; we've unfortunately made that mistake a few times.
Tune in to NERVO's BBC Radio 1 ʻRESIDENCY' show each month, where the duo will be bringing you their favourite tracks and a music mash-up of the month.You can catch NERVO live at Ultra Music Festival, Miami and at Bal en Blanc (20th Edition) at the Palais des Congrès, Montréal.
Words: Carine Buncsi
Photography: Carine Buncsi 
Images: Deckstar
With thanks to: Delinquent Valley & P. Buncsi / A. Huegel