'Singer, writer, and sayer of things that are on my mind and stuck in my side.' That's how the never-say-die artist Conway describes herself. Born in south St Louis, she's elbowed her way out of downtown LA's underground scene, where she made initial tracks as frontwoman, bassist and songwriter in her previous band, All Wrong And The Plans Change. Her solo EP Big Talk is a full-tilt, hot-headed mix of sardonic firecracker lyrics, deliciously catchy hooks and just the right amount of underlying vulnerability.
Fluent in sarcasm and dismissive of industry labels, Conway's outspoken attitude and DIY approach to music production have won her a snowballing fan-base; her entirely self-produced video for Big Talk, the breakout track on her EP, went viral, generating an incredible response. She went on to support Ellie Goulding at Madison Square Garden and is currently opening for her US/Canada tour. Her debut album will be out later this year, released on Columbia Records.
On a fly-by trip to London between tour dates, Conway visited PHOENIX HQ. What followed was an afternoon of futuristic Fifth Element-worthy styling, tattoo anecdotes and tales of blown-up vocal monitors.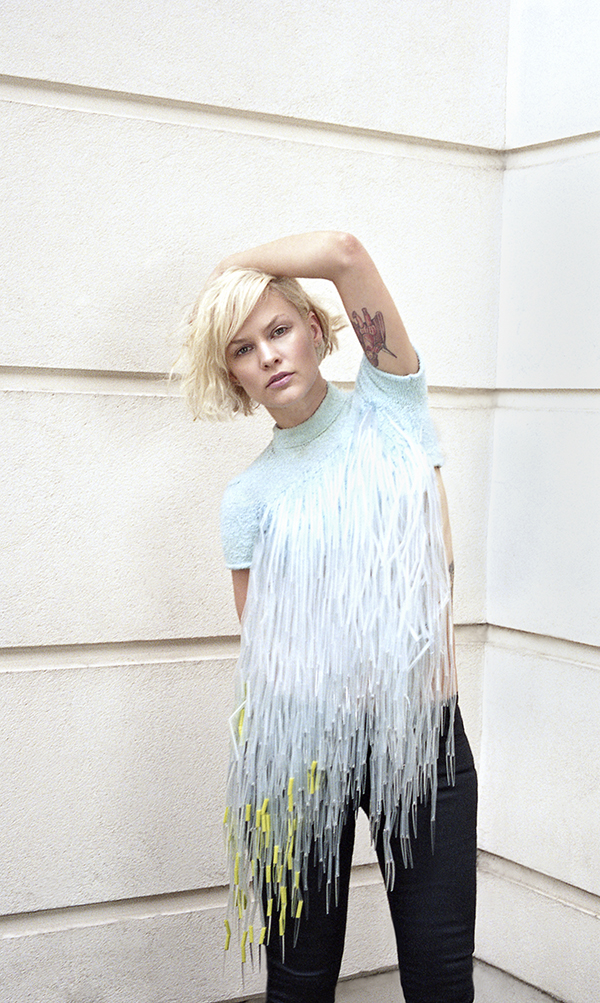 Top –  Cassandra Verity Green
Jeans – Levi's
Shoes – Stylist's own
Ring – Conway's own
How would you describe the sound and lyrical tone of 'Big Talk', the breakout track on your EP?
The sound and the lyrics for Big Talk are two very different things, which is something I love to do with my music. I like to make the sound catchy and accessible, but the lyrics can be a sneaky undercover attack, usually saying something serious or sarcastic. This song is definitely a miniature rant, but I want it to be fun; it has a 'fuck it' attitude.
What inspired the song?
It sums up my experience of moving to LA from New York and going to a lot of music industry parties where people talk a lot of shit and inflate themselves. The verse is a comment on them, while the chorus comes from my side, the side of the artist. You know when you get so annoyed with something, it becomes sort of funny? That's the mood is here – I think it's actually easier to get a message across that way.
You've referenced having multiple personalities that are manifested by different music genres – how does your EP reflect that?
The EP is four really strong strains of recurring moods that I have. They're also core examples of what you can expand from my album. I think everyone has multiple personalities, you just have to pretend that you don't.
Big Talk is fun and playful and has a pop sensibility, whereas Killer is this big indie song. Hustler is a visceral, nasty track that's quite aggressive, which I love. And then Take Me Back is this really raw, vulnerable stream-of-consciousness – I recorded it in a basement with my friend, and that original vocal is what you hear on the track.
Are there difficulties in embracing multiple genres?
I hope I'm making things easier for myself. That's why I came out with a varied EP, because I didn't want to get put into any kind of box. Right now, music genres are bleeding into each other a lot more. Older pop music used to be pretty varied, but then the radio got saturated with one particular flavor of pop. I'm hoping that I can wedge my foot in there and say: 'Come on now, just because it's popular, it doesn't have to sound the same.' Pop shouldn't have to be such a dirty word.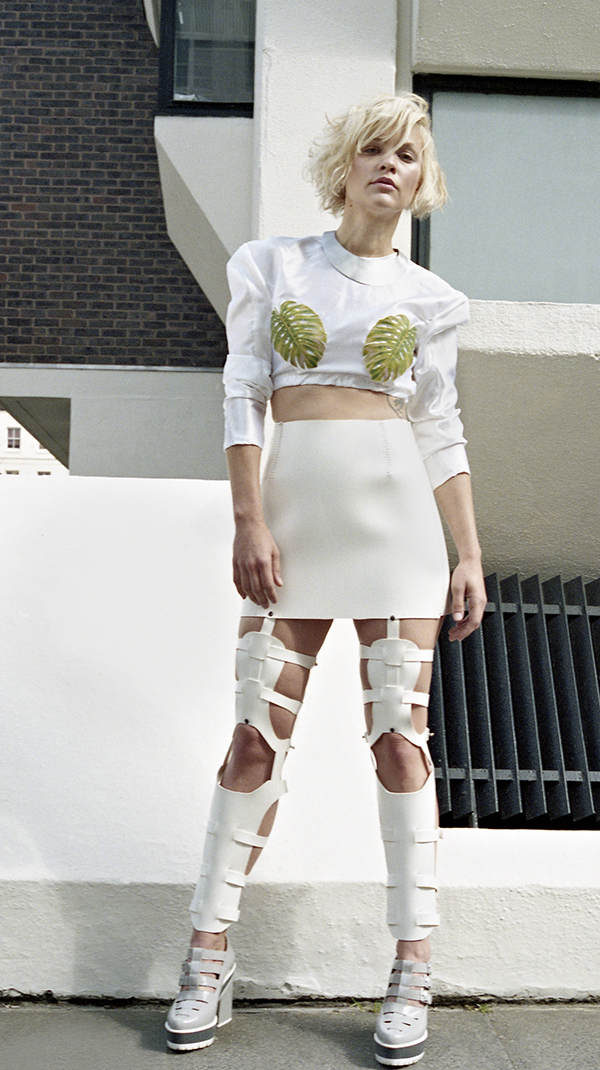 White crop top with leaves – Christian Cowan-Sanluis
Skirt & Leg straps – Joseph Horton
Shoes – Topshop
Necklace – Topshop
You champion an organic approach to music; can you describe your writing process? 
Every song has a story, but I don't have a formula. I like discovering things, so each song is kind of like chasing a dragon. I constantly write down thoughts, rants, observations or ideas. I carry books around with me and take them into the studio, looking for popular themes, colours or images. But then again, I can also hear a beat and start writing right away.
You directed, produced and edited your own music video for 'Big Talk' – how did that come about?
That was out of necessity. I'd done a video that I ended up hating and had spent all my money. I remembered that I had a video camera in my laptop and started experimenting with test shots in my bathroom. Then I realised I could do playback on my iTunes and I could edit it with iMovie. I did it as a way of finding some peace. People said I should put it out, and eventually I did. Can you imagine if I hadn't? The response was incredible.
Tell us about your creative influences?
This morning I bought Little Creatures by Talking Heads. My mom used to have it, so I was listening to it and remembering all our little apartments that we lived in. The Pixies are a big influence as far as rock music goes. Outkast, for me, is dope hip hop – that amazing round bass and super intelligent lyrics with unique vocal delivery. Nobody sounds like Outkast – nobody. I also love Joy Division and The Strokes.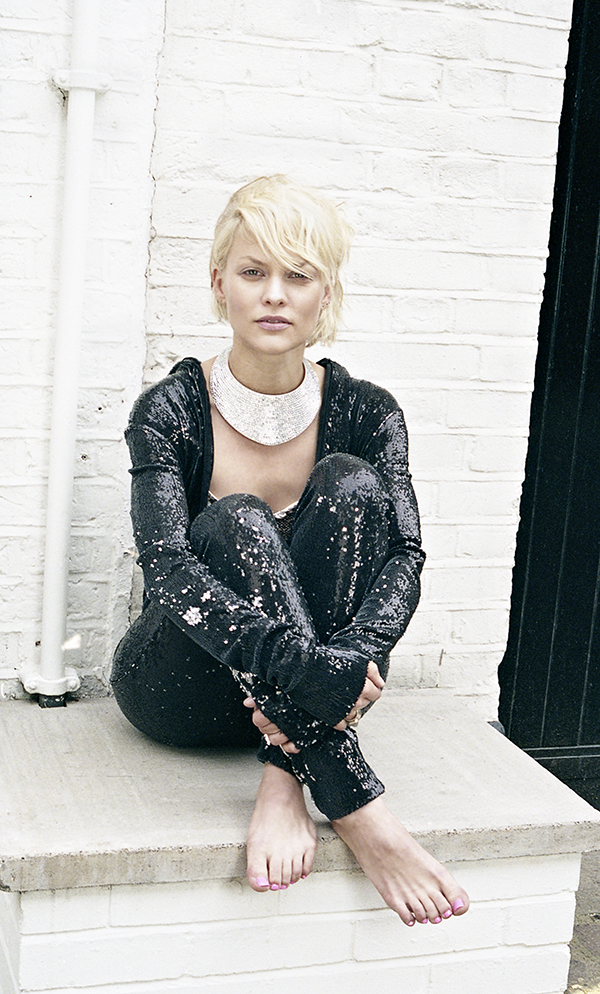 Necklace – Topshop
Jumpsuit – Jay Briggs
Crop top – Stylist's own
You supported Ellie Goulding at Madison Square Garden and are opening for her US/Canada tour – what has the experience been like so far?
I didn't have time to get freaked out, because we were given so little notice. It was like: drop everything, turn your life around, you're going on tour. We did two shows at Madison Square Garden theatre with amazing crowds. First show, my vocal monitor blew a channel and went out completely. No one had any idea, so I played it without. Luckily I'm used to doing it myself, but you can't hear a thing, you're just singing. On the second night we came out and it was the complete experience – a bucket list venue, opening for a huge artist who's killing it right now, and all of her fans were loving it.
Can you give us a taste of what we can expect from your debut album?
We've not put a date on the release yet but I'm really excited about the record coming out because I've been able to test drive some of the songs on the road and get a response, so I can already tell which ones are connecting. I think it'll be a bit of a surprise – you won't be bored, because every song fills a different category. I'm proud of how it's shaping up because it doesn't sound like anyone else.
Talk us through one of your tattoos?
This one's my favourite. [*Gestures to churub on left arm, balancing an upside down heart on a string, held between two wooden sticks] This cherub was originally a line drawing on a piece of old sheet music called El Diablo, which literally means 'the devil', but also means 'game of chance.' The game he's playing with the upside down heart on the string embodies everything I believe in, which is that life – and love in particular – is a game of chance, set to music. There's a precarious fragility to every artist's style of living. Nobody is promised that anybody is going to give a shit about what you do, but you do it anyway.
Our summer issue is 'Lucky' themed – do you believe in luck?
I believe in declaring things to the universe. I believe that if you truly let go and risk everything, that beautiful things happen. That could be luck, or it could be giving in to the way that the universe works. But I think that's when magical things happen.
[youtube]-0mQ4JI_gaM[/youtube]
Big Talk is available to listen to on Conway's official website and can be purchased via iTunes.
Follow Conway via Twitter. 
Words: Mary-Jane Wiltsher
Photography: Bex Day
Styling: Stephanie Paulo
Make-up: Marta Gacka using INGLOT
Hair: Sven Bayerbach using Bumble & bumble