Arctic Monkeys, AM tour, Finsbury Park
★★☆☆☆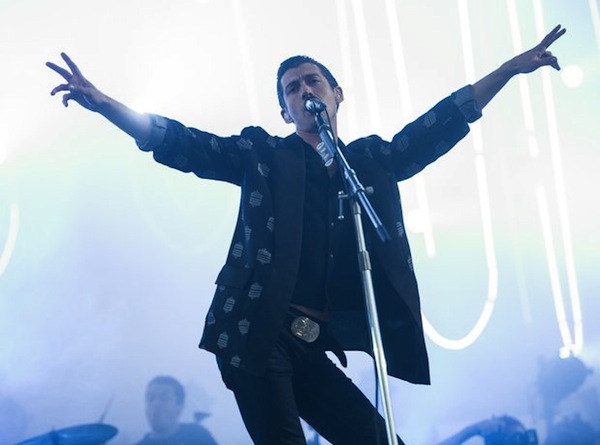 Hailed by some as the best gig of their lives and by others as, 'alright', the bizarre cavalcade that was the Arctic Monkey's two day blow-out in the grassy haven of Finsbury Park was met with mixed reviews. The event proffered few surprises as all in attendance clearly expected the band to play their signature tight mix of old and new material and to do so with appropriate humility and vigour, which they did. The venue however, seemed to inhibit the overall experience for many gig-goers.
The trouble with large-scale outdoor shows is that there's usually little chance of being able to see much, unless you ruthlessly battle your way through a thousands-strong crowd to secure a front row spot. In this case, despite the ticket's considerable price-tag, front and centre of the Finsbury Park arena was reserved for wristband holders only. The majority of the Arctic Monkey's indignant fans watched the show a staggeringly safe distance from the stage, denied the choice to embark on the time-honoured quest down to the front to soak up the magic.
This meant that Perth-based psych rockers Tame Impala played a series of infectious high-energy numbers to what seemed to be a decidedly underwhelmed majority. A travesty for a band so excellent and in the height of their well-deserved worldwide acclaim. Amid a great deal of drizzle, enthusiastic festival heads negotiated the mud and endless merch stands hollering football chants and throwing beer in paper cups over one another and anyone standing close enough to suffer the consequences. Denim shorts and make-shift plastic bag shoe-protectors were a trending sartorial choice and the smell of burger vans and portaloos filled the air. It seemed that this event had unwittingly found itself lodged somewhere in the conceptual drift between small-town carnival, exotic beach festival and rowdy sports match, and once you were in, there was no getting out.
Arctic Monkeys played a characteristically faultless set, launching into Do I Wanna Know? and then straight into 20 brilliantly executed tracks from new album AM and globally celebrated releases such as I Bet You Look Good On The Dancefloor and Florescent Adolescent. Alex Turner looked spruced, collected and on-point, as expected, and as loyal to their reputation as ever, it was a zero gimmicks and absolutely no saccharine cooing at the audience affair. They came, they did their thing, they brought Miles Kane of The Last Shadow Puppets on for a spell, eschewing unnecessary chat and then left, leaving a caterwauling crowd of thousands with cold, muddy legs in their wake.
Perhaps we sound like mardy bums and failed to try our hardest to appreciate such a momentous event, the Arctic Monkeys are after all now one of the biggest bands in the world, however, the price of the ticket and entire event's subsequent lack of flair and friendliness, as well as the VIP wristband crowd-partition scandal, significantly dampened what was touted to be something quite spectacular. Amid the overwhelming number of tote bags and t-shirts up for sale with not a single actual record in sight, the atmosphere at Finsbury Park begged the question, has the band's commercial success transformed their vibe for the worse? Time and forthcoming gargantuan outdoor-palooza gigs will tell.
Words: Emily Beeson | @younggoldteeth