As the RSC's Hilary Mantel adaptations hit London this year, we talk to the actress making waves as one of history's best-known mistresses…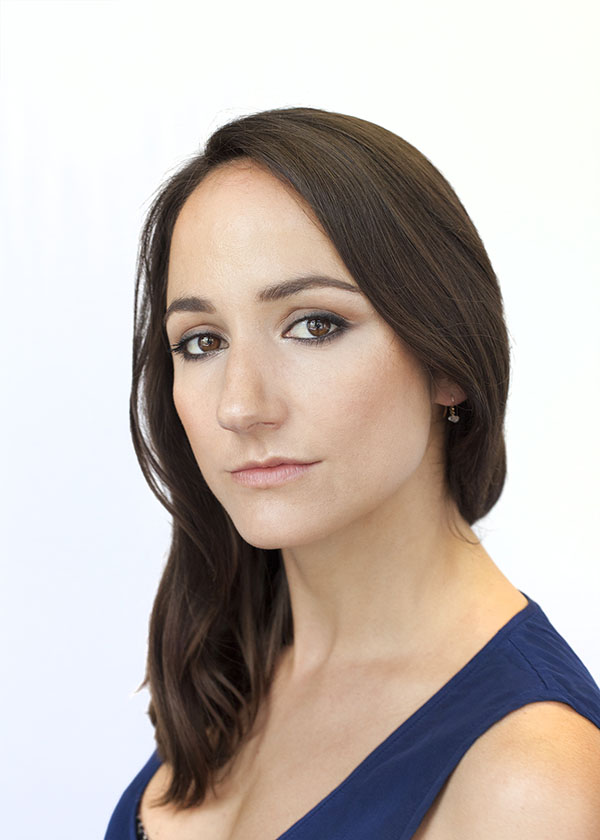 Lydia Leonard is a force to be reckoned with. Having evoked the spirit of Greek Tragedy on stage as Polyxena in the RSC's production of Hecuba alonside Vanessa Redgrave, and Hitchcockian mystery on screen in the BBC adaption of The 39 Steps, her ability to exact excellence in an unending variety of roles continues to both charm and stun audiences across the UK.
Born in Paris in the 80's, Lydia Leonard has a relaxed and seemingly French air about her, despite having only dwelt in France until the age of five. Her fiery on-point dramatic performances however, reveal an altogether unrelaxed, though perfectly controlled side of her character. After honing her craft at the Bristol Old Vic theatre school her aptitude for taking on challenging roles on the British screen and stage has continued to flourish.
Leonard now returns to us as a fierce Anne Boylen in a dramatisation of Hilary Mantel's Wolf Hall and Bring up the Bodies. Mantel is the only novelist to win two Man Booker Prizes consecutively and Leonard certainly does her cutthroat and at times fragile Anne Boylen, in the Royal Shakespeare Company's electric interpretation, due justice.
We talked to her about becoming an actress, working with the RSC, and making sense of the extraordinary enigma that is Anne Boleyn.
Did you always know that you wanted to 'tread the boards' breathing new life into characters on screen and stage in the world of drama?
To be completely honest, I don't quite know where the desire came from. I did know from quite a young age that it was what I wanted to do. I always loved drama and although my family weren't especially creative, my granny was artistic and that influenced me. I suppose it was seed that just grew into something bigger and kept growing.
Do you find that either the screen or the stage strikes a greater chord with you? Or is it relative from project to project?
It's definitely relative. Having that variety and an unending choice is lovely and it's exciting. The film and television industry is a huge world that spans so far in different directions. I love doing plays but sometimes, after a four month run, returning to TV is a very good antidote to that.
Tell us about Wolf Hall and Bring Up The Bodies.
The two plays have been adapted from Hilary Mantel's novels. She won booker prize for both, which no one has ever done before. She's very involved with the productions and is a constant font of knowledge. The two novels centre on Thomas Cromwell who's widely perceived as the villain of Tutor history. My character, Anne Boleyn is also big figure in public consciousness. She's a cunning personality; manipulative, bright, cerebral and ambitious. For all that she endures she ends up becoming Queen of England, which is a huge feat. It's apparent that she studies other people to see how she can use them for her own means, she's a very shrewd woman. For me, Wolf Hall is the rise of Anne, whereas Bring Up The Bodies is her disruption as everything turns against her. It's clear that she's boarded a sinking ship.
Your performance as Anne Boleyn has been described in reviews as 'whip sharp' – do you think you and Anne share any personality traits? She's someone that under very tricky circumstances seems resolved to attempt to speak her mind. Do you find yourself relating to her?
I do actually. Actors will always play parts that they can play well and understand. I really enjoy playing Anne Boleyn because she fascinates me. I also relate to the fact that she is a character that doesn't do well under pressure. Her fear unleashes a dangerous anger which contributes to her demise. At times, she can come across as brutal but she is a woman in a desperate situation.
Working with the RSC must be an enlivening experience. How have you found it?
I've had a wonderful time. I wasn't sure what to expect from Stratford, where we've been staging Wolf Hall but it's been such a happy period. Stratford immerses you in the culture of theatre. It's a place that's devoted to Shakespeare's legacy and it resounds as a reminder of the roots of my industry. The RSC are fantastic too. My wardrobe consists of eleven beautiful dresses, a testament to the fact that their costume department is best in the world. We're now moving to London's Aldwych Theatre which stands to shed a visceral sense of time and place on the play, it is after all, a London story.
Wolf Hall and Bring Up The Bodies are set in a distinctive and particular era. Do you have any kind of personal process for connecting with your character and fixing yourself within the period?
I regularly return to the book, there are stickers all over the different sections of my copy and obviously the wardrobe helps with the transformation. Interestingly, the hair and makeup helps. Anne Boleyn has a very specific hairstyle which is a cross between a Mary Poppins and Jane Eyre. The hair maketh the look, and the character for me.
What inspires you?
 Hilary Mantel is the driving inspiration for all of us, she's extraordinary. It's a gift working on these productions because the books contain every reference you'll need, or hillary's there. She can can answer a question without pausing. She's entrenched with knowledge. I've read another Anne Boleyn biography but really, i'm playing Hillary's Anne so she is a huge inspiration to me.
What are your plans for after Wolf Hall and Bring up The Bodies?
We're working on the show until September so it's hard to look into the future at the moment. Having played Anne Boleyn for eight or nine months I may go on holiday. After a full summer of six day weeks immersed in Tudor London, I might spend some time in the here and now.
Photography: Justin van Vliet
Make up: Andriani Vasiliou with Stella Creative Artists
Hair: Liam Curran with Frank Agency
Words: Emily Beeson
Wolf Hall and Bring Up the Bodies are at the Aldwych Theatre from 1 May. For tickets wolfhall.co.uk or 0844 453 9025