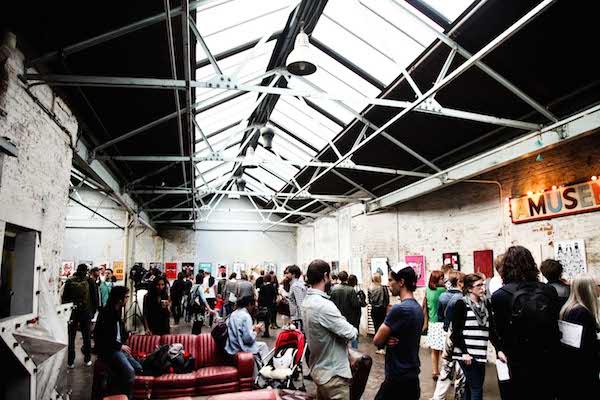 The annual Blisters: Sound Sessions poster show at Print Club London, a screen printing paradise nestled in the heart of Dalston, opened on Friday night and now that we're over the initial excitement and have laid out our spoils ready for framing, we're a little disappointed that we'll have to wait a whole year to do it all over again.
After a grand entrance through Ruby's vintage bar to grab something gin-based and refreshing we were thrown into the mix and explored a cavernous brick exhibit space spying creative cassette tape placards and playful works depicting all of our favourite albums. Sure, the lighting was a little dim to really make the most of the artworks, but the band, the hotly tipped Meanwhile, sure looked great. Besides, a print always looks better brightly lit on your wall at home than it does hanging in a gallery. Cue our beeline for the Print Club shop to snap up a masterpiece.
If you splurged and left with Hattie Stewart's Beyonce print under one arm and a Stanley Donwood piece under the other, we salute you. Though the atmosphere alone was enough to satisfy our wants and needs. Blisters was buzzing; drinks were flowing, the live music was a welcome pick me up on a Friday evening and this year's posters were of a terrific standard. It wasn't just unique responses to iconic albums that convinced us of this. Print Club's collaboration with G . F Smith, supplier of tactual printing paper that looked so good we just had to cop a feel, was a smart one and gave every print a lovely quality.
From talks on gorgeous paper to hints about the Print Club team's personal love for rockstars, the entire space was curated with creative types in mind, with pop up film screenings, mini workshops and enough illustration, painterly skill, graphic design, street art and great music to satiate even the hungriest visitors. We were pretty hungry in every sense of the word and were especially grateful when the Lucky Chip Van came to our rescue.
Three cheers for Print Club London for doing a grand job of hosting Blisters for a fifth and by no means final year. We'll be returning for next year's Sound Sessions and you'll want to do the same. In the meantime, inspired by the superb images showcased this year, you might spot us in the studio taking a screen printing class with the pros.
Words: Emily Beeson | @younggoldteeth