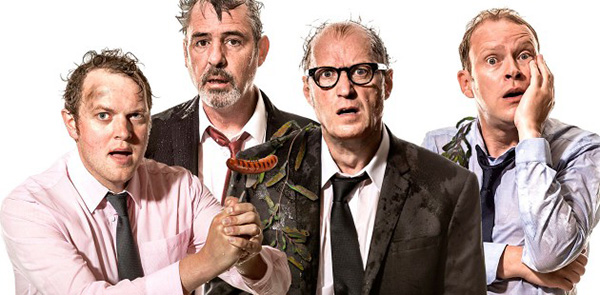 "Shipwrecked in the Lake District, menaced by wildlife and with only a sausage between them, our unlikely explorers battle the elements and each other as corporate bonding descends into a hilarious carnival of squabbling, French cricket and cajoles."
I'm catching Neville's Island late in its run. I see a matinee and the house is full and very appreciative. The main set up concerns an out-of-control team-building exercise- think The Office meets Deliverance – or even better – Lord of the "Files."
Robert Innes Hopkins's set itself is a towering forest, with actual rain on a flint beach – indeed the front row wears cagoules as it is so wet –  an incredible backdrop for their situation.
The cast of Adrian Edmondson (The Young Ones, Bottom), Miles Jupp (Rev, The Thick Of It), Neil Morrissey (Men Behaving Badly, Waterloo Road) and Robert Webb (Peep Show, Mitchell and Webb) deserve extraordinary praise as this must be one of the most demanding acting gigs of recent times. Some of the reviews have been unnecessarily cruel, they've been doing this since October, the cast must at times feel stranded.
On a deeper level – in the intimacy of the theatre – the actors, primarily known for their television work, bare almost all for the audience. There are also extraordinary visual gags [Robert Webb's underwear, Jupp's sausage knife].
The "Island" in fact – perhaps in more meta terms – becomes the duration of the run of this play that ends next week on 3rd January. I enjoyed this immensely and found all four actors exceptional. To the stranded: your rescue is almost nigh.
Duke of York's Theatre, St Martin's Lane, London. 
Words: Jeffrey Louis Reed