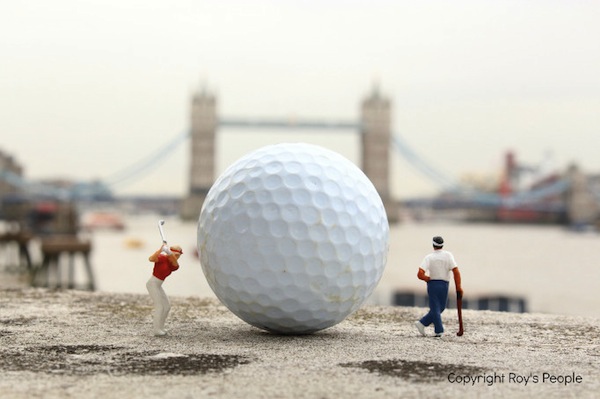 Roy's People: Street Life is a playful exhibition from Roy Tyson, a new kid on the urban art block. Tyson's images explore the whimsical side of the everyday and are guaranteed to raise a smile. His work, which features miniature hand-painted figures going about their larger-than-life business, has achieved overwhelming popularity on social media, and doesn't take a genius to work out why. His surreal multitude of tiny folk find themselves in strange and entertaining situations as they navigate an ominous and confusing human world. Viewing a gang of them trying to take down a snail with a rifle in one photograph, while in another, a happy family take their pet beetle for a stroll, elicits pure glee.
Tyson uses a variety of props to create off-the-wall scenarios for his army of pocket-sized people. In some cases, taxidermy animals and butterflies join the figures in glass cases, though it seems it's his famed photographs that really tickle the crowd. Shot in a variety of London-based locations, these images feature fairly nondescript items such as traffic cones, cigarette butts and even dog mess, with Roy's people working away beside them, inspecting them, or clearing the area in order to decontaminate them. Reactions to these photographs are artworks in themselves and Londoners in particular seem to love the shot of a miniature man proposing to a miniature woman before the Thames with a gummy Haribo ring. We've all been there at some point, right?
On 17th April, Roy will be hiding his little people all over Hoxton and Shoreditch for Londoners to seek out, stumble across and take home. This interactive event is the result of a creative partnership with the Big Issue. The big game of (little) man hunt, part of Tyson's 'Homeless' project, is being staged to help with raising awareness about the Big Issue Foundation and its work. Street Life, the first solo show featuring Roy's People, is showing at the fittingly compact Curious Duke Gallery in East London until 28th April 2014 and is not to be missed.
 Words: Emily Beeson | @younggoldteeth