Illustrators Quentin Blake and Posy Simmonds discuss The Big Draw, a creative project that intends to get people drawing in public spaces across the globe
Quentin Blake and Posy Simmonds are two of the UK's most beloved – and most eclectic – illustrators. Blake, perhaps best known for the illustrations that adorn Roald Dahl's children's books, has been drawing ever since he can remember. Simmonds meanwhile, recollects, "Making a drawing of buttons when I was three."
The duo are involved in The Big Draw, a creative project that intends to get people drawing in public forums, with galleries and museums across the globe taking part.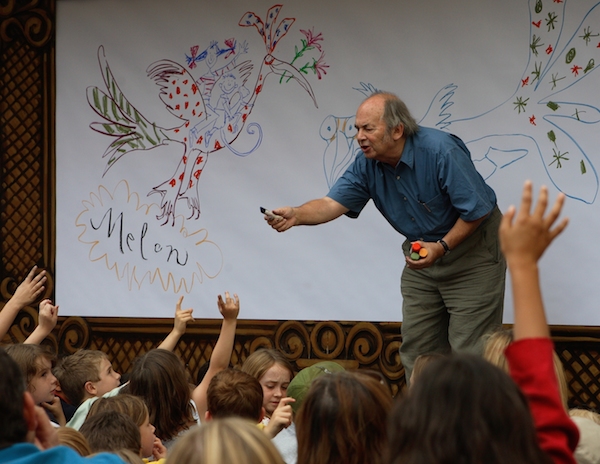 Quentin Blake at Somerset House
"The thing about children is that they draw anyway," Blake says. "But when they get to 12 or 13, children get inhibited about drawing and they start to feel, perhaps, that other people do it better than they do, or that there should be some standard of photographic realism."
The Big Draw provides free artistic equipment at its events, and as far as Blake is concerned, "With older children and adults, in a sense we don't encourage them to draw, but tell them they are allowed to draw."
Simmonds adds that, "Adults will say, 'Oh, I drew as a child but I wasn't very good and (now) I don't want to do it. But actually, often I've been at events where people have been most reluctant to draw but actually, have really enjoyed it."
"Drawing is important because it teaches you how to look at things and understand things," Simmonds says. "I don't think The Big Draw is saying everyone will come out drawing like Rembrandt, but they're going to have some fun doing it."
What's more, the act of drawing can be therapeutic. "Children often express things that are going on through drawing … and that probably goes for adults too." Calling drawing, "probing and analytical and a fast and economical way of expressing things," this illustrator, author of two graphic novels, is a lifelong convert.
"You've only got to think of architects scribbling on restaurant napkins or backs of envelopes. It's a way of exploring the world."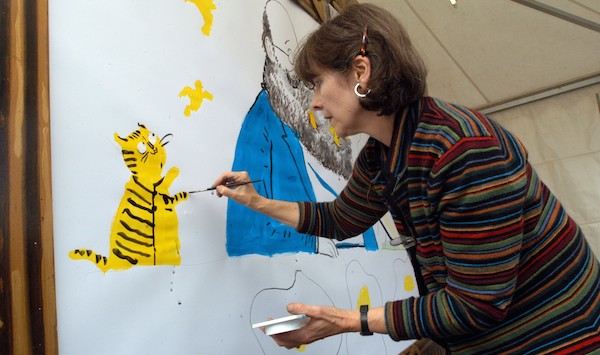 Posy Simmonds
Simmonds has enjoyed a long working relationship with The Guardian, and her serialised novels Tamara Drew and Gemma Bovary have both been the recipient of Big Screen makeovers – both films starring Gemma Arterton in the lead role.
With Gemma Bovary soon to hit cinemas, Simmonds admits she stayed away from the film set.
"I did see a script and because, as it was written by a French writer, they asked me to do an English polish. But that's really all I did because I think films and books are two different things and I was really happy to sit back and let that happen."
When it comes to creating the Next Big graphic novel, Simmonds suggests that: "It's really the story that determines everything. It's the way you turn the pages and the way the story develops. Some parts of the story might need more pages, other parts of the story might be very quick, some of the story need only be told in words and other parts in pictures; you've always got a choice."
For those seeking advice on rhythm and composition?
"At the beginning I think it's really important to just pencil it out. And see where the important scenes fall and then you work out how you're going to put them on the page."
Blake – who has written his own fair share of books – also has advice to share when it comes to illustrating. According to the prolific illustrator, the perfect drawing should both compliment the text and contrast with it.
"Sometimes, when there aren't many drawings in books you're a discreet decoration, but in books where there are a lot of illustrations you're sort of a double act with the author. But the author is the main character so you have to play up to him or her. A lot of thought goes into choosing which the right moments to 'do' are."
Blake's working relationship with Roald Dahl is a good reflection of this ethos.
"We didn't know each other very well to begin with, but we found we had to collaborate more on The BFG which was the third book. I started going down to Great Missenden and I'd do rough drawings of what I thought the characters would look like."
Dahl in particular, "saw the drawings as being part of what the book was doing." With this author, "You never knew what was going to come next, each book wasn't the same as the one that came before…"
It may sound brave, but it's an aesthetic philosophy that has got both Blake and Simmonds pretty far.
The Big Draw festival takes place 1 Oct – 2 November. For an event in your area, visit: http://www.thebigdraw.org/uk-events