If you've been doing the rounds of London Collections: Men over the past couple of weeks, you may have already heard the exhilarating, January-cobweb-banishing "indie pop noir" of LA-based trio Early Morning Rebel.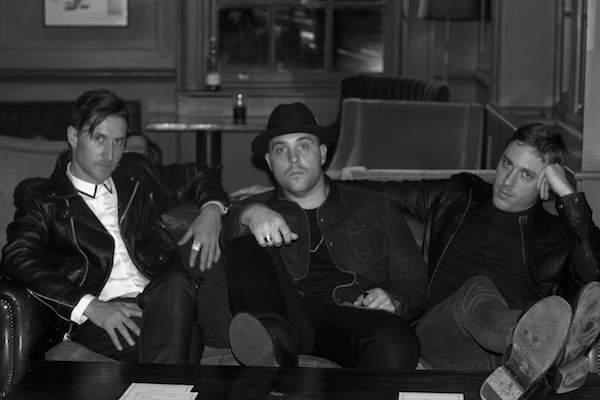 Dustin Bath (guitarist), Nathan James (vocalist), Josh Mervin (drummer)
The trio played an exclusive invitation-only gig on the eve of LC:M at Soho House in front of an impressive slew of designers, stylists and music and fashion editors – including, of course, our very own – with admirable cool. But then, if you've already been featured in Vogue China, Esquire and People, when your songs feature regularly on primetime US TV hits such as Grey's Anatomy and Falling Skies, and when your fans include Hedi Slimane and Kirstin Dunst, a roomful of rubbernecking creative types probably seems par for the course.
We caught up with EMR as they boarded their plane back to LA to find out why they look to be one of the most talked-about acts of 2014.
Tell us about the band's name…
We came up with several names and while we were recording the first few songs, we started trying on some names and seeing what fit. Early Morning Rebel really resonated and felt right against the music and overall vibe, sonic footprint and aesthetic.
What's the most rebellious thing you've done?
We try to do a rebellious thing per day, go against the stream. We've rioted in Paris and have been thrown into jail in Tijuana, Mexico. We've also been in a riot in Guadalajara, Mexico after a football game.
What does 2014 hold in store for you?
We will be releasing a ton of music and a video per song and we will tour in the States and Europe. We are also planning on putting out our own line. We've been wanting to make clothes for a while and have finally been talking about it coming to fruition.
Best shows at Men's Collections?
Our favourite shows were Ada + Nik – where we DJed the after party, MAN, YMC and KTZ. We also enjoyed the Tateossian Bloggers Create event, which we also DJed.
Who are your menswear style icons?
We are huge Hedi Slimane fans.
What's your current / next release? 
Our current release is 'Hold On' and and our next release is a remix that Youngblood Hawke did of our song 'Find and Easier Way'. It should be out with a video we shot late this month.
Photography: Lost in Talent/Chidubem Nwabufo