We get the inside track from James Norton on working with Chris Hemsworth on Formula 1 blockbuster Rush, being directed by Mike Leigh and his upcoming BBC drama Death Comes To Pemberley
James Norton rushes into the studio, slightly late and soaked from the sudden downpour outside. Apologising, he tears off his hat to reveal a shock of peroxide-blond hair, for which he apologises too – it's for a role. 2013 has been a busy year for Norton. He gained credits in, amongst other projects, Dr Who, By Any Means and the blockbuster Rush and, along the way, was hailed as one of Screen International's Stars of Tomorrow.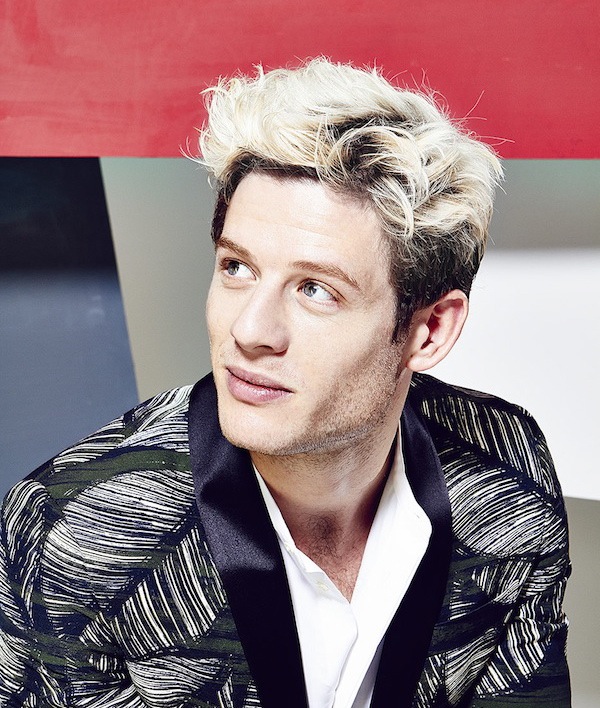 Firstly, let's talk about your hair – what's going on?
I'm doing a series at the moment, Happy Valley, where I'm playing a psychopath. He's the villain of a six-part BBC cop drama and they decided that this peroxide hair was great. It's such a throwback to the 90s and 'N SYNC. I never dyed it when I was 14 but I always wanted to and I think it's karma. I should've done the Sun-In thing. We're filming all the way through to the end of March so I'll have this for a long time. I play a working class ex-con who is a monster. I've played a lot of nice guys in period dramas – which is similar to the real me because I'm well-spoken – so it was nice but terrifying to play this other person who was so far away from who I am. A week ago I came back from South Africa. I was doing a film about Vikings and I had hair extensions in for three months. I think I spend most of my life talking about my hair.
How did you get into acting?
I acted all through school and when friends came over to my house to play football I would force them to write a script and we would do all of these annoying plays in the bay window. My friends would dread coming. I was one of those precocious kids who would write, direct and star. I acted throughout school and university but I was too afraid to say that it was my ambition and I thought it would never happen. I was lucky enough to go to Cambridge and do Footlights and while I was there I applied to drama school. By that point, I realised that what was once a far-fetched dream became a reality.
What did you read at Cambridge?
Theology – nothing to do with theatre at all. I think I did more theatre than theology when I was there, but they were all slightly painful student dramas. My degree doesn't have any relevancy to what I'm doing now. I never talk about it and it never comes up in auditions.
We've recently seen you in Rush. The world of racing is very competitive. Do you think that you're a competitive guy?
Yeah. If my girlfriend or a friend of mine were listening to that they'd be like 'of course you are'. It manifests itself at the most mundane level. In the business, if you get too competitive, you can drive yourself mad because you end up becoming friends with the people you come up against at auditions. I think that you have to detach yourself from that and stop seeing it as a competition. I'm learning. For the first few years I let those defeats and victories mean more than they probably should. My competitiveness usually comes out in stupid things like games of backgammon. My girlfriend and I almost recently broke up over a game of backgammon.
In Rush you were working with director Ron Howard, German actor Daniel Brühl and Chris Hemsworth who is everywhere at the moment. What was it like being on set with these names?
We had this one important scene where Daniel Brühl and Chris Hemsworth go head to head about whether they should race. It was lovely to see these guys hold a room. When you start working with bigger names people often expect them to be these huge divas. But if you are a dickhead in this industry you just don't get jobs. There are a couple that make a name for themselves, but those guys were lovely. They knew everyone's name and there was a really nice vibe in the green room. No status games. I always think about those Richard Burton films 50 or 60 years ago when you had all the actors backstage boozing and being quite reckless. The new generation of actors are realising that you can't get away with being a massive diva and an obnoxious arse because people will just say 'fuck off, go away, I'll just get someone else'. But Daniel Brühl and Chris Hemsworth were lovely.
You're doing a biopic set in the 1790s about the artist Turner with director Mike Leigh who's known for his unconventional methods. What was it like working with him?
You spend a lot of one-on-one sessions with Mike and then he starts bringing other people into the room. You spend ages and ages walking around as this character with their life and back-story. Then he randomly brings someone else into the room and you start improvising with them. Mike doesn't know exactly what he's going to shoot. He gets the cast into the room and you get dressed up. I played a fop so I wore really beautifully cut, velvet tails. The waistcoats were so ornamental. You end up with ten other actors walking around the rooms of a stately home dressed in your 1790s gear – it's quite spooky – chatting as characters in the period. There's nothing about the room which is modern apart from Mike walking round in his fleece, listening. The only anachronism is Mike Leigh. What he does is that he sees what's happening and how the improvisation is panning out and what's lovely is that it's a really collaborative process. It's not like when you're given a script and told to stand there and say the lines. So that was amazing.
What can we see you in next?
Belle is out next year. It's a lovely period drama set in the 1790s again. It's an amazing true story about this mixed-race aristocrat who grew up in Kenwood House. It's bizarre that the story's not more widely known. She was a daughter of a naval officer and a black slave, inherited an enormous amount of money and became a lady in society. But no one quite knew how to deal with her because she was mixed-race and an exotic anomaly. The series about to come out is called Death Comes to Pemberley, the BBC One flagship Christmas drama. It's a sequel to Pride and Prejudice and it has some great period drama heavyweights like Trevor Eve. I'm playing the young love interest. I spend a lot of time riding around on a horse with my shirt unbuttoned.
Death Comes To Pemberley will be broadcast on BBC 1 on 26th December.
Words: Jonathan Socrates
Image: Leigh Keily
Styling: Dean Hau at Lovely Management
Grooming: Ruth Warrior at Lovely Management