Our Digital Culture Editor Emily shares her tips for budding artistic entrepreneurs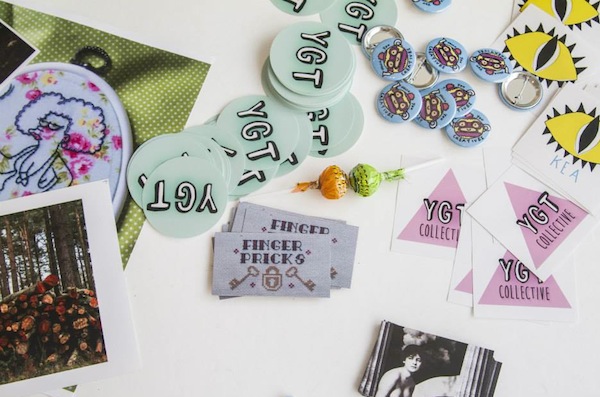 When I'm not keeping an ear to the ground to report on cultural goings-on for PHOENIX, I run an arts and lifestyle blog called YOUNG GOLD TEETH. A few months ago, I started thinking about new ways to take my blog to the next level by crystallising its aims in a public space. As it's an art-based blog and a platform for up and coming creatives, the next logical step was to create a physical showcase of cutting edge talent. Having never put on an art show before, it was going to be a challenge, one that would result in original ideas-sharing and fresh insights into DIY cultural events.
Here are a few of the things that I learnt.
1. Choose a theme that counts
It was vital that the theme be something relevant to young people, as YGT is about giving talented creatives without the means or the experience to share their work the power to do so. The internet provides a great space in which to make this happen but the ephemerality of blog posts is something that often gets in the way of really making an impact on the wider cultural sphere.
I went with a theme that I and many of the creatives I connect with feel strongly about and wanted to represent fully: feminism and portrayals of the female body by modern media. The aim was to make a significant collaborative statement that explored issues affecting this generation and the next, and to encourage a dialogue through a variety of artworks.
2. Shout, crowdfund and apply for grants.
As the list of artists taking part grew and it became clear that renting a gallery in London and transporting work from all over the UK would be costly, I applied for a grant called the Innovators Fund from IdeasTap, an arts organisation which helps young people in the creative industries, which in great fortune I was awarded. I also launched a crowdfunding campaign through Kickstarter which funded the entire project and helped to get the word out and grow a huge community of supporters, from bloggers to charities and universities.
3. Choose a venue that allows you freedom.
We hired a great independent gallery space in called The Gallery on the Corner whose owner was an inspiration and made us want to be nothing but fabulous at all times. Moral support and the freedom to own your project, I discovered, is key to the success of a DIY show. Starting small and supporting independents is hugely rewarding in the long run.
4. Collaborate.
With a collective of 15 artists in tow we set about working together to screenprint t-shirts, bags and bunting, organise catering and print work to gift to visitors. I got in touch with a number of wonderful organisations to create side projects and set up freebies to give out at the event which resulted in some marvellously generous donations and help with promoting the show.
Among these were Off The Barrow, a creative company I teamed up with to roll out a limited edition gift card on the theme of the event. Luisa Omielan, the comedian taking the world by storm with her hit show What Would Beyonce Do, also gifted us two tickets as a Kickstarter reward. I also pulled in quite a few favours from DJ friends, bloggers and creatives to helped the cause along which proffered amazing results and meant that the community just kept growing.
5. Ask for feedback.
SKIN, an exhibition that explored body perception in contemporary culture, opened its doors on 10th May and throughout the day we watched the guest book fill up. Comments such as "You are great role models for women and girls everywhere" not only made us choke up a little but assured us that the late nights, hard work and mad dashes had been worth it. I also now know exactly what worked out and what didn't and that's all down to a huge comments board, a lot of sharpies and a pink guestbook filled with doodles.
6. Party on.
The show ran until 10.30 with pink drinks flowing and the bejewelled GRL TLK spinning vinyls with the help of a shiny gold telephone and an impressive sound system. Visitors were encouraged to take plenty of photos, chat, dance and help themselves to cake and cocktails. The experience couldn't have been further from the traditionally austere gallery atmosphere we all know so well, it was an informal free-for-all and a bit of a party, which made surprisingly heartfelt comments about our professionalism all the more encouraging and the night a crowded success.
As the night drew to a close we popped a champagne cork to the sounds of the Spice Girls with a full house of visitors who had turned up to celebrate with us. Post-event blues set in pretty heavily the following day as we bid a bleary-eyed farewell to our gallery space and packed up.
The event was a testament to the power of collaboration, crowdfunding and the inspiring hard work of young artists. There's a lot to be said for doing-it-yourself. I'd happily forego sleep to do it all again and fully encourage you to get creative, build your own community and do the same so that you can make your voices heard.
Words: Emily Beeson | @younggoldteeth