The fast-rising British writer-producer-director Simon Savory lacks the ego to be described as an auteur, but he's definitely a polymath. With a CV that includes stints as a reviewer at Disorder Magazine, a press and acquisitions exec at Peccadillo Pictures and Head of Programming at FilmDoo, he's deeply immersed in the film industry.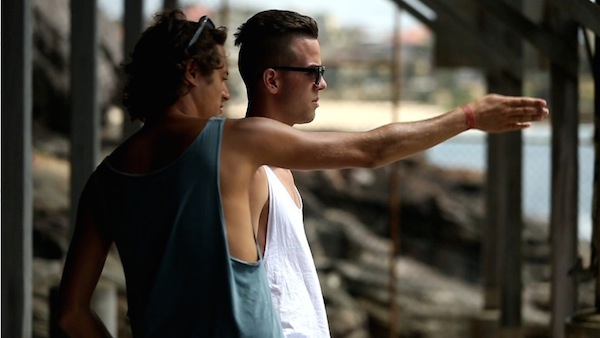 But the waves he's currently making involve his directorial hat. His short film We Are Fine – a sumptuous, sinister monochrome mood piece filmed over one day in Sydney – showcases his knack for both beautiful cinematography and sexy collaborations,  starring model Liam Hall alongside a bevy of local kids, with music from Matt Van Schie (from bands Van She and Du Tonc).
We asked Savory about the story behind the film – and his latest feature film, Bruno & Earlene Go To Vegas, currently garnering impressive festival reviews.
Tell us about the production.
We shot it all in one day with next to no money. I basically wanted to make a love letter to Coogee, a suburb in south Sydney where I stayed for three weeks, so I pulled together some local kids and crew and we went and shot it at an outdoor pool called Wylie's Baths.
Why Sydney?
The light in Sydney is fantastic for filming, although quite dangerous – the UV rays inflicted some nasty sunburn. The azure blues of the sky and the ocean and the lush greens of the parks really jump out at you on camera, but converting to black and white was always the intention – it suits the story and the music to a tee. The harsh light carves out these sharp contours and edges, something you wouldn't be able to achieve in the UK without lights. We shot with a Canon 5D and a little reflector.
Tell us about the themes; it's a pretty disturbing story.
I wanted to make a dark tale about growing up in a paradisiacal environment, blending together the adolescent gaze with the psychosexual. The way you interpret what you see in those formative years is always interesting. I think it comes from my teen years spending summers in Brittany with my family, watching the popular French kids strutting their stuff at the beach, although here it's taken to a whole other level!
What's next for you?
A feature film I made called 'Bruno & Earlene Go To Vegas' is doing the festival rounds and coming out on DVD in August, and I just moved to Paris to live with my boyfriend, so getting into the swing of that and settling in, dreaming up future stories to bring to life.
BRUNO & EARLENE GO TO VEGAS is released on DVD this August by Peccadillo Pictures.