Depending on your faith in the Great British summer you can pitch your tent patriotically, or up sticks and vacate. Here's our pick of the festival crop, whether you go for sunshine or showers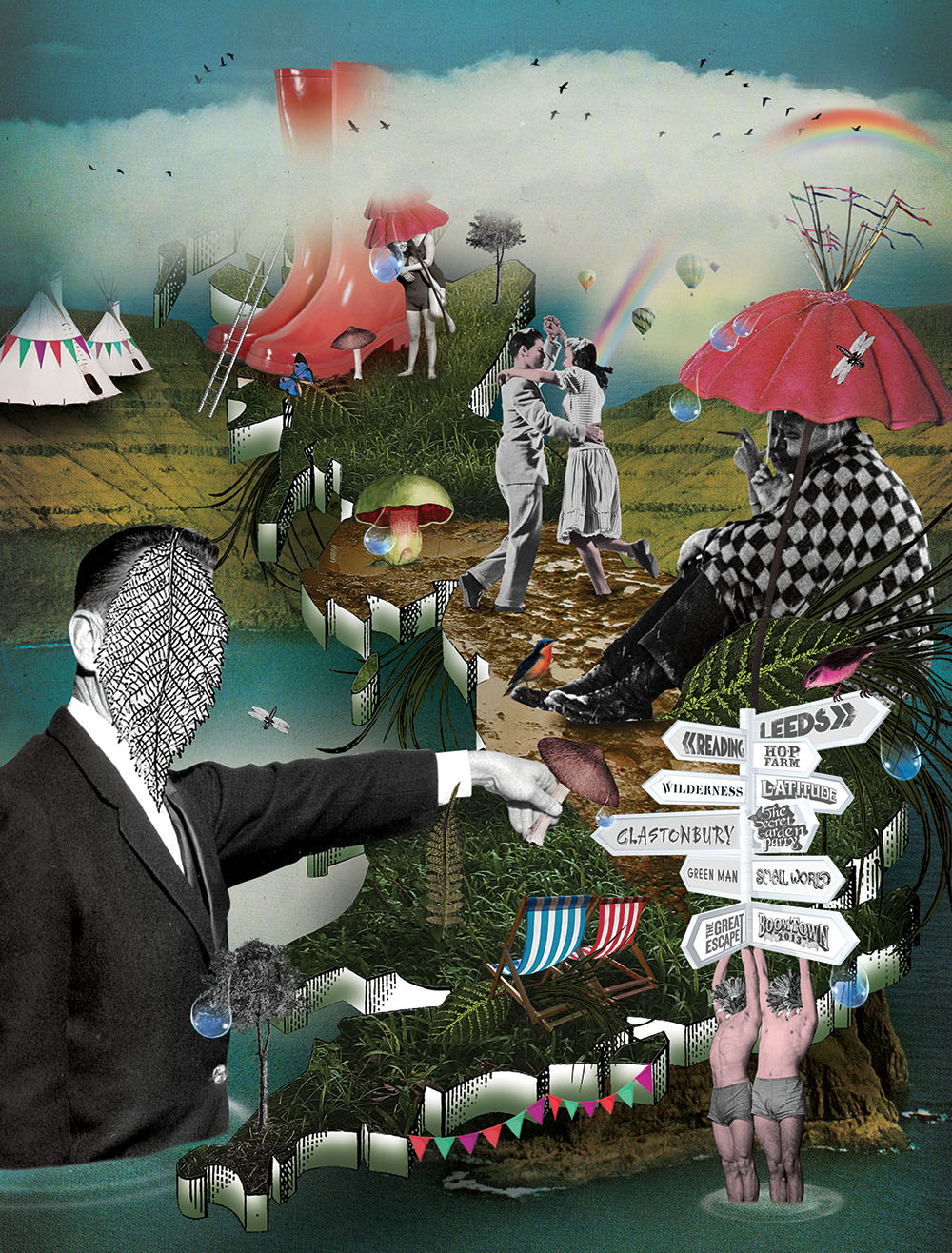 Wilderness – The Thinker
8th-11th August, Oxfordshire, England
The lowdown: Wilderness is brought to you from
Secret Productions of Secret Garden Party fame,
and is as focused on your experience as the music. There's a cookery school, long-table banquets from Ottolenghi, the Theatre de Rue & Cirque Traditionnel, a masked ball, debating halls and literary encampments, and well-being pursuits like meditation, The Sanctuary, swims, walks, and horse-riding. The line-up: The elusive Rodriguez, Empire of the Sun,
Noah and the Whale, Martha Wainwright, Michael
Kiwanuka, Tom Odell, Ghostpoet, and Tribes. There's also the London Folk Guild Stage; the Yellow Lounge, coupling classic performers with DJ and VJ artists; Vignette Productions, presenting the opera Dido and Aeneas; and Wilderness' charity partners Friends of The Earth have their own stage overlooking a lake.
Tickets: Weekend tickets £139
Reading & Leeds – The Twins
23rd-25th August, Berkshire/Yorkshire, England
The lowdown: The two events take place on the same weekend and share the same line-up: rock, punk, metal and the heavier side of indie (although this year there are new, genre-broadening stages). A long-standing tradition, 'bottling', sees acts forced offstage by a barrage of plastic. Meat Loaf (he lasted 20 minutes), Daphne and Celeste (two songs), and 50 Cent (15 minutes) are among its victims. Bonnie Tyler finished her entire set in 1988, ignoring the missiles. What a trooper. The line-up: Green Day, Biffy Clyro, Nine Inch Nails, Eminem, Fall Out Boy, Chase and Status, Brand New, System of a Down, Frank Turner, Deftones, Major Lazer, Bastille, Azealia Banks, City and Colour, Alex Clare, Alt-J, Jake Bugg, Tame Impala, Palma Violets, Savages, Sub Focus, Magnetic Man, Wiley, Devlin, Modestep, The 1975, The Strypes, Skrillex, Johnny Marr, A$AP Rocky, Bring Me the Horizon, Foals, Editors, Fall Out Boy, Haim and The Lumineers. Many more are to be announced, including acts for the BBC Introducing Stage – worth keeping an eye on.
Tickets: Weekend £210.50, day tickets £90.00
Green Man Festival – The Ethical Choice
15th-18th August, Black Mountains, Wales
The lowdown: Green Man has carved its niche through its range, including literature, film, theatre, ceilidhs, all-night bonfires, comedy, secret gigs, art at Fortune Falls, science in the Einstein Garden, a cinema tent, a Ferris wheel, an under-12s area called Little Folk, a teen area called Somewhere for 13-17 year olds, spas and therapies in the Nature Nurture area, locally sourced food and drink, and most importantly, through being a non-corporate, ethically-minded event. The line-up: This is the Kit, Ben Howard, The Horrors, Local Natives, Stornoway, Julia Holter, Kings Of Convenience, Erol Alkan and Daniel Avery, Veronica Falls, Fossil Collective, John Cale, Band of Horses, Villagers, The Pastels, Johnny Flynn & The Sussex Wit, Unknown Mortal Orchestra and Darkstar.
Tickets: Adult ticket £145, student ticket £125, child ticket 5-12 years £5
Secret Garden Party – The Healthy Alternative
25th-28th July, Cambridgeshire, England
The lowdown: Secret Garden launched in 2004 as an alternative to mainstream festivals, but the secret has since got out and it has grown from an invite-only 1,000 visitors to 26,000 happy campers in 2011. There's all sorts, from Latino, ska and reggae in the Rhumba Rum Bar, the Oddball Dancehall, the incredible Small World Solar Stage, featuring holistic healing and gypsy, swing, world and folk music, the Feast of Fools travelling art, craft and dance troupe, and the Collo-Silly-Um – featuring ridiculous events like blind-folded boxing and human Pacman. The line-up: Bastille, Regina Spektor, Shout Out Louds, Soulwax, Willy Mason, 2ManyDJs, Goldie, Elite Force, Hadouken!, Loadstar, Monarchy, Django Django, Wolf Alice, The Good Natured, Zane Lowe, Emily Burns, Childhood, Eliza and the Bear, London Grammar, Wolf Alice, Heavenly Social Jukebox, Son of Dave and They Say Jump. Loads more TBA, including the eclectic Woodburner stage.
Tickets: Tiered ticketing. Currently adult tickets are £191, but they will go up.
Latitude – The All-Rounder
18th-21st July, Suffolk, England
The lowdown: Latitude is cool, friendly and varied. Said to be more similar to European festivals, it offers four stages of music as well as theatre, art, comedy, cabaret, poetry, politics, dance and literature. Having had to deal with some horrible press in the past Latitude has fought for its reputation as a family friendly, well-balanced event with a less rough-and-ready vibe to it than some others. You'll also find cabaret and live art entertainments, a children's area and the Inbetweeners teen area. The line-up: Foals, Kraftwerk, James Blake, Bloc Party, Bobby Womack, Cat Power, Yo La Tengo, Hot Chip, Yeah Yeah Yeahs, Jessie Ware, Modest Mouse, Beth Orton, Alt-J, Everything Everything, Japandroids, Cocorosie and King Creosote. There's comedy from Dylan Moran and Katherine Ryan; theatre and dance from National Theatre Wales, Sadler's Wells and BAC; The National Gallery presenting The Titian Experience; and spoken word from Carol Ann Duffy, Thurston Moore, Caroline Bird, Germaine Greer and Festival of the Spoken Nerd.
Tickets: Weekend tickets £190.50, day tickets £84.50
Boomtown Fair – The Lost
City 8th-11th August, Winchester, England
The lowdown: Boomtown is a festival like no other. It's set in the ruins of "the Boomtown retreat", a town ostensibly taken over by 13,000 lawless rebels (that's you, the festival-goers). Streets are themed around music, art, cabaret, comedy, spoken word, anarchist theatre and Arcadia. There's a big emphasis on eco-friendly initiatives and a great family-friendly vibe – hello, Kidztown. Boomtown also features the Magic Carpet Ride, a 300 foot long travelator – or 'hippy highway' – that saves on walking time. The line-up: Toots & The Maytals, Parov Stelar Band, Neville Staple Band, The Skints, The Wurzels, Les Hurlements d'Léo, The Dualers, Orkestra Del Sol, Slamboree, Ska Cubano, Lee 'Scratch' Perry, Collie Buddz, Gentlemen's Dub Club and OnlyJoe. On the many themed stages you'll see King Tut's Revenge, Tyrannosaurus Alan, Popes of Chillitown, The Jargonauts, Backbeat Soundsystem, Gypsy Hill, Molotov Jukebox, Ta Mére, Tragic Roundabout, The Creepshow, The Casualties, DJ Format and Mickey Finn. There are also six-course banquets every night for £33 per head.
Tickets: Adults £154.10
If you just can't shake those images of contracting trenchfoot and watching your tent float past then perhaps it's time that you took flight and tried out some options from overseas…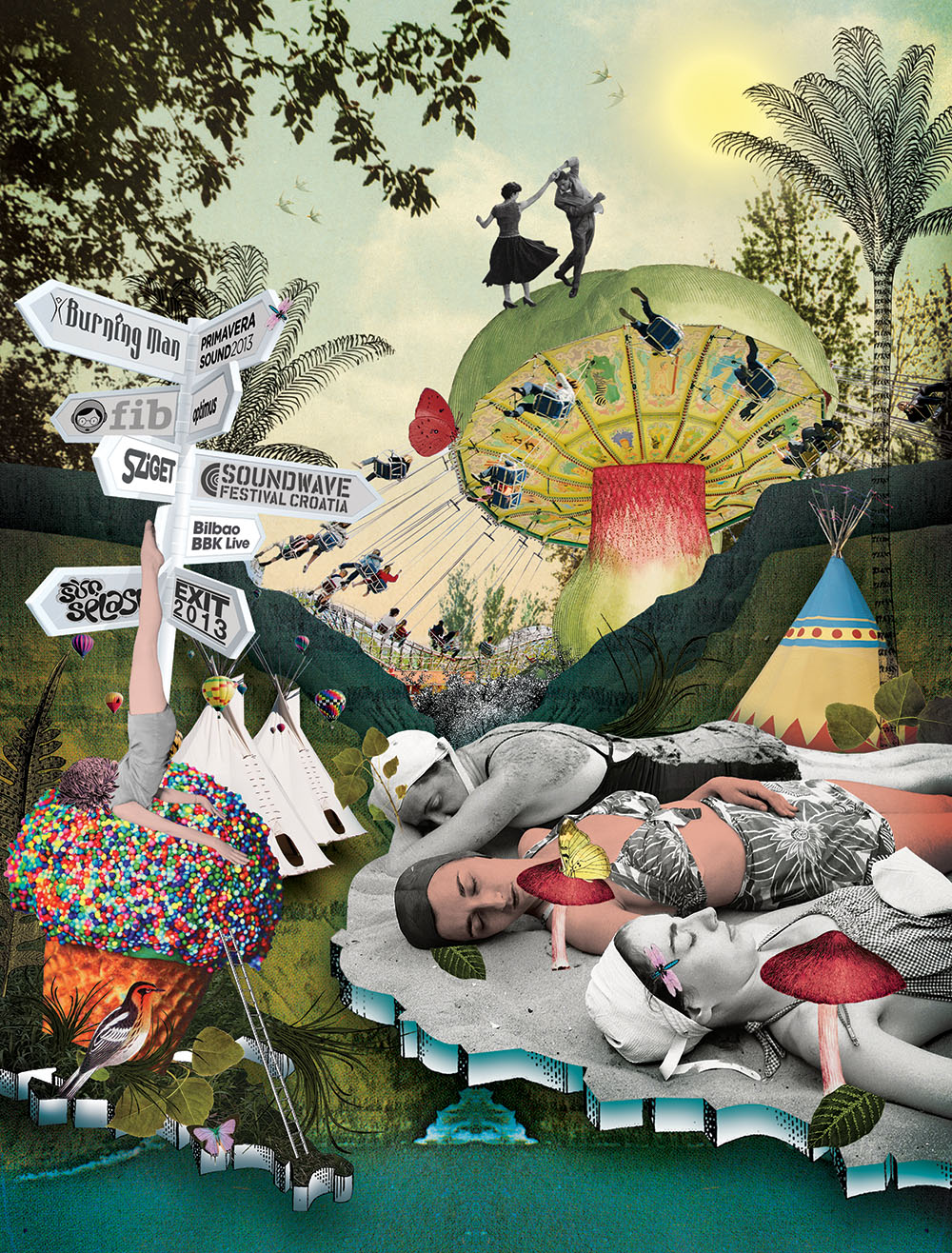 Festival Internacional
de Benicàssim – The Beach
18th-21st July, Benicàssim, Spain
The lowdown: Benicàssim's reputation as the best international festival isn't something to be taken lightly. Combining short films, fashion shows, art, clear water and flawless beaches with an invariably stunning line-up does mean a mostly young and British crowd, so Beni might not be for you if you're leaving Britain to leave the British. But in true continental fashion, the bands start at 6pm and go on until the early hours. The line-up: Arctic Monkeys, The Killers, Queens of the Stone Age, Dizzee Rascal, Primal Scream, AlunaGeorge, Azealia Banks, Bastille, The Courteeners, Everything Everything, Hurts, Jake Bugg, Kaiser Chiefs, La Roux, Palma Violets, Woodkid, China Rats, Deap Vally, Ligers, Rizzle Kicks, Beach House, Black Rebel Motorcycle Club, And So I Watch You From Afar, and Toddla T.
Tickets: Weekend ticket 163 euros
Bilbao BBK Live – The No Fuss Festival
11th-13th July, Mount Cobetas, Spain
The lowdown: Huge rock and pop names grace Bilbao each year, the layout is simple (four main stages, two dance tents, a pop tent, a chillout area, food stalls and a campsite), it's easy to access from the city or airport, and the scenery is fantastic. Doors open at 4pm every day and close at 3am each night. 'Nuff said.
The line-up: Depeche Mode, Kings of Leon, Green Day, Two Door Cinema Club, Editors, Biffy Clyro, Mark Lanegan Band, Klaxons, Fatboy Slim, The Hives, Alt-J, Billy Talent, Delorean, Toy, Benjamin Biolay with Carl Barat, Soulwax, Gary Clark Jr, The Weeks, Spector, Birdy Nam Nam, Fuel Fandango, Miss Caffeina, LA, Arcane Roots, Little Boots, Banda De Turistas, Fermin Muguruza Kontrakantxa, Twin Shadow and The Bots.
Tickets: Three days plus camping £85, day tickets £42.50
Soundwave Croatia – The Beauty 18th – 22nd July, Tisno, Croatia
The lowdown: Glorious sunshine, clear blue sea, five days – three of live music, two of parties – three stages, a stunning festival site and a boat. Soundwave is renowned not only for its beauty but also its reasonable price tag. You'll find terraced bars, the notorious boat party, the Beach Stage (where you can dance in the Adriatic Sea), Barbarellas Disco (where you can dance in the warm moonlight), and a site set in a wooded peninsula. When the trees light up at night, it's magical – there's no other word for it. The line-up: Bonobo, DJ Shadow, DJ Yoda, Ghostpoet, Riot Jazz, Robert Glasper Experiment, Mt Wolf, Chesshire and the Cat, DOOM, Lapalux, Alice Russell, Submotion Orchestra, Nubiyan Twist, Phoria, General Roots, Bobafatt, Disko Stew, Frameworks, Andrew Ashong, Jon K, Tall Black Guy, Scrimshire, Letherette, Eliphino, Kelpe, Anchorsong, Channel One Sound System, Flako, Shigeto, Com Truise, Tamara Saul, Catching Flies, DJ Cheeba, Jonny Dub, DJ Gilla, Dom Servini, Memory9, Kidkanevil, Homeboy Sandman, Kutmah, Essa & Mr Thing, Illum Sphere and Om Unit.
Tickets: £119
Sziget – The international
Sensation 7-12th August, Óbudai-sziget ("Old Buda Island"), Budapest, Hungary
The lowdown: Originally a small student festival after the end of Communist rule, Sziget hasn't stopped growing and now has a dedicated party train (with DJs) transporting festivalgoers from Western Europe. You'll find theatre, classical music, cabaret, performances, films, fine art, crafts, literary presentations, and programmes for kids. Festival king Michael Eavis himself said Sziget is "fantastic, more colourful and probably a lot cleaner than Glastonbury". It's not only the punters that are international here, but also the music on offer. Go to the website line-up list and see where each performer is from.
The line-up: Biffy Clyro, Blur, Chase and Status, Empire of the Sun, Dizzee Rascal, Woodkid, Tame Impala, The Bots, Alex Clare, Azealia Banks, Bat For Lashes, Bad Religion, Afterhours, Booka Shade, Skunk Anansie, Regina Spektor, The Cribs, The Joy Formidable, TEED, Peter Bjorn & John, Mika, Nero, Flogging Molly, Katy B, Sebastian Ingrosso, Everything Everything, Zaz, Daily Bread, dOP, Editors, La Pegatina, Little Boots and Michael Kiwanuka.
Tickets: Week pass and camping 229 euros, five day pass without camping 199 euros, day pass 49 euros
State of Exit – The Best Selection
10th-14th July, Petrovaradin Fortress of Novi Sad, Vojvodina, Serbia
The lowdown: Started by three students in 2000 as a government protest, Exit sticks to its mission of entertaining Serbian youths while bringing pertinent social topics to their attention. It also refuses to pick a genre, so the line-up is always varied and exciting; and the 18th Century fortress that it's held in is a stunning setting. The line-up: Atoms For Peace, Snoop Lion, Fatboy Slim, Bloc Party, Eric Prydz, DJ Fresh, Seth Troxler, Dubfire, Pan-Pot, Skism, Friction & Linguistics, Dixon B2B Åme, Cee Lo Green, Kate Boy, Scuba, Inspector Dubplate, Matador, Brookes Brothers, Apollonia, Ana Popovic, Delilah, Prong, The Prototypes and Deniz Kurtel with more to be announced.
Tickets: Camping only £25, five-day festival only £95, VIP £220
Burning Man – The Experience
26th August -2nd September, Black Rock Desert, Nevada, United States
The lowdown: The Burning Man festival is not something to be taken lightly. It's an incredibly spiritual experience set in harsh conditions. There is a survival guide available on the website, as well as all the information you can gather on the festival without actually going, and the Ten Principles of Burning Man (including Radical Self-Expression, Civic Responsibility and Participation). Art is so intrinsic to the experience that founder Larry Harvey gives a theme to each year to encourage a common bond to help tie each individual's contributions together. Participants are encouraged to find a way to make the theme come alive, through large-scale art installation, a theme camp, gifts brought to be given to other individuals, costumes, or any other medium you come up with. If you imagine a landscape of Arcadia erected in an otherwise featureless desert that disappears leaving no trace of its existence – well, that's close. The line-up: No specific line-up, but there is a huge variety of music and stages across the site and nothing is set in stone.
Tickets: You must register and be approved. There are also different income bands, making tickets either $380 or $190.
– Words: Finn D'Albert
– Illustrations: Heidi Andreasen