Julie Reid gets happy…in a tortured sort of way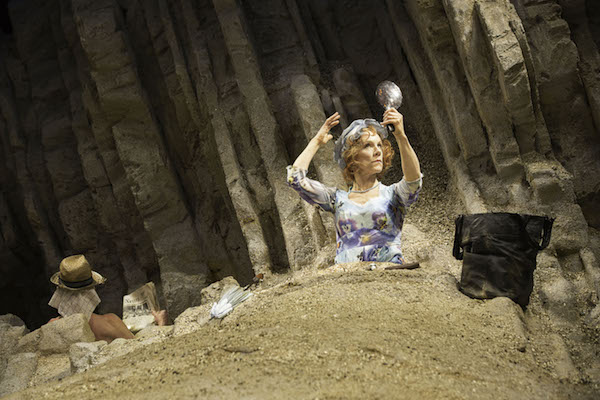 David Beames (Willie) and Juliet Stevenson (Winnie) in Happy Days at the Young Vic. Photo by Johan Persson
The Young Vic's new production opens with Winnie, a middle-aged woman, buried in the ground up to her waist. In the harsh glare of sunlight, there are only a few personal items to distract and define her – a tattered parasol, a toothbrush, a music box and a gun. She is trapped both literally and metaphorically, struggling to find a meaningful existence in the handful of hours between two bells that mark the time to wake and the time to sleep, moving between 'scraped optimism' (in Juliet Stevenson's words) and defeat. Each day becomes bleaker; by the second act, she is buried up to her neck.
This sort of existential angst is all par for the course for Beckett, the famed Irish playwright who made his name by creating a theatre of the iconically absurd. His plays invariably feature extreme characters operating in surreal spaces, struggling to find rhyme and reason in a hostile and lonely world.
Happy Days, which debuted at London's Royal Court in 1961, has been reprised for the Young Vic by director Natalie Abrahami. In a repertoire of dark plays, it is very dark indeed, full of fear and confusion that seeps unremittingly into the audience's collective souls. But, in true Beckett style, there are shafts of light too: poignant moments, excellent jokes, sweet reminisces. This warmth and heart shines through in the latest production thanks to the majestic Juliet Stevenson, in the role of Winnie. Stevenson's performance is full of heightened emotion that she attempts to restrain in the first act and wholly gives into in the second. You cannot take your eyes off her.
This role has been described as the iconic female lead, in the same way that Hamlet is the iconic male lead, and Stevenson has what it takes. The balletic movements of her upper body in the first act lend deeper meaning to her words and you can see her physically pulling herself back from the brink of 'the wilderness', trying to hold it all together for just a little while longer. Her immobility in the second act highlighted for me the terror of a lucid mind trapped in a body that you can no longer see or control.
With such a strong female character, it would be easy to overlook David Beames' portrayal of Willie, but that would be a mistake. Willie may not speak often and when he does he may not say much, but he is an integral part of this strange world. Stevenson has said in interviews that having him there to speak to, whether he responds or not, is what keeps Winnie going. The two actors make this connection into a tangible presence.
The gun in Winnie's possession ties them to each other as well. "Remember how you used to keep on at me to take it away from you?" Winnie reflects.  A beat. "'Take it away, Winnie, take it away, before I put myself out of my misery'" She looks incredulous for a moment and then asks sadly, "Your misery?" As the play goes on you're never entirely clear who would use the gun if they could, and on whom. And at the end of the play, as  Willie is crawls up the mound toward Winnie and the gun, the effect is absolutely chilling.
Abrahami does a masterful job keeping true to the spirit of Beckett and navigating the complex material in this play. Cast and crew have referenced her extensive research into Beckett's early drafts, and the way they pulled together as a team to create a backstory for these characters, helping both audience and actors to connect with such a difficult story on a human level.
Vicki Mortimer, the play's designer, speaks of her attempts to bring Beckett's poetic imagery to life and she has done this remarkably well. Her landslide setting is jagged and desolate, inculcating a parched and endangered atmosphee.
This stark environment is well paired with Tom Gibbons' soundscape – a pulsing thrum that runs in the background throughout, punctuated by the electric-shock jolt of the bell – as well as Paule Constable's lighting which is almost another character – a relentless, all-consuming, never-setting desert sun.
Raw, gripping, and poised on a knife's edge between hope and utter despair – this play is exceptional. It may not be the easiest night at the theatre, but then we've got plenty of boxsets and sofas for comfortable entertainment. This is theatre doing what it does best: getting under our skin and leaving behind a burr.
Directed by Natalie Abrahami, Happy Days stars Juliet Stevenson as Winnie and David Beames as Willie. It is playing at the Young Vic through 21 March.
Words: Julie Reid