Grayson Perry's latest exhibition begs the question: is identity in the eye of the beholder?
Who are you?
This is one of the fundamental questions of life, one that has fascinated scholars, philosophers, religious devotees and humanists from the beginning of conscious thought. It is also the question at the heart of Grayson Perry's moving new exhibit at the National Portrait Gallery (through March 2015), heralded by a three-part documentary that recently aired on Channel 4.
In the introduction to the documentary, Perry says that portraiture does what a thousand selfies can't. We need someone else's eyes, the theory goes, to see ourselves clearly, and throughout the project Perry frames himself as detective rather than dictator. Margaret Forster once wrote that 'portrait painters gave up being intimidated long ago. Now they can make their own feelings known and dare to be boldly suggestive', and Perry certainly moves from representation to interpretation – with mixed results.
Two pieces in the exhibit give the impression that Perry's beilefs about the sitters are more important than the people in front of him – Britain is Best and The Huhne Vase.
For Britain is Best, Grayson traveled to Northern Ireland to meet a group of loyalists who identify strongly as British, and to attend a loyalist parade. His portrait of the group is a parade banner – bright, colourful, cheerful – intended to contrast, Grayson says, with the dour banners that he typically saw throughout Belfast. However, the garish colours convey a comic tone, a sense that these people's own self-identifications are not to be taken seriously. He says in the documentary that these loyalists over-identify as British, holding sacred a British identity that no longer exists outside their enclave, and his interpretation has a distinct hint of mockery.
To create The Huhne Vase, Grayson met with and sketched Chris Huhne in the days just before he was sentenced for perverting the course of justice, as well as on the morning of his release from prison. In their conversation shown in the documentary, Huhne maintains an upbeat, invincible attitude entirely lacking in remorse, which visibly frustrates Perry. He finds expression for this frustrationwhen, after delicately constructing the vase, he breaks it into pieces, and composes the final portrait with the object reconstructed but the cracks highlighted in gold. It seems to be an allegory for the vulnerability and weakness that Perry perceives but Huhne refuses to acknowledge within himself.
When Grayson reveals Britain is Best, the loyalists appear hurt, as though the truth about themselves had been at best misunderstood, or worse, purposefully portrayed as something without value. Huhne, when presented his broken vase, keeps his smooth public face firmly fixed in place, persisting in portraying a version of himself at odds with Grayson's view.
But while the artist's vision intrudes in those pieces, most of the others show that his role as interpreter and commentator complements their own ideas of themselves beautifully. Again, two stand out – The Ashford Hijab and I am a Man.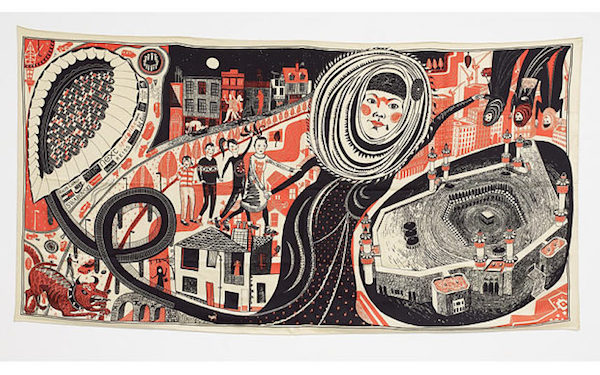 The Ashford Hijab by Grayson Perry
The Ashford Hijab tells the story of Kayleigh – a white, British, 28-year-old, single mother of four children, who has recently converted to Islam. A beautiful silk headscarf shows Kayleigh fleeing her old life of consumerism, the sexualisation of women and the emptiness she felt in her old identity – crossing a road into a new identity with a religion that gives her a sense of calm,purpose and sisterhood. Whatever your religious views, it is a tender, timely and thought-provoking piece.
For I am a Man, Grayson meets Alexander, who was born as a female but dentifies as a male, and has been trying to build an identity he no longer has to justify every day. Grayson's heroic, Peter Pan-inspired sculpture of a young black boy, stripped to the waist with his head thrown back and his body arched as he blows a horn with a passion and exertion that comes from the deepest part of him, is joyous and poignant and celebratory.
When Kayleigh and Alexander see their portraits for the first time, they have a flash of recognition. Both have been wrestling with and refining their identity day-to-day, but here they are able to see clearly who they were through Perry's interpretation and they respond with a joy and pride that is truly moving.
Who Are You makes a compelling argument for interpretation as a necessary filter to tease out the truth about our identity. However, it also shows there are limitations to interpretation; core elements of ourselves can be lost or warped without proper context or empathy.
In fact, the real question it frames goes to the heart of our social media-driven, image-obsessed society. When faced with an interpretation that doesn't align with how you view yourself, would you assert your personal view with confidence – or trust the stranger's eyes?
Grayson Perry's Who Are You is now open at the National Portrait Gallery, London. You can watch the documentary here.
Words: Julie Reid