★★★★☆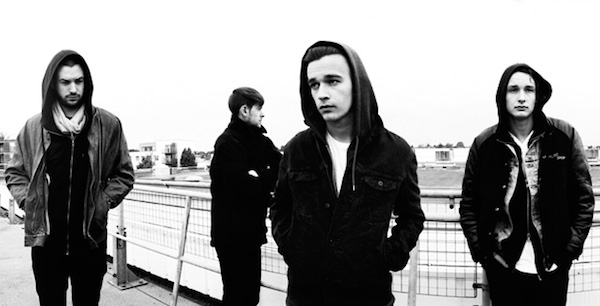 Frontman Matty Healy takes to the stage wearing ripped jeans and an oversized t-shirt, flicking his hair and swigging a half-empty bottle of wine. He'll later tell the crowd in a humble drawl: "This is one of the best nights of our lives".
On their third sold-out night at the 5,000 capacity Brixton Academy, it is all a far cry from this time last year, when the band were still often to be found playing to half-empty pubs, but it's not hard to see why their success has recently hit the stratosphere. The 1975 is made up of four twenty-something guys; dressed, as the lyrics of their stoner anthem Chocolate put it, in black from head-to-toe, and producing a beguiling mix of indie-pop, 80s funk-pop and modern day R&B. Their sound is alternative enough to gain a certain level of artistic credibility over their over-produced boy-band contemporaries, yet still cemented enough in the pop mainstream to be a commercial hit.
Live, The 1975 are low on talking and high on atmospheric synth-fused filler between upbeat tracks. Over the 21-song strong set, there's barely a moment where music isn't playing, and even those few seconds of silence are met with screeches of enthusiasm; the later on in the show we get, the more intense the audience becomes.
They open with the single The City, but it proves to be some of the lesser known album tracks that draw the biggest crowd reaction: the funk-riffed Settle Down and the undeniably catchy Heart Out, which arrives complete with a live saxophone solo from a guest musician. The audience is a little slow to catch up with the band's energetic stage presence, possibly due to the decision to include a lot of their lesser-known, early work at the beginning of the set and save the radio singles for the end. The second song they play, Milk, is a hidden track on their second EP; for a band whose ascent to indie-pop stardom began with a No.1 debut album just a few months ago, it seems a strange move to include an obscure song from one of their four previous under-the-radar EPs so early on.
Despite that, the seven songs they choose to play from their pre-album repertoire, include some worthy gems such as the synth-heavy atmosphere of Heads.Cars.Bending and the dreamy anthemic You, which inspired a relatively impressive sing-along from the crowd. There's no common thread here to indicate what kind of song will prove most successful in terms of audience reaction: minimalist ballad Is There Somebody Who Can Watch You?, in which Healy takes to the stage alone with a keyboard resonates as strongly as the wonderfully weird instrumental of Menswear; the speak-sing of which he delivers by way of a surprise appearance in the upper balcony. From that moment onward, it's a giddy ride uphill to the explosive finish of their most famous songs, Chocolate and Sex, which showcases what The 1975 do best: deliciously catchy choruses filled with stories of a never-ending youth relating who did what last weekend.
They may not have quite nailed the art of sustaining audience energy from opener to climax, but if Healy's onstage swagger is any indication, it'll all come in good time. They know exactly what they're doing.
Setlist: The City, Milk, M.O.N.E.Y, So Far (It's Alright), Talk!, She Way Out, Heads.Cars.Bending, An Encounter, Settle Down, Heart Out, Pressure, Me, fallingforyou, You, HNSCC, Menswear, Girls, Is There Somebody Who Can Watch You?, Robbers, Chocolate, Sex.
Words: Rachel Michaella Finn