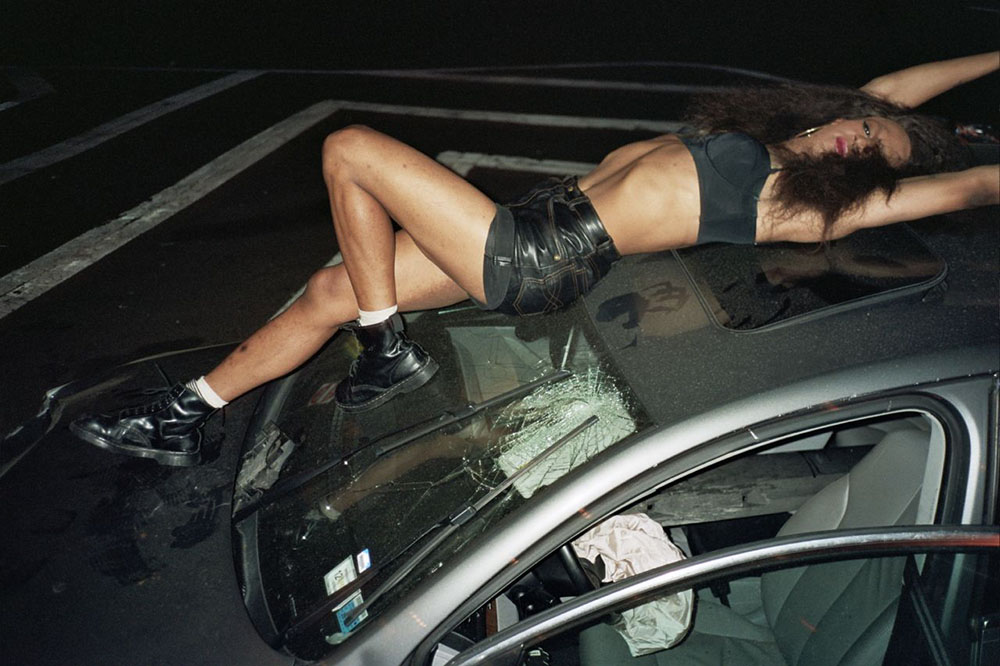 The arches of Village Underground in Shoreditch came alive as Michael Quattlebaum Jr., better known by her Lil Kim inspired alter ego name Mykki Blanco, stepped onstage and unleashed his show upon the trendy crowds of Shoreditch. The cross-dressing rapper from New York played a repertoire of songs that continue to push the boundaries of conventional rap music.
With an undying love of designer clothes (see his Instagram feed) the songs make you bounce whilst at the same time giving you an insight into the seeming identity crisis the poet goes through on stage. Blanco has a charismatic stage presence that has a sort of magnetism force that could see her become the first great success stories of 'queer rap'. Shirtless and wearing a headpiece by wig-maker extraordinaire Charli Le Mindu, the contrast of the music versus the image is quickly garnering Mykki worldwide and bloggers' attention, not only for effortless flow in his tracks but as a performing artist in his live shows.
The set-list included fan favourites, with dark and de-constructed beats and in-your-face autobiographical lyrics. Highlight was the aptly named 'Wavvy" (see video below), a massive hit as the rapper invited members of the audience up unto the stage, causing the night's festivities to reach a climax as the crowd sang back every word.
[youtube]sokeAMDm7mk[/youtube]
Mykki Blanco is offering something different visually, and musically. He is part of a new wave of young gay artists, such as the award winning Frank Ocean, that are slowly changing the rap world's never-ending homophobia issues.
'Betty Rubble: The Initiation', his second full-length EP is out now, with his debut LP scheduled for release later this year.
– Walter Ugarkovic

Mykki Blanco World
Mykki Blanco facebook