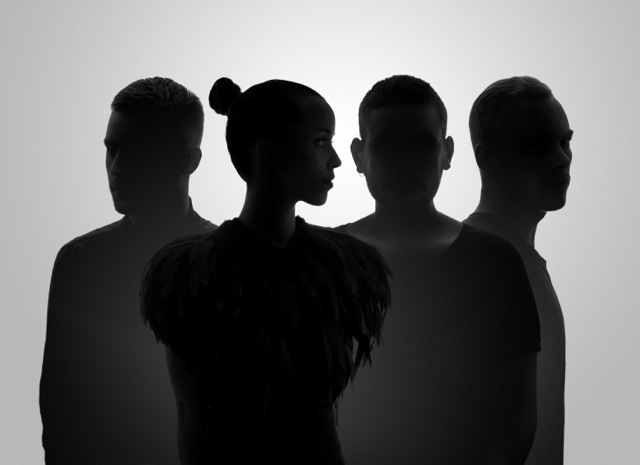 Making their long awaited British debut, rising stars Kate Boy played their first London gig on Wednesday night to a sold out crowd at Hoxton Square Grill and Kitchen. The gig was part of the monthly 'Gold Dust Club' night that takes place at the venue and seeks to showcase new pop talents, it's seen the likes of Lana Del Rey, Ellie Goulding, and Jessie J.
A hot summer's day had the audience in sweats as they patiently waited for the band to come on stage, at times becoming unbearably uncomfortable. When the band did appear, to a mesmerising display of strobe lights and the latest musical electronic wizardry gadgets, they performed their hit singles alongside a couple of new tracks – further expanding the androgynous, mysterious, and monochrome world they're building up.
Kate Boy hail from Sweden, the quartet fronted by Australian singer Kate Akhurst and accompanied by Oskar Sikom Engström, Markus Dextegen, and Hampus Nordgren Hemlin. Formed in Stockholm in 2011 the band has gone on to release three singles and produced an EP. The band's performance of the insane and aggressive third single The Way We Are was a definite crowd pleaser.
Closing the show was the euphoric Northern Lights, a song that like their other singles really hints at The Knife's poppier moments sonically and lyrically.
Kate Boys songs promise dark electro pop stompers, their full length LP (no release date as yet) is looking set to become a winning debut.
– Walter Ugarkovic