Julian Casablancas & The Voidz
The Coronet Theatre, 7th December 2014
✮✮✮☆☆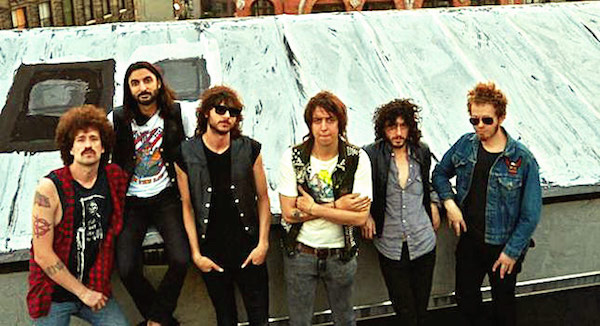 Fans of The Strokes should forget what they think they know about Julian Casablancas when they walk through the doors of a Voidz show. The frontman of the band that catapulted to fame in the early 00s with their fresh take on indie rock was tipped to be the one to 'save' rock 'n' roll, but with The Voidz, he seems set on smashing it up.
A self-described band of 'protest songs', The Voidz are mostly loud, always energetic and pretty much as far away from the sound of The Strokes' 'Last Nite' or 'Reptilia' that you could get. At Sunday's gig at Elephant and Castle's Coronet Theatre, Casablancas, wearing a double denim ensemble that only a musician of his standing could get away with, opened with 'Instant Crush' – a Daft Punk produced song that featured on 2013's Random Access Memories – before launching into an energetic hour of their own songs, with only brief diversions to songs from Casablancas' past as a solo artist and The Strokes frontman.
The Voidz themselves are a mix of bad haircuts and an even weirder mix of musical influences. The ten-minute strange and bawling ballad of 'Human Sadness' builds to a promising crescendo whereas 'Where Eagles Fly' is a relentless punk mash-up of furious energy, Casablancas twisting, turning and lunging over the stage for its duration. 'Father Electricity' ventures into moments of African drumming and the short and anything but sweet 'M.utually A.ssured. D.estruction', which of all The Voidz repertoire would be the one to terrify any conservative parent if it were heard blasting out of their teenager's bedroom, proves one of the sets most popular tracks with the crowd, despite its mania of twisting melodies, quick chord changes ominous distorted vocals.
Those turning up hoping to hear at least one of The Strokes' hits are to be severely disappointed. The only Strokes material to feature in the set are 'Ize of the World', a non-single track from The Strokes' third album, and an encore of 'I'll Try Anything Once', a demo track which only those who have gone looking for it would be able to find. Despite that, the later proves most popular in terms of sing-along. Casablancas knows he has an audience who would have searched the corners of the internet for his music and has no problems rallying enthusiasm for the non-released piano ballad.
This latest chapter of Casablancas' career is no doubt strange and will never appeal to the masses in the same way as The Strokes – but nevertheless The Voidz somehow, strangely, work. Through The Strokes' ever-changing sound, his solo record, Daft Punk collaborations and, now, with The Voidz another string to add to his musical bow,  Casablancas has succeeded in transcending boundaries and, with this new venture, refusing to let them define him at all.
Words: Rachel Michaella Finn