Albert Hammond Jr. delivers both style and substance at XOYO London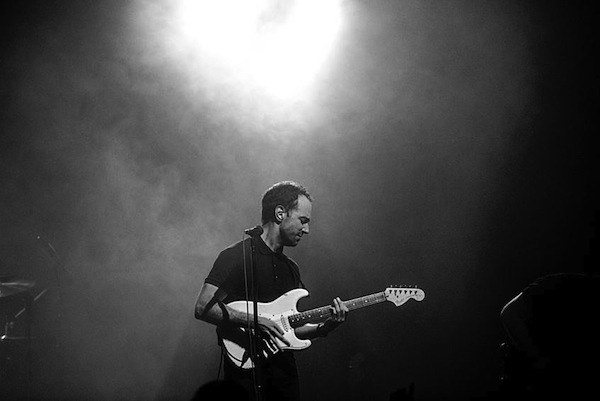 Photo credit: Frank Fu
'Albert! The bouncers are telling us to stop… bouncing!' Someone yells at the stage as a post-applause hush descends over the crowd. Hammond Jr. cooly grips the neck of his guitar and pauses for a moment. He looks the audience from left to right, raising the corners of his mouth slightly, and utters, 'In the front row? Isn't that what you're supposed to be doing?' Security look ruffled and the band launch into a new track from their latest release, an EP titled AHJ.
The first solo music he has penned since 2008, Albert's newest collection of songs is a well-crafted series of powerful testimonials. Cleaned up and looking better than ever, in a get-up of black skinnies, red Doc Martins and matching braces, this frontman is so on point, it appears he could bring the house down with a single flash of those sharp American teeth.
AHJ, released on Cult Records, bears all the trademarks of focussed musicianship you'd love to expect from an artist whose notoriety has been cemented by a career of wild antics on the New York scene; there's certainly a joy in seeing the guy doing so well. Albert plays every instrument save the drums on the EP, though at XOYO is joined by two guitarists, a bassist and drummer who assert a wall of precise, slap-in-the-face sound.
Between flashes of crisp lyricism and infectious hooks, angsty strains of punk run through new tracks, Carnal Cruise and Rude Customer. Saliva coats a red microphone and veins stand out in his neck, but still, Albert doesn't seem flappable. Having toured North America, London has been one of the final shows of the tour's European leg. As the band leave the stage and Hammond Jr. directs his full attention to the crowd; there's reverie in the air. The encore is a sparse, solo rendition of 'Blue Skies', which goes down a treat.
After the show Albert tweets, 'Heathrow for 8 hours/I've eaten at every restaurant/they should have rooms you can rent to take naps in'. It's clear they're taking no prisoners on this tour. The show and new record, as well as Albert's general demeanour suggest he's thrown everything into AHJ, and with reassurances that The Strokes are still going strong and continuing to make music, the jubilance, dedication and energy shown by this artist are both right-on and humbling.
Words by Emily Beeson