★★★★☆
They say it takes years to become an overnight success. True to cliché, the sibling pop group Haim is one of those success stories that seems to come out of nowhere, but is in fact the result of years of hard work. Sisters Danielle, Este and Alana performed in a family cover band 'Rockinhaim' throughout their Californian childhood, Danielle and Este were part of all-girl group 'The Valli Girls' in mid-00s, and Danielle has played guitar on tour for Julian Casablancas. For a trio of sisters who already had a history in show business before they formed their own band, it's not surprising they have unique on-stage chemistry and attack their set with a ferocious confidence.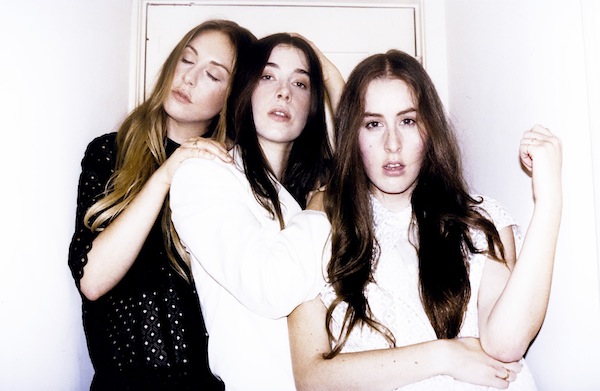 Just a little less than two years ago, Haim were playing London's Shacklewell Arms. Tonight, they're at Brixton Academy, a fact which youngest sister Alana declares to the crowd is 'f***ing incredible'. And it is. Florence Welch and Primal Scream's Bobby Gillespie are watching the show from stage-side as the group is met with five thousand screams of adoration upon taking to the stage.
Predictably, their sun-drenched Californian indie-pop works best on their most upbeat tracks – 'Forever', 'Don't Save Me' and 'Days Are Gone'. There's one exception: three songs in, a room-shatteringly loud rendition of Fleetwood Mac's 'Oh Well' is delivered as confidently as their own material. With only an album's worth of material to work with, they cover its entirety tonight, with barely a moment of stillness. Between songs, Alana dances up and down the stage and Este makes jokes to the crowd. The sisters aren't just musicians; they're precocious entertainers.
Taking back the stage for an encore consisting of a spine-tingling rendition of Beyoncé's 'XO' and the bubbly pop-rock buzz of single 'The Wire', Haim are eventually cheered out to a bonus-track of 'Let Me Go'. The paired-back, initially slow nature of their swansong seems a strange choice until the very end, when Este, Danielle and Alana turn the outro into a minute-long three power-sister drumming finale. To say they 'went out with a bang' wouldn't quite do the show justice.
If you're in need of some aural sunshine, Haim are the perfect prescription.
Setlist: Falling, If I Could Change Your Mind, Oh Well (Fleetwood Mac cover), Honey & I, Days Are Gone, My Song 5, Running If You Call My Name, Go Slow, Don't Save Me, Forever, XO (Beyoncé cover), The Wire, Let Me Go.
Words: Rachel Michaella Finn