Keep your ear on the gutsy blues-rock from this fierce Californian pair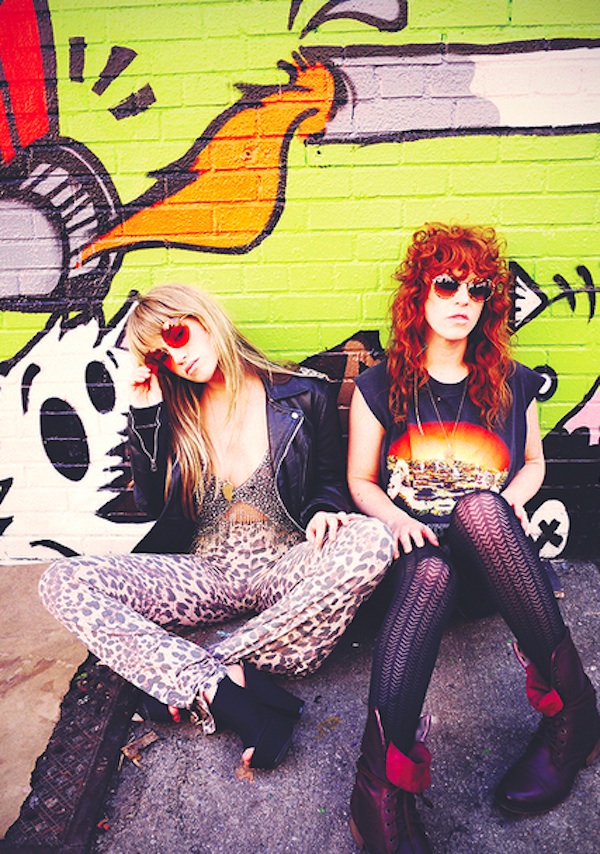 Distortion, daisy-dukes and raw attitude; Lindsey Troy and Julie Edwards are Deap Vally. "We're inspired by hotties, giant sunfish and glam rock," say the Californian duo, who met in the San Fernando Valley through a shared love of crocheting. Since their first London show, the pair have played alongside Muse and The Vaccines, and now, riding the wake of debut album, Sistrionix, are in the midst of their first UK tour.
The band gave an explosive performance at Brighton's Concorde2, complete with crowd-surfing and signature scuzz. As Troy defiantly strikes her guitar, the snarl of an Electro-Harmonix Big Muff pedal, two Fender amps and Edwards banging the hell out of those drums, packs a mean sonic punch.
After the show, Troy tells us that along with Led Zeppelin, bands like Hole have motivated Deep Vally's sound. Channelling 90's grunge, their wry, vitriolic lyrics are a nod to rock legends but a cheer for valley girls of the 21st Century. New track, Walk Of Shame, oozes empowerment, with its sparklingly obstinate hook: I'm gonna take this walk of pride, I got sunshine in my stride.
"Our moms and women's suffrage are top influences", Edwards says, also citing 80's television show Gem and the Holograms as their sartorial inspiration. Troy talks us through their style, "inspired by figure skaters and obnoxious fashion fantasies. Our clothes are by Michelle Rose and Kittinhawk [friends of the band]." Collaboration is important to the pair, in particular, their work with Matt Doust, a departed close friend responsible for Sistrionix's ethereal artwork.
Brighton's encore is a thunderous Baby I Call Hell, followed by Screamin' Jay Hawkins' shock rock number, I Put A Spell On You. The crowd buzzes and with a final face-melting riff, staking their claim as modern pioneers of gutsy, blues-rock, Deap Vally exit the stage. "British fans have an amazing appreciation of rock'n'roll," says Troy. She smiles, adding, "you guys are like the last of the Mohicans, thanks for keeping real music alive."
Words: Emily Beeson