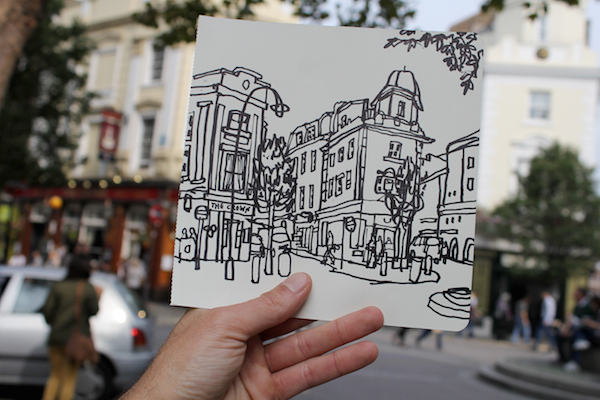 If you spent the weekend sketching away with crowds of eager creatives in Covent Garden, you'll have had the thrill of seeing your scribblings of the city skyline exhibited at the London Graphic Centre, no small feat for an aspiring artist. For those of you that weren't sure what all those people with sketchpads were doing milling around central London, we're here to tell you that the Urban Sketching Movement was in town.
Founded by Gabi Campanario, an artist from Seattle, the global life drawing movement made its mark on London at the weekend, encouraging city dwellers to pick up a Moleskine and start sketching. Talks and sessions from the London Graphic Centre's collectives, and professional image-makers such as Adebanji Alade a prolific sketchbook artist and James Hobbs, whose scenes of London we all know so well, provided valuable tips on technique, viewpoint and being free with your creativity.
The event was geared towards the act of filling a personal sketchbook and injecting individuality into the urban scenes we walk through every day. 'Wrong' was a banned word and there was a resoundingly positive theme to the workshops and talks: take your time and open your mind to new possibilities and ways of seeing. If a perfect weekend entails being handed a beautiful blank sketchpad (who doesn't love a shiny new Moleskine?) and wandering around the time-honoured buildings of Covent Garden, taking in the angles and being told to cut loose, learn and draw, the Urban Sketching Movement has truly nailed it for us.
Words: Emily Beeson | @younggoldteeth