Are you an aspiring author? Are you dabbling with the idea of self-publishing? Are you tempted to dive into the Amazon marketplace, yet secretly still longing for the kudos of seeing a hardback with your name on produced by a Bloomsbury publishing house?
Then put 13-15th June in your diary and start polishing that draft, because tickets have just gone on sale for the annual Writing In A Digital Age conference. Produced by The Literary Consultancy, the UK's leading editorial consultancy, the event features more than 30 writers, journalists, publishers, literary agents and digital pioneers discussing the latest technology and thinking in the book publishing world over two packed days.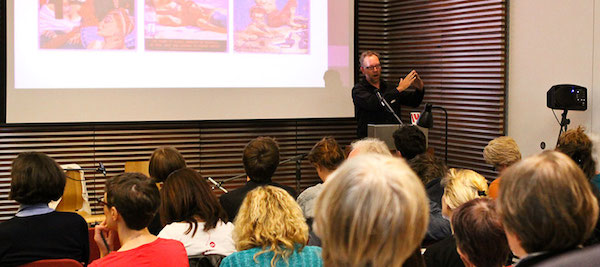 One of the key themes of #TLC14 will involve exploring the pros and cons of self-publishing as opposed to the traditional route, and this year's lineup includes a keynote from the renowned digital publishing pioneer Cory Doctorow; an exploration of 21st century book reviewing with blogger dovegreyreader and journalist Sam Leith; a panel on self-publishing featuring Orna Ross, founder of the Alliance of Independent Authors; and Canon Tales, a series of rapid-fire blasts of inspiration from the likes of novelist Kamila Shamsie, Commissioning Editor for Granta Books Max Porter and Daniel Cooper, former Amazon Head of Kindle Publishing and self-published author.
What's more, if you've got a manuscript in decent nick and aren't currently in print with a commercial publishing house, you should think seriously about entering the Pen Factor Writing Competition. Submit a synopsis, bio, pitch letter and 2,500 words of your masterwork and you'll get a chance to pitch and get feedback from professional agents and publishers, with the winner receiving free support from TLC, a Kobo e-reader and a professional photo-shoot for that perfect dustjacket shot.

Having attended since its foundation two years ago, I can't recommend the conference highly enough. The atmosphere is warm, inclusive and accessible, and you get to throw around ideas both with your peers and some of the most insightful people currently working in publishing. Tickets aren't cheap, but they're offering an early bird rate of £294 for an all-in pass until the end of March, and this year that'll also buy you a bonus third day with a masterclass with the Royal Society of Literature and advisory one-to-ones. Writing can be a lonely slog; a blast of networking, advice and inspiration like this could make 2014 the year when you finally give birth to that book.
Check out what I had to say about last year's event and have a listen to the keynote from bestselling author Audrey Niffenegger below, and stay updated via the TLC Twitter feed. Oh, and drop us a tweet if you're coming – we'd love to meet some PHOENIX readers (and maybe future writers) there.
Words: Molly Flatt