★★★★★
In 1970, a chance commission by now-defunct American sports magazine Scanlan's brought together two of the finest mavericks in their respective creative fields. One year after a Hell's Angel stabbed a man at a Rolling Stones gig in the States, the magazine decided to see if the worlds of hot-rod anger and high-end art could ever co-exist. And so the renegade American journalist Hunter S. Thompson – whose bestseller Hell's Angels saw him riding across the country with the infamous biker gang – was introduced to Ralph Steadman, the erudite, culture-loving, politically outspoken and sharply satirical British cartoonist.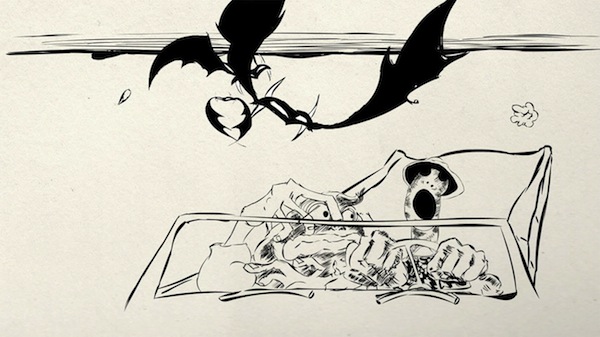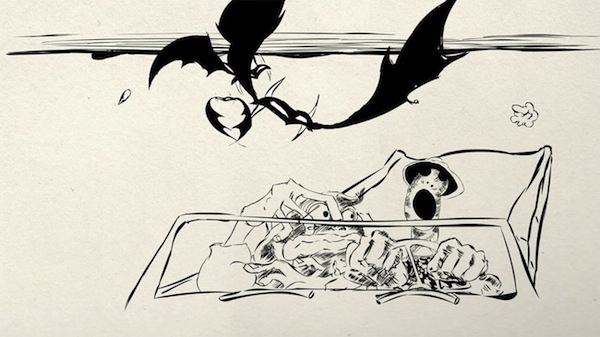 The result was a collaboration that would help define the energy and ambiguity of an entire generation. In that first experiment, the quiet, Indian ink-splattered British artist and the drink-and-drug-drenched writer were sent to cover a horserace in Kentucky. The resulting mace, psychedelic, and booze-infused mayhem resulted in a piece of writing so fresh, ferocious and hideously beautiful that it created an entirely new genre: Gonzo journalism. When 'The Kentucky Derby is Decadent and Depraved' hit the press, nothing was ever the same again and the two, for good or ill, were linked. Steadman's art and Hunter's words were natural partners and the synergy of their raw, visceral style made them perfectly placed, in the downer dawn of the 70s, to tackle the death of the American Dream – in what would later become Fear and Loathing in Las Vegas.
In the upcoming documentary For No Good Reason, Johnny Depp meets Steadman to explore his work, his life, his inspirations and the now-legendary output of this extraordinary creative partnership. The film does an excellent job of honouring Steadman as an artist in his own right, reminding us just how powerful his vital, unmerciful style has been in capturing the bewildering cacophany of modern life. And yet Hunter is a constant shadow behind the screen. Steadman's own admiration and love for his writing partner, the fact that the film is steered by Hunter's adopted son ("Colonel Depp"), and appearances by Fear and Loathing director Terry Gilliam, never let us forget the artist's spiritual counterpart.
Steadman has never before opened his art studio, his house, his heart, career, anecdotes or memories as does for director Charlie Paul, who has spent 15 years meticulously compiling footage and creating extraordinary animations that allow Steadman's imaginative world to explode out of the screen. Watching the artist work is like witnessing a conductor directing an orchestra – moving from the single, elegant notes of an oboe to a crashing crescendo built with brass, wood, steel and strings – and a soundtrack featuring Slash, All American Rejects, Jason Mraz, James Blake, Ed Harcourt and Crystal Castles matches this exuberant eclecticism.
Paul has built an outstanding and long-overdue testament to a true British icon whose individualism, raw talent and rare eye has given us a surreal yet sharply accurate vision of everything from politics to wine, animals to death. It's been a struggle for the documentary to find a release date; but with Sony Classics picking up the distribution it is now set for an early 2014 UK release. Keep an eye on developments here and in the meantime, let the trailer prime your appetite.
Words: Vernon Ward