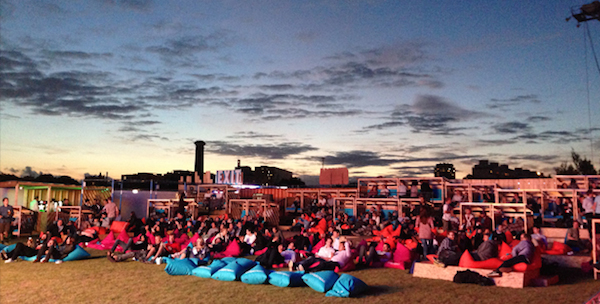 Listen up, cinephiles. You're in luck. In our opinion there's nothing better than getting the popcorn in, fixing a few drinks and snuggling up in front of a classic film. Moviegoing is simply one of the greatest pastimes there is. What isn't so great is having to pay top dollar to sit in a chilly air conditioned cinema munching on overpriced snacks and watching a vapid action blockbuster. We've remedied that experience and put the 'cult' back into culture by compiling a list of the top five filmic outings to raise your spirits and put joy back into the movies this summer. You're very welcome.
1. We Love The 90's Film Festival @ Portobello Pop Up
The We Love the 90s crew are putting on a film festival to celebrate the iconic movies of the 1990's. Taking place over two weekends at Portobello pop-up cinema, screenings of Pulp Fiction, Boyz in the Hood and Goodfellas are guaranteed to make you feel a little old and absolutely badass simultaneously.
Friday 25th July – Sunday 3rd August
2. God Help The Girl and a satellite set from Belle and Sebastian @ Hackney Picturehouse
Great news for beret-toting lovers of feelings and twee. Stuart Murdoch of Belle and Sebastian's wistful directorial debut arrives with a live set from Edinburgh's Corn Exchange. We expect high levels of vintage envy and not a dry eye in the house.
Saturday 16th August
3. The Power of Summer Film Festival @ Battersea Power Station
From Everyman Cinema comes a pop-up movie theatre experience like no other. Catch every cult film ever, from Wes Anderson's gorgeous back catalogue to Withnail and I. Throw in beanbags, street food and a prosecco bar and you've got yourselves a winner.
Thursday 10th July – Sunday 31st August
4. Back To The Future @ Secret Cinema
Perhaps you're after a more exclusive, immersive experience that only the time-honoured Secret Cinema can offer. One of London's great institutions, steeped in mystery, Secret Cinema offers up screenings of a well-loved classic this month, in very secret locations.
5. Hot Tub Cinema
Yes, it is as good as it sounds and as luck would have it, July is 80's Cult Classics month. The month is very nearly at an end so get your Dirty Dancing fix while you can. We can't think of anything better than watching movies from a rooftop hot tub in this uncharacteristically warm British weather. Can you?
Tuesday 1st July – Thursday 24th July
Words: Emily Beeson | @younggoldteeth