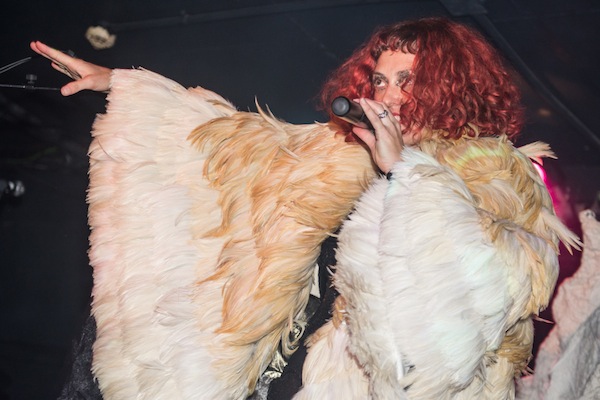 The Great Escape boasts a reputation of being one of the largest new music festivals in Europe, with around 30 stages hosting hundreds of acts in a single weekend. International artists come once a year to drink in the sights and sounds of Brighton and to play at a variety of independent venues across the city. On a typical day, the seaside haunt is buzzing with an eclectic mix of thrift-shoppers and street style aficionados, tourists, day-trippers, creatives, musicians and the chicest of the chic. Whether milling around the Pavilion to view iconic eastern architecture, bimbling round the laines in search of a kooky bargain, or taking in the sea air in one of the many beach-side pubs, Brighton has an incredible off-duty vibe. When The Great Escape comes to town, it just gets better and better.
The first day of the festival saw the city transform into a living, breathing ode to up and coming bands and stand-out style. A far cry from the sun-drenched, summer field festivals of wellies, maxi skirts and mud, The Great Escape is a concrete wonderland waiting to be explored. We kicked off the day by heading over to the Komedia to see Australian duo, Ginger and the Ghost play and revelled in their far-out, ethereal sounds and full glittering, feathered get-up before emerging to see the laines bursting with people. Canadian tough pop starlett Hannah Georgas then charmed us at the Blind Tiger Club, followed by a surprising burst of stylised jazz revelry in the Spiegel Tent, with BadBadNotGood, a trio of twenty-somethings from Ontario shaking things up before a gleeful crowd.
Seasoned festival goers know that the music matters, which is why the queues for Brighton's famed small venues, such as The Hope and the Komedia, snaked for days. That special festival feeling, however, rivals equal importance. The Great Escape provides three days of alternative festive action, drinks, discovery and memorable moments whether you actually see any bands or not. Queues or no queues, Brighton just has that certain ambiance, which is precisely why we went out in search of the most stylish and wildly dressed attendees to ask them about the hype and the music.
Kayla was the first attendee we bumped into. A towering turquoise-haired model mermaid in silver brogues that looked like actual fins, a chunky Moschino belt and a seriously distressed pair of Cheap Mondays, Kayla is a loyal fan of The Great Escape. Having bought tickets for the past three years in a row, she seemed surprisingly unfussed about seeing her favourite acts this year. 'I paid for a ticket but will probably just spend the day walking around and people-watching. It's much better to just go with the flow. If you're really keen on a band you can dash around if you feel the need. I'll definitely be running from the pub to queue up for Fat White Family but i'll be taking it easy otherwise.' Kayla then coaxed us into a growly joint rendition of 'Touch the Leather' for the benefit of a few passers by. Top marks.
We later spoke to a whole host of eager fans queuing up to catch the raw, folky sounds of Matthew and the Atlas outside The Green Door Store. Conversely to Kayla, they had been there for quite a while. 'We really just wanted to make sure we were going to see them play so decided to chill close by and make sure we were first in the queue,' said Jared, an illustration student who was wearing his own streetwear brand's tee and beanie whilst looking dapper from the waist down in green and navy tartan trousers and a swish pair of Kurt Geigers. The band played a rousing set of powerful harmonies and twinkling interludes getting us geared up for the last few hours of the opening day.
Thursday night was split between the likes of the soulful Rosie Lowe, George Ezra and Albert Hammond Jr of the Strokes, and was a joyful haze of sliding across grimy beer-soaked floors in various Brighton institutions, breathing in the crisp sea air between watering holes, getting to know a few bands and enjoying the spectacular independent atmosphere. Enjoyable as a rural festival is, nothing quite beats the heroic style, cultural variety and honest grit touted by a city-based event such as this. It duly lived up to its name as the greatest of escapes, with not a plastic poncho or floral crown in sight.
Words: Emily Beeson