Yes, it's a tourist-trap blockbuster and yes, it's entirely worth it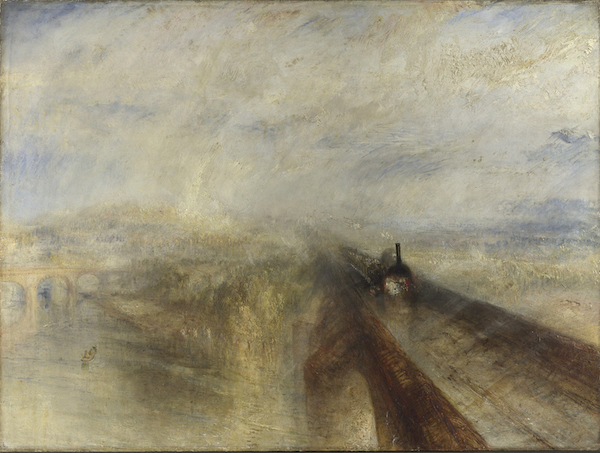 Rain, Steam, and Speed – The Great Western Railway (1844) by J.M.W.Turner
When someone throws a party and invites a once-in-a-lifetime guest of honour, even if you're late, busy or stressed, you show up. You know you won't regret it.
That's how I felt walking through the EY Exhibition: Late Turner – Painting Set Free at the Tate Britain. The show opened back in September, but with so much to see in London, I almost didn't book. This would have been madness. If you find yourself in the same situation, you still have time, but just; secure your tickets before it closes on 25 January 2015.
This second partnership between EY and the Tate brings together 180 works from the UK and abroad, highlighting the later part of J.M.W. Turner's prolific life via numerous sketchbooks, small studies, intimate watercolours, large-scale oil paintings and artefacts.
In the mid-1800s, turning 60 would have usually heralded a descent into senility, poor health and an increasingly narrow life. Not one for putting his feet up by the fireplace and waiting for old age to settle around him like a fog, Turner spent his final fifteen years traveling extensively around Europe (what he charmingly called being 'on the wing'), endlessly filling sketchbooks with studies and notes, and working with innovative techniques, styles and material that earned him labelled a radical by his peers.
The six rooms in the exhibit explore Turner's sweeping themes and daring formats, and the effect is extraordinarily moving. His work is rooted in literary traditions, dealing with religion and mythology, epic gestures, the beginnings and endings of stories. Some pieces are saturated with urgency and high energy, others display a real delicacy and a lightness of touch.
Progressing through the exhibit, the standout feature is Turner's ability to capture light. At times it is bright and piercing, joyous and startling like a summer's midday; at others it is weak, softly diffused through the landscape; perhaps not quite warming, but somehow comforting, like a winter morning. Regardless of the style or the medium, the light is mesmerising.
One stand-out piece is Ancient Rome; Agrippina Landing with the Ashes of Germanicus (1839) and it's pair Modern Rome-Campo Vaccino (1839), which both revel in the glories of the past but demonstrate movingly how new life can rise from the ashes. Another is the infamous Rain, Steam, and Speed – The Great Western Railway (1844), which so effectively contrasts the speed and thrilling risk of the future – a train hurtling toward the viewer in smoke and haste, with a hare desperately running to escape its wheels – and the peace and gentility of the past – a boat lazily moving in the opposite direction on the river bathed in light.
Bamburgh Castle (c. 1837) packs an extraordinary emotional punch, with a beautifully dark and chaotic sky heralding the raw energy of nature as a ship lays wasted on the rocks. In contrast, and showing Turner's emotional sensitivity and versatility, there is Blue Rigi, Sunrise (1842); absolutely exquisite in its details and achingly melancholy with its mist over the Swiss mountain peaks and Lake Lucerne.
Turner is often credited with laying the foundation for Impressionism. It's a movement rooted in transience – attempting to pin down a feeling, an emotion, a fleeting moment. Turner is indeed a master of the art, and this exhibit does his final works justice.
The EY Exhibition: Late Turner – Painting Set Free is currently showing at the Tate Britain. Book tickets here.
Words: Julie Reid