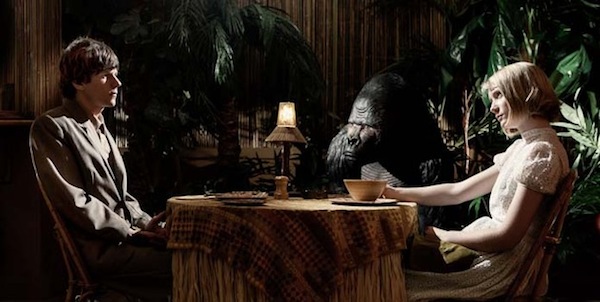 The Double
Director: Richard Ayoade
Cast: Jesse Eisenberg, Mia Wasikowska, Wallace Shawn, Chris O'Dowd 
Comedy – Drama – Thriller

★★★★★
Adapted from Dostoevsky's 1846 novella The Double, Richard Ayoade's latest film is a tour de force of surreally bleak humour and bizarre kitsch imagery, reminiscent of Terry Gilliam's iconic Brazil or David Lynch's Eraserhead. Set in a timeless dystopian landscape, the multi-talented English comedian's third effort as a director/writer draws influence from the generic science programs and futuristic forecasts of the fifties, with jarring and captivating results.
The film stars Jesse Eisenberg as a young man consumed by his own inadequacy and inability to get ahead. Explaining that he's never really been "drawn to lantern jawed heroes", Ayoade draws parallels between Eisenberg's character Simon, and Craig Roberts as Oliver Tate in Submarine."They're two characters that can't really get over themselves", he says. But whereas Dostoyevsky's protagonist was constrained by the bonds of clerical serfdom in 19th century Russia, Ayoade fleetingly seems to offer Simon the opportunity to break from his personal misery in the form of Mia Wasikowska, a beautifully twee loner, and a contemporary concern with romantic frustration and altruistic fantasy turns the burning existential crises of the original novella on its head.
The acting is exceptional. Jesse Eisenberg's method of flipping between the timid Simon and his vivacious doppelganger, James, is a subtle feat achieved by an expertly exacted physical performance. Wallace Shawn, in the role of the moronic, hampering general manager Mr. Papadopoulos is as effervescent as ever. Ayoade explains that he loved Shawn's performance in My Dinner with Andre and that his distinctive voice seemed perfect for the character.
Norwegian brutalist architecture and a lack of natural light lends The Double an air of film noir, enhanced by the international soundtrack, which comprises pieces by Korean and Japanese artists such as the Blue Comets. Add to this a variety of clashing accents uttered by Ayoade's recurring cast, plus flashes of harrowing dream logic, and you get a lack of geographical or temporal cohesion that perfect compacts the eerie, dissonant atmosphere.
When asked whether, based on the inevitable success of The Double, there lies any chance of a cameo for Ayoade in his next film, he replies, "No… No. The good thing about me is that there's always someone better. That you can rely on. I mean, many people would have to be ill. Like, everyone." Wonderfully humble and painfully funny, Ayoade is a British film force to be reckoned with. "I broadly accept responsibility, he says of his directorial style. "Punctuality, I'll take, and… I tend to push people to have desserts a lot. Which I regret."
Words: Emily Beeson | @younggoldteeth