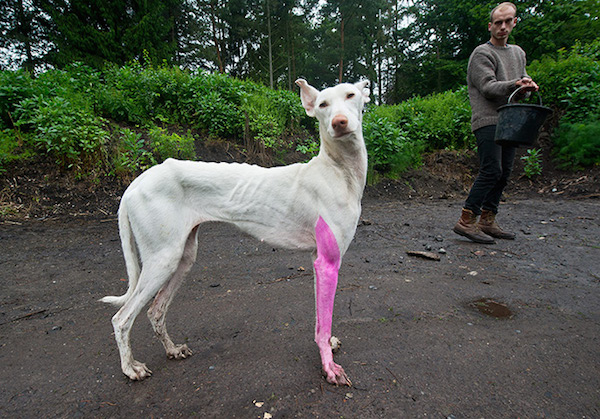 There's a lot to be said for independent creative spaces. For one, they do things differently to large commercial galleries; taking bigger risks, touting more controversy, getting closer to the artist, the subtext and the subculture around the creations displayed. As autumn descends, a little earlier than we'd hoped, we're readying our cultural programmes for this season and know of a few well-respected haunts you should be visiting with us.
Francesca Woodman: Zigzag
9 September – 4 October
Victoria Miro Mayfair, 14 St George Street
In a short but impactful career, up to her death aged just 22 in 1981, Francesca Woodman produced over 800 black and white photographs famed for their surreal and haunting presentations of women, many of which were self-portraits. This autumn's solo exhibition at Victoria Miro in Mayfair takes a new approach to Woodman's work, considering the zigzag and other geometrical shapes as recurring themes in her work, showing how, though Woodman's photography is often discussed in terms of its dreamlike form, it was grounded in sophisticated practice and precision. This one will be an eye-opener.
Marina Abramovic: White Space
17 September – 1 November
Lisson Gallery, 27 Bell Street
Hot on the heels of her acclaimed exhibition this summer at the Serpentine Gallery, 512 Hours, Marina Abramovic returns to London to exhibit a range of historic works at the Lisson Gallery, many of which have never been publicly exhibited. The exhibition features two of Abramovic's sound pieces, video documentation of her early performances and a variety of photographs, all dating from 1971-1975. Taking its title from an early, immersive sound piece in a white paper room, the exhibition explores some of Abramovic's first experimentations in the performance-based practice which is central to her work today.
Tracey Emin: The Last Great Adventure is You
8 October – 16 November 2014
White Cube Gallery Bermondsey, 144-152 Bermondsey Street
Emin says this recent collection of work concerns "rites of passage, of time and age, and the simple realisation that we are always alone". The exhibition's title, "The Last Great Adventure is You" was originally intended to refer to another person, but in the two year period spent creating this body of work she came to realise that the 'You' had become a retrospective exploration of self. The exhibition's reflections are manifested in bronze sculptures, gouache paintings, embroideries and those iconic neon works. Her first exhibition at the London White Cube gallery in five years, this show is an exciting one.
Sculptors' Papers from the Henry Moore Institute Archive
22 September 2014 – 22 February 2015
Whitechapel Gallery
London's most radical and controversial public sculptures, both realised and unrealised, are presented in a display drawing featuring the vast array of sculptors' papers owned by the Henry Moore Institute. Drawing on both the creative process and the political and critical debate surrounding the works, the exhibition will showcase the workings of and reactions to some of the most creatively and politically charged sculpture works from the beginning of the 20th century onwards. Take part in a programme of screenings, talks and tours and learn more about the physical construction of art in London.
Pierre Huyghe: In Border Deep
13 September – 1 November 2014
Hauser & Wirth, 23 Saville Row

It's been quite a year for French artist Pierre Huyghe: he's already held solo exhibitions in New York, LA, Cologne and Barcelona and makes a return to the UK this autumn to showcase his unique brand of multi-media art. Famous for his examination of film vs. reality and his use of fact vs. fiction, his art confronts the boundaries between fiction, cinema and actuality and makes use of creative images, video and installation. His first major solo exhibition in the UK since 2006 is not one to be missed.
Words: Rachel Michaella Finn | @rachelmichaella