Cheltenham's new contemporary gallery proves that there's more to art than London
In these austere times, it is heartwarming to see the opening of a new contemporary gallery – and even better to see it open in Cheltenham, proving that London does not have a monopoly when it comes to groundbreaking art. Just two weeks old, The Wilson has the feel of being at the start of a long journey. It is currently hosting the open west, an annual open competition and exhibition inviting work from national and international artists practising contemporary and conceptual art, alongside a number of niche exhibitions, including one devoted to the history of The Times, sponsors of the town's famous literature festival.
The Wilson has evolved out of Cheltenham's Art Gallery and Museum, founded in 1898 when the third Baron de Ferrieres, a former Mayor and MP for Cheltenham, gave 43 important paintings to the town, together with £1000 towards the building of a gallery in which to house them. In the intervening centuries, the site has seen multiple offshoots and iterations, and it's new manifestation bears the stretch marks. The space inside is huge – four floors containing multiple galleries and a museum, which means it takes a good few hours to make the most of a visit.
The open west features choice works in one devoted gallery, with others spread around the rest of the sprawling space. This gives the viewer a (presumably deliberately) jolt, juxtaposing the content with its context in unexpected ways.
This was certainly the case with Kate MccGwire, a feather sculpturist who has been gaining prominence over the past two years. Located within the museum space, her featured piece is stark, gothic and beautifully crafted; to describe it as brickwork vomiting feathers does not quite do it justice. MccGwire's dark, disturbing signature feather pieces are gaining visibility in both galleries and art blogs alike, and it's worth making the effort to see them in the flesh – or the feather, so to speak.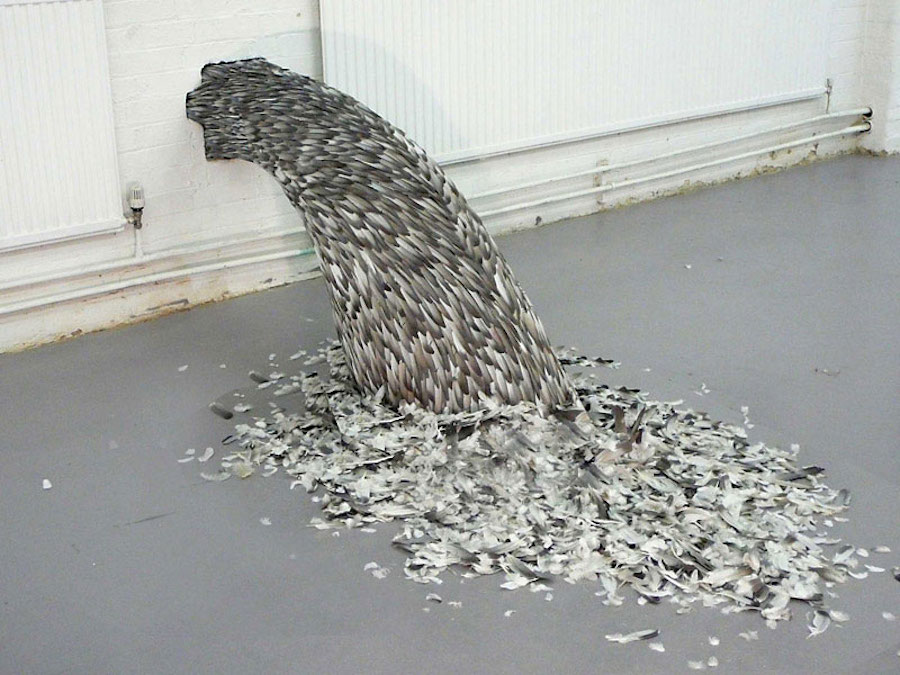 HEAVE by Kate MccGwire. Photo: Francis Ware
Beatrice Haines is another one to watch. Her work Cloud Chamber, a set of day-glo mattress springs suspended over a mirror, has incredible impact. Disturbing, unique, inviting many overlapping interpretations (Tracy Emin is perhaps the most obvious) yet impossible to categorise, this is the stand-out piece of the show. It's like a dream made manifest, with its intimations of being stripped bare, of reflection, and of radiant otherworldliness. Those springs speak of warm, sleeping bodies, while having a cold, industrial, regimented beauty all of their own.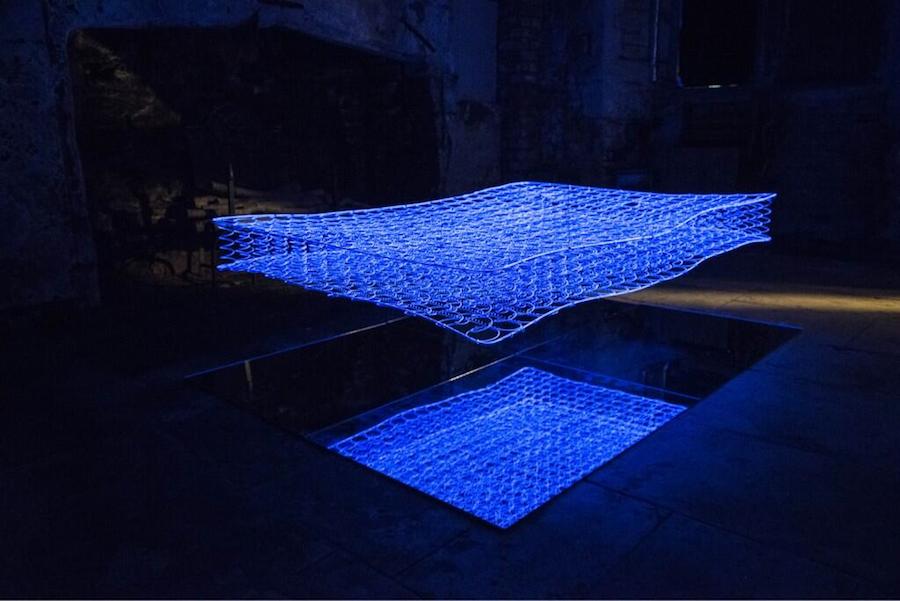 Cloud Chamber by Beatrice Haines
Finally, Alison Stolwood's photographic work Hanging Glacier provides a subtly eerie counterpoint. On first glance her image looks like so much David Attenborough, but a close-up inspection reveals breathtaking detail and a disturbing feeling that the photo doesn't look, or feel, quite right. Glaciers are strange, alien not-quite-living living things, and Stolwood captures their dual beauty and menace adeptly. Hanging the image across two frames enhances this sensation of dislocation, of boundary-traducing size and crepuscular movement. This is work worth spending time with: the less literal the more you look.
Hanging Glacier by Alison Stolwood
On at The Wilson until 6 Nov, the open west isn't a traditionally coherent show, but that's part of its charm. The cafe has a bustling atmosphere, although the museum's shop (doubling as the Tourist Information Centre to capture greater footfall) is a little sparse. That said, the small "sub-shop" selling crafts from local makers is a promising gem. This is a brave space filled with some genuine rising stars. Get in there first.
Words: Paul Squires | @paulsq | paulsq.blogspot.co.uk