Take a panoramic trip through the colourful life of a fashion icon 
Early photographs of Isabella Blow depict a disgruntled looking girl, with heavy, distinguishing eyes, stuffed into a puffy dress. At five years old, the scowl suggests a fiery spirit, a temper of independence, even the faintest suggestion that she would go on to live a life less ordinary. This little girl would grow up to become one of the most distinctive figures in British fashion of her era, fostering multifarious talents, simultaneously as editor, stylist, muse, consultant and mentor. But perhaps what she would be remembered for most of all was her eclectic wardrobe, and her collection of bewildering, abstract millinery.
Of the first items on display at Isabella Blow: Fashion Galore! – even the titular exclamation of the exhibition is in line with a general over-the-top-ness that coalesced around Blow – it is interesting to see the child before the woman. The exhibition draws heavily upon her family history, from her birth as Isabella Delves Broughton in 1958 at her family's estate at Doddington Hall, Cheshire, to footage of her explaining the various Broughton marriages, her grandfather's embroilment in the White Mischief scandal in Kenya in 1941, and the gradual mismanagement of the family fortune and estate. The exhibition doesn't acknowledge the early tragedies of Blow's life, that her two-year-old brother drowned in the swimming pool at Doddington, which contributed to the disintegration of her parents' marriage, resulting in her mother's leaving with only a parting handshake to her daughter. Such events can only have contributed to Blow's later deep and complex battle with depression, whilst she wore her wardrobe increasingly like a suit of armour, to fend off the blows the world dealt her.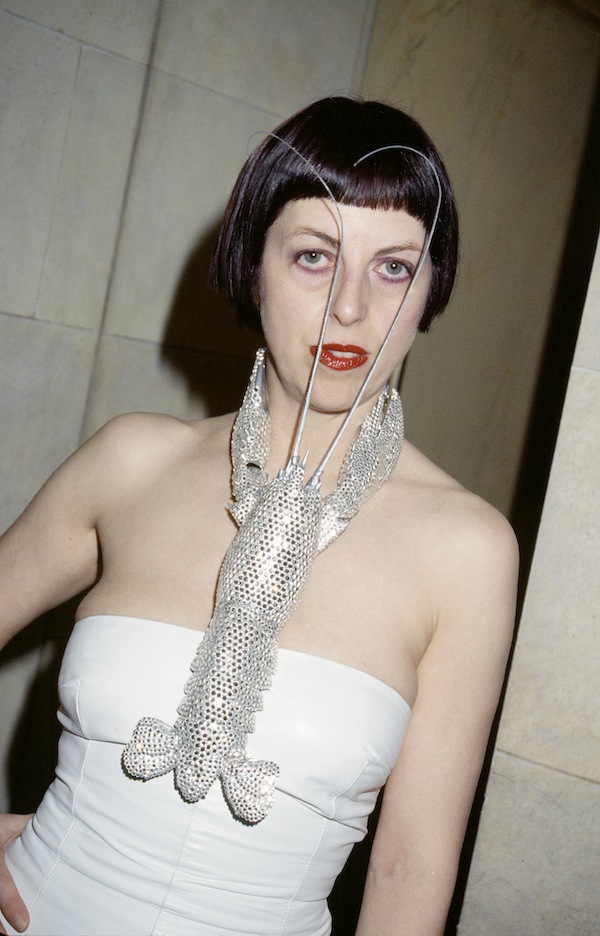 Then comes the fashion itself, an extensive collection of haute couture and more trivial memorabilia, revealing a kaleidoscopic view of the character behind. An early headpiece by Tim Noble and Sue Webster is a feat of taxidermy, with woodcocks clinging in beaked silhouette, a single rat and snake wound round beneath, offering a glimpse at Blow's preoccupation with the Gothic. Her fascination with birds underpins the collection, in feathered hats and corsetry and in her love of falconry, a favourite activity at Hilles House in Harescombe, Gloucestershire, the family seat of her second husband, Detmar Blow.
The central section of the exhibition celebrates Blow's fashion heyday, and her discovery of such talents as Philip Treacy, Alexander McQueen, Julien MacDonald, and models Stella Tennant and Sophie Dahl. She married Detmar Blow in 1989, wearing a floral headdress by Treacy, then an unknown student at the Royal College of Art. Treacy's creations cast long shadows on the wall; they are sculptural pieces of black lace and red silk, underpinned with wires that are twisted into eloquent curves. Many of his hats all but obscure the face of the wearer, concentrating the female gaze through a narrowed strip. "I don't use a hat as a prop, I use it as a part of me. If I am feeling really low, I go and see Philip, cover my face, and feel fantastic. Although, if I'm on a real low it requires going to the doctor for a prescription," Blow once said.
Alongside the millinery hangs Alexander McQueen's Central Saint Martins MA graduate collection, which Blow bought in its entirety for £5,000 in 1992. Though it was beyond her means, she paid him £100 on a monthly basis, in exchange for one garment at a time. Inspired by Jack the Ripper, McQueen crafted his signature in black lace, elegant ruffled coats, lilac silk corsets encrusted with glittering black beads. Also displayed on wall-mounted screens is Julien McDonald's MA show of 1996, and McQueen's autumn/winter collection of the same year. There is an overriding anarchic aesthetic as both male and female models gyrate down the catwalk; it is the 80s club scene pulled into the 90s, punk and regal by turns, fiercely erotic and anti-establishment.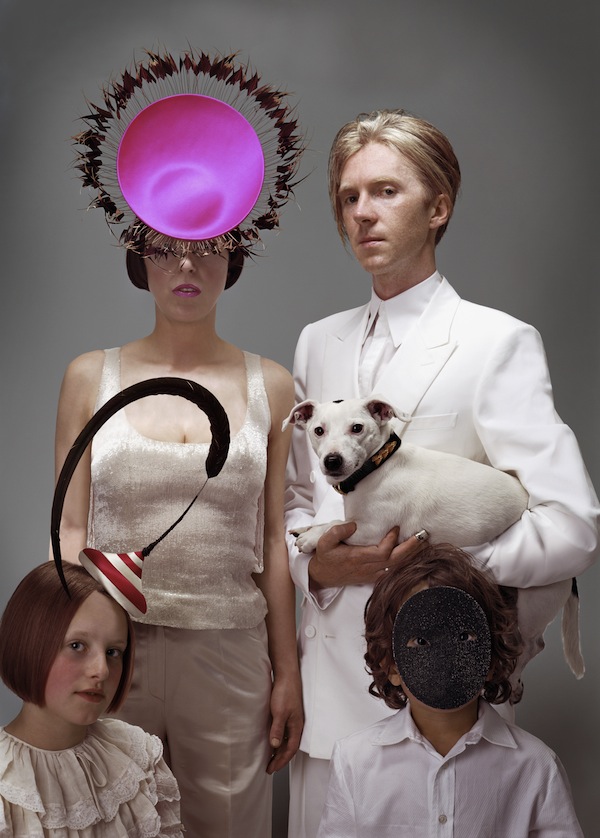 Blow's own wardrobe is arranged on an upper floor of the exhibition, alongside mounted photo shoots she created for American Vogue, Tatler and The Sunday Times and charming anecdotal memorabilia. Surrealist set designer Shona Heath designed the mannequins-cum-display cabinets, in which there is a self-portrait by Blow drawn on the napkin of a New York restaurant, with her distinctive heavy-lidded eyes, the odd shoes she wore which caught the eye of Andy Warhol in New York so that he invited her for dinner, and an homage to her favourite shade of Chanel red lipstick. What is perhaps slightly unnerving is a faint heady smell emanating off her clothes. It is her own scent, Fracas by Robert Piguet. This startling olfactory presence is a reminder that these clothes are not old, that Blow died only seven years ago and these were the garments she lived and worked in.
The clothes themselves are famous. There is the shocking pink burka she wore to a Dior couture show in 2003, a cream buttoned camisole dress she wore at the launch of her collaboration with MAC, a black jacket with voluminous silk ruffles gathered about the neck in which she was interviewed at the Dorchester Hotel. And of course, an endless array of Treacy's swirling, pointed headpieces in feathers and silk, Swarovski crystal and coloured Perspex.
Behind the clothes was a character, impulsive, irreverent and real. That Blow didn't look after her clothes very well is evident – there are scuffed Manolos and cigarette burns on silk – and there are anecdotes of her with lipstick on her teeth. But the collection is extraordinary, and to see up close the ravages of wear and tear shows only more clearly her creativity and gusto.  Daphne Guinness – who recued Blow's wardrobe in its entirety – over 90 McQueen dresses, 50 Treacy hats and portraits of Blow by Mario Testino and Karl Lagerfeld – from dissolution at a Christie's auction in 2010, said, 'This exhibition is, to me, a bittersweet event. Isabella Blow made our world more vivid, trailing colour with every pace she took. It is a sorrier place for her absence.' The final tribute to Blow is a moving one, showing McQueen's spring/summer 2008 collection which he dedicated to Blow, with headpieces by Treacy. Feathers abound, as do Blow's signature necklines, high collars and corsetry.
Throughout the exhibition, all reference to Blow's mental illness and her multiple suicide attempts is omitted, save for a caption that announces her death 'by her own hand'. Whilst the absence of such information – that Blow finally committed suicide in 2007 after drinking the weed killer Paraquat after years of battling with depression – is understandable, though it often feels as if her character could be illuminated more fully if such complexity and darkness was recognized. Only vaguely acknowledged is the idea that she hid behind her wardrobe, that her creativity was married with instability, and that there was something deeply psychological about the fact that she so frequently obscured her face by attention-grabbing colourful accessories.
The event of the exhibition, and the airing of her wardrobe, is clearly an act of closure for all those in the fashion community who knew and loved her. And despite such omissions, she does appear in all her triumph and idiosyncrasy. Such a collection of clothes and memorabilia acts simultaneously as a tribute, and a grand statement of her character.
Words: Harriet Baker