Skincare takes centre stage for A/W 13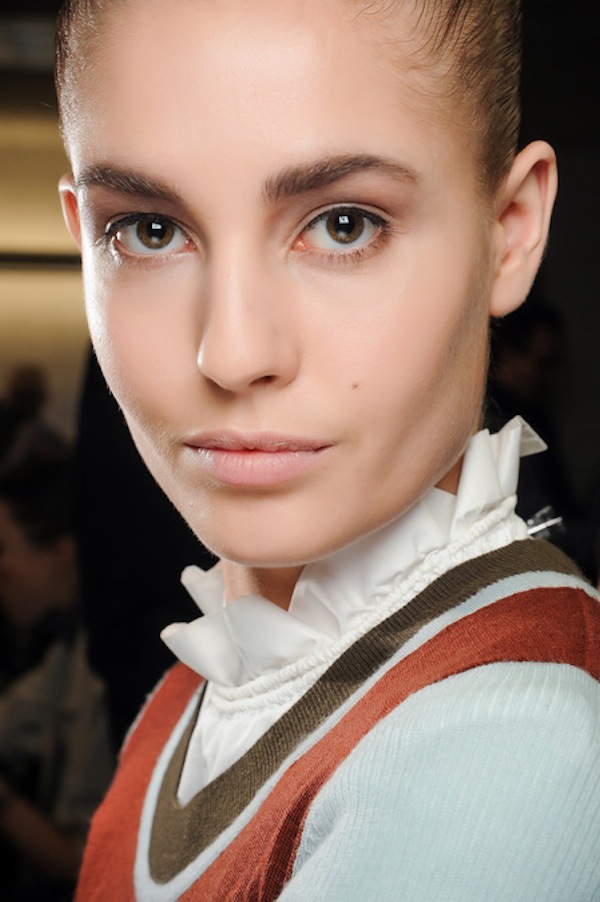 Alexander Wang
Perfect skin: if you haven't got it (and lets face it, most of us haven't), the only way is to fake it. The A/W shows were awash with beautiful faces, alluring in their lack of heavy catwalk warpaint, offering a perfect try-this-at-home beauty look. It's a great solution for these late summer days when we are loathe to abandon our carefree inner nature child – and not yet ready to jump into rich autumn pigments – but we still need to look a little sharper, a little more serious for our new term adventures. In this awkward seasonal transition, what could be better than a look that pares us back to a clean, professional blank canvas, ready to confront the rigours of September with bare-faced chic?
On the catwalks Balmain, Alexander Wang and Burberry all left eyes and lips notably bare, leaving the focus on flawless, healthy skin. The look was masculine and handsome, with skin pampered and polished, yet not visually 'made-up.'
Although this trend may appear temptingly low-maintenance, do not be fooled: achieving the look at home requires commitment. It helps to be a genetically-blessed supermodel, but for those of us who, well, aren't, a well-equipped make-up bag is key. The number one priority is to update your skincare routine. Yes, the cleanse, tone and moisturise mantra still applies, but is now updated to include scrubs, serums and oils. A weekly at-home microdermabrasion treatment is ideal for deep-cleansing pores, whilst massaging with a facial oil (we currently can't get enough of rose) will promote radiance.
When it comes to makeup, traditional foundations are too heavy for this look, and so we turn to the beauty industry's new darlings: the skin-perfecting creams. BB? That was last season. Your new best friend is the CC cream. Shorthand for Colour Correcting, these wonder products can smooth red spots, dull patches and sallow skin as if by magic. To complete the look, pat an iridescent highlighter onto cheekbones, dab a moisturising balm onto plumped lips, and brush up your brows for handsome definition.
Sharpen your pencils, sling a granny handbag on your arm, and stride out.
THE SUPER NATURAL MAKE UP BAG
[nggallery id=113]
Dr. Brandt Microdermabrasion Skin Exfoliant
By Terry Huile De Rose Oil
Dr Jackson's Coconut Melt
Perfekt CC cream
Rapidbrow
Words: Roberta Lister