Insert irritating beeauty pun here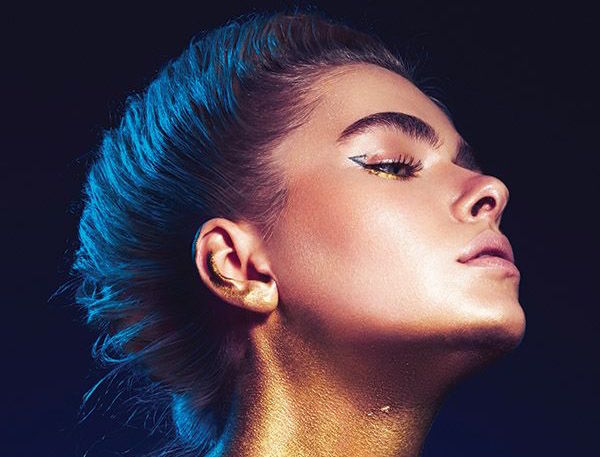 IMAGINE ISSUE 16 | Shock & Ore | Photographer: Mark Cant, Beauty Director: Lan Nguyen-Grealis
First up: no puns, I promise. They're just too damn easy, and they make bee-derived beauty sound like a cutesy marketing fad when bee products are in fact some of the most hardworking and historically proven ingredients in skincare.
Nefertiti used honey in her daily beauty regime, while women at the Emperor's Court in Ming Dynasty China used a blend of honey and ground orange seeds to keep their skin smooth and blemish-free, and the science behind the folk wisdom could not be more solid.
Both honey and propolis – a resinous substance bees collect from tree buds – have excellent antioxidant and antibacterial properties. Rich in vitamins B, C and E, propolis in particular is a natural skin healer. And then there's royal jelly, an antibiotic honey bee secretion containing complex B vitamins, amino acids, fatty acids, minerals and enzymes, which is a popular supplement for inside-out radiance.
You'd have to be a hermit not to know that bees urgently need our support (watch Marla Spivak's TED Talk on what's driving their decline). Beehives have been colonising London's rooftops over the past couple of years; Tates Modern and Britain, the V&A and the National Portrait Gallery are amongst 30 sites under the care of the city's 'bee master' Steve Benbow; Fortnum and Mason produce their own honey; and every trendy Hackney home now boasts a handful of hives.
But even if you'd rather spend your weekends dancing with queens in East Bloc than nurturing a swarm, adding bee products to your bathroom is a win-win for both the environment and your skin.
Here are our five favourite bee-inspired brands, and the standout products you should try.
The purist
I was given a tube of Bee Good's Honey & Propolis 2-in-1 Cream Cleanser for Christmas by my bee-keeping relatives, and it is proved wonderfully kind to my dry winter skin. The only British premium skincare brand to exclusively use British beeswax, honey and propolis in all of their products, Bee Good work with carefully chosen local suppliers, farmers and beekeepers, and plough back a share of all profits to support beekeeping causes in the UK. Good enough to provide serious hot cloth competition to fellow enviro-brand Liz Earle.
The classic
Burt's Bees have been around since 1984, and despite their burgeoning skincare and beauty lines have never compromised on their commitment to simple, sustainable and effective products. Their most recent product is the Moisturising Lip Balm, which does an excellent job on cracked winter lips – the tangy Wild Cherry, with rich cold-pressed cherry oil and coconut oil, is a lovely February pick-me-up. There's also currently an offer on Best of Burt's, a cute tin with a selection of old favourites such as their rich Hand Salve.
The troubleshooter
Manuka is the A-lister of honeys, and cult New Zealand brand Antipodes has updated a traditional Maori skin treatment with their Aura Manuka Honey Mask. Antibacterial and astringent, the bioactive manuka makes a visible difference if you're suffering from an outbreak, and the extracts of vanilla pod and mandarin add a soothing scent. All Antipodes products are UK Vegetarian Society approved and the brand invests heavily in local philanthropic causes.
The luxe
If you're concerned about ageing, Rodial's Bee Venom range promises 'extreme performance' thanks to the titular extract, which helps to plump and smooth out fine lines and wrinkles by controlling muscle contractions and stimulating blood circulation. At £150 for the moisturiser and £328 for the 24 Carat Gold Super Essence (yes, really), it's certainly not cheap, but Rodial has built its reputation from offering products so effective they offer a viable alternative to cosmetic surgery. If you can only afford one product, make it the Super Serum – although if you're in the mood to invest, the Ulitmate Bee Venom Kit – moisturiser, serum and eye cream – is currently half-price.
The budget
Get aristocratic skincare at peasant prices with Marks & Spencer's Royal Jelly Night Cream, a snip at six quid. M&S's beauty team do a great job of curating interesting skincare labels, and the own-brand products are very good value, focusing on quality of ingredients rather than marketing and packaging. With honey, royal jelly and a host of other moisturising ingredients, this is an excellent everyday night cream.
Words: Molly Flatt